If you're a football and tattoo fan alike, chances of you crushing over Messi tattoo are very high. After all, he is a football legend. Lionel Messi has many tats all over his body that make him an absolute charmer that he is. It was his teammate Dani Alves who inspired him to go under the needle. Since getting a tattoo engraved is no cakewalk, Messi was quite scared and asked his now wife Antonella to get inked first. With a lot of courage, he finally got his first body art, and since then there has been no looking back for our favorite football player. He now has some very sexy tats on his arm, leg, and back. Each of these tattoo designs has deep meanings and being a true Messi fan; you can't miss out on the significance these tats holds for him. Let's get into details regarding each of Messi tattoos.
Messi tattoo explained one by one! 🙂
Mother's picture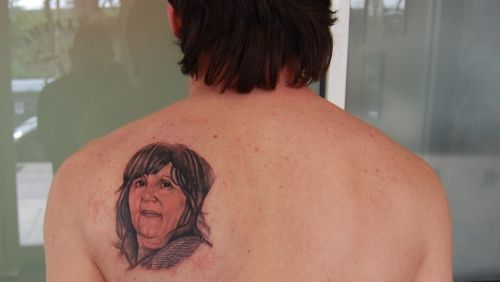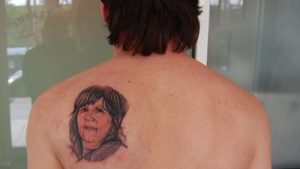 Messi got his first tattoo on his back which was his mother' picture. He is a self-proclaimed mama's boy, and he is proud of it. This back tattoo is his way to show his love for his mother. Seeing this, we're sure you all would also love to pay tribute to your parents just the same way Messi did.
Baby Hands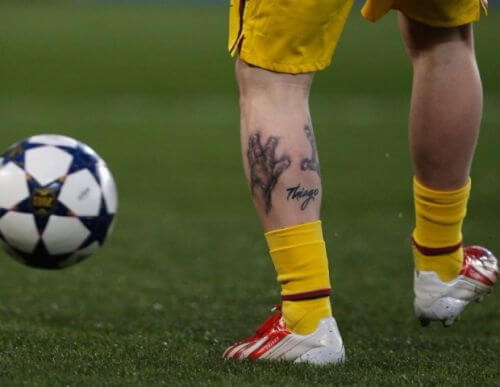 Lionel Messi got two infant hands inked on his left leg when he became a father for the first time in 2012. This tattoo reminds him of good old days when his gorgeous child was a baby.
Thiago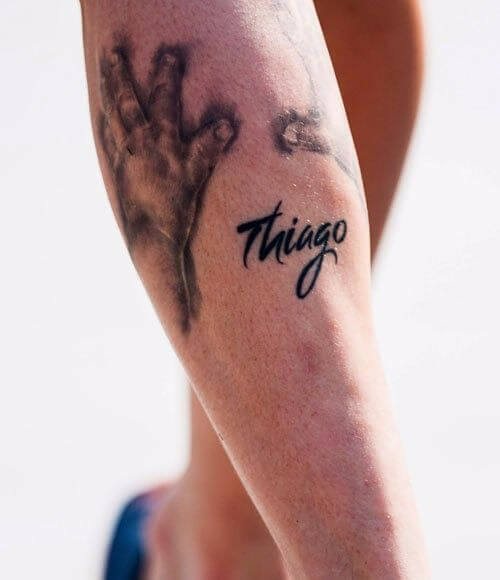 Messi is a family man and to show his affection and love for his first-born child Thiago, he again went under the needle and got a tattoo of his son's name close to the two hand prints on his calves.
Jesus portrait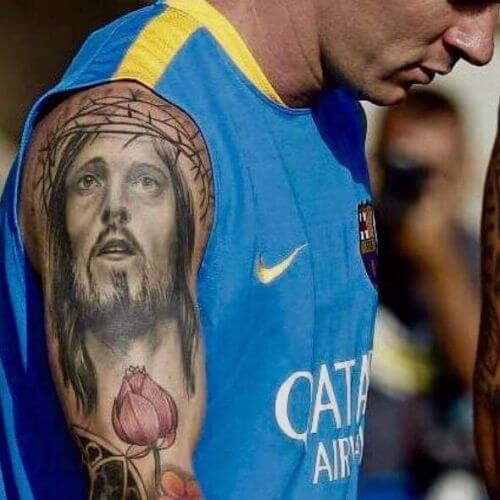 Messi has a picture of Jesus Christ on his right arm. This Messi tattoo pays tribute to the mighty Jesus and showcases his love and faith towards his religion. The design shows Jesus wearing a crown of thrones (This crown was placed on Jesus's head to mock him during his crucifixion).
Lotus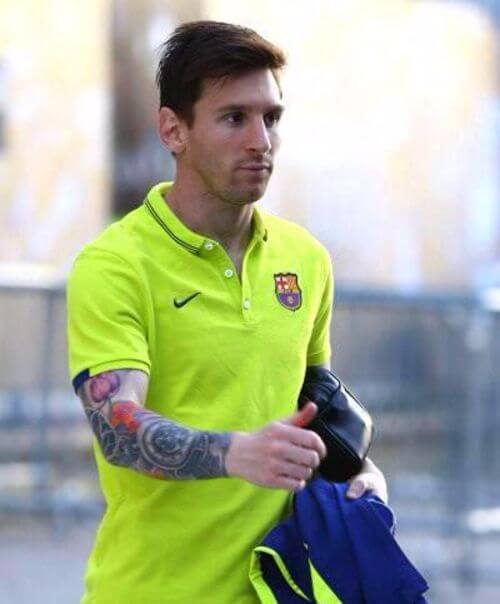 Messi has got a lotus tattoo inked on his arm. The lotus flower carries a lot of significance. Just a lot blossoms in mud, Messi made big even after coming from a small family in Rosaria, Argentina. This Messi tattoo perfectly describes his story from rags to riches. The lotus tattoo keeps him motivated.
The Rose window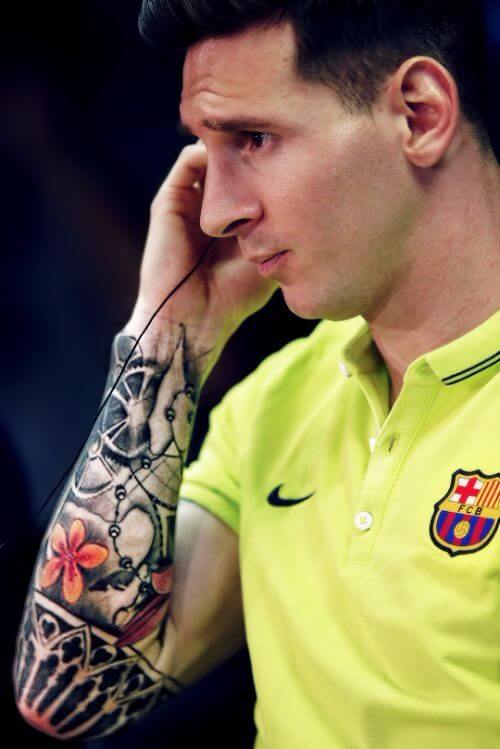 The tattoo enthusiast, Lionel Messi again got a symbol engraved on his arms, but this time to pay homage to the city of Barcelona. The Sagrada Familia Church became the inspiration for the rose window design which is an essential element of Messi's full-sleeve arm tattoo.
Legs tattoos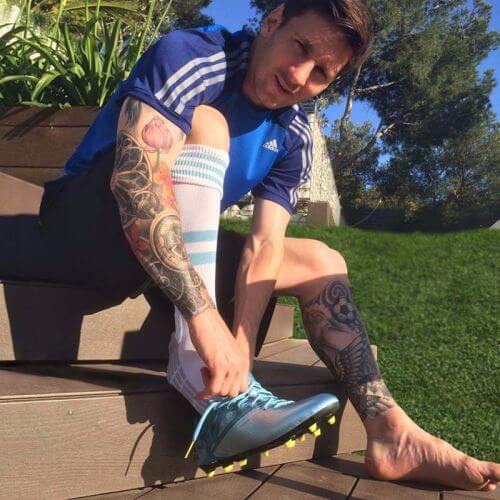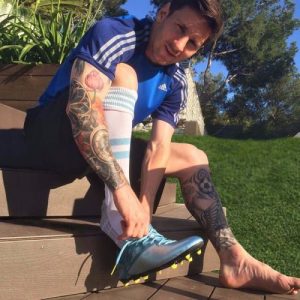 Messi got few tats on his legs to cover up the Thiago tattoo and give it a better look. This time he decided to pay tribute to his bead and butter, i.e., football. The legend engraved a footwall along with a sword and the number of his jersey-10.
Conclusion
So there you have it, the meaning and emotions behind every tattoo that Messi possesses. We hope you had a fun time!
Source of pictures: https://www.pinterest.com/