What happens when you combine a good tattoo artist, a dose of imagination, and a precision shadowing? You get some of the most amazing 3D tattoos that jump right out of the skin. 3D tattoos are a newer addition to the collection of the tattoo types and are becoming more and more popular. It isn't difficult to understand why. Most tattoos are two denominational having length and width. But a skilled tattoo artist that specialized in 3D tattoos can ad the third dimension to the tattoo – depth. Depth is added by first selecting a unique 3D tattoo design. It may involve the strategic placing of the tattoo on the body part that will help bring it out more, and lastly adding precision shadows to the tattoo that trick the eye into seeing the third dimension or depth.
Here is a list of some of the most Amazing 3D Tattoos that will give you some excellent ideas if you are looking to get a 3D tattoo.
1) Snake Skin Ripping 3D Chest Tattoo.
This 3D tattoo idea will not only make your skin crawl, but it will also make the skin crawl on anyone that looks at it. Here is a snake tattoo design that is coming out of the skin. It's ripping the surrounding skin and tearing its way out of the chest.
2) Large Buddha Back Tattoo
Large 3D Tattoo design of Buddha covering the entire upper back. Shows a portrait of Buddha coming out of the back. This piece also adds the look of clear see-through gems that look liquid and water like placed at the top and bottom of the tattoo. Very nice three-dimensional tattoo idea that has a spiritual side to it as well.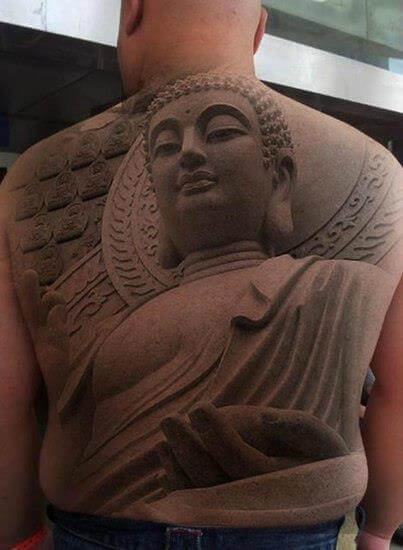 3) Surreal 3D Script Arm Tattoo
This tattoo idea is out of this world – figuratively speaking. It is one of the best 3D tattoo designs out there. It really looks like the skin is chipping off and falling away and revealing ancient script text tablet underneath. It makes the arms look statue-like because the human mind just cannon gets around this visually surreal and tricky 3D tattoo style. The depth and shadows of this tattoo are superb.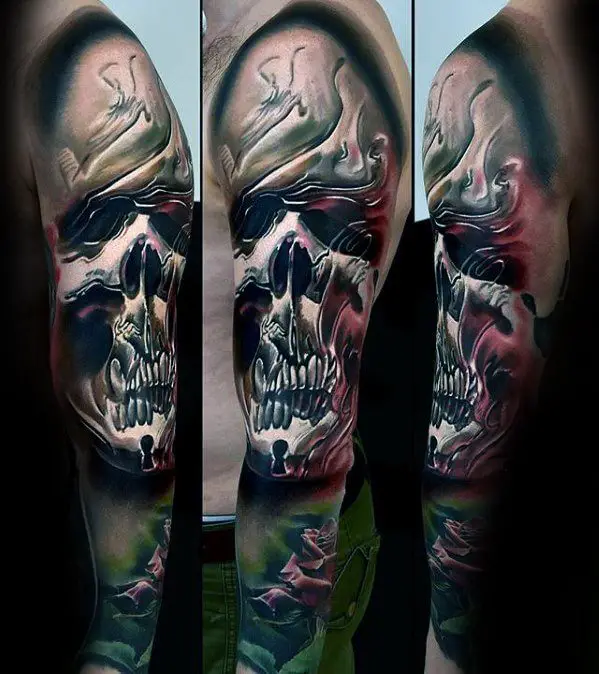 4) Lizard Leg Ankle Tattoo 3D
Lizard tattoos are quite popular. Common placement of lizard tattoos are on the lower abdomen, hip, leg, or ankle. However, this is not your typical lizard tattoo design on the right leg/ankle. It will have you do a double-take when you have a closer look at it. You won't believe that this lizard is a tattoo. It looks too real for a tattoo. What makes it look so real? The selection of realistic gray colors typically found on lizards along with some amazing shadow work. Look at the shadow along the right side of the lizard. It's scary how realistic this 3D lizard tattoo looks. It makes an excellent 3D tattoo idea.
5) Airplane Shoulder Back Tattoo 3D
Airplane tattoos are a great way to express a free spirit. This 3D airplane tattoo design is based on the earlier model airplanes. They were propeller-driven and double-winged. These airplanes were one of the earliest models of aviation technology. This tattoo seems pretty simple and does not utilize shadows to create the third dimension. Instead, its entire focus is on perception. Linear perception is what helps us to determine how far or close something is. This tattoo takes full advantage of the linear perceptions and creates a third dimension making the airplane seem to fly right out of the skin. The skin seems to be more of background rather than the canvas itself.
6) Dagger Sword Through The Neck Tattoo 3D
Here is a wild and crazy 3D tattoo idea that you don't want to show to your mom, although it would be pretty difficult to hide it if you actually got this tattoo. A large dagger cutting right through the center of the neck. Shows two large cuts on both sides of the neck and the dagger thrust through the center with a few drops of blood.
7) Zombie 3D Side Rib Tattoo
If you are into zombie movies or just like to freak people out, this tattoo idea may be designed just for you. How to freak people out with this tattoo?
Here is a step by step for you.
Tell someone that you have a painful red rash on the left side and ask them if they could take a closer look to see what it might be.
Have them focus on as you pull up your shirt.
Capture them on a hidden cam when they freak out at the sight of the 3D Zombie tattoo
It's a pretty grotesque tattoo with missing skin and rotting flesh. (CAUTION: Don`t play this trick on someone with a weak stomach or weak hart. Consult the physician of the person you intend to play this trick on prior to make sure they are in good physical shape and can handle this joke.) Also, spare your mom from this trick, she probably suffered enough just having to raise you. To all the moms out there, we love you. Otherwise, have fun with this tattoo. This definitely makes the list of some of the amazingly original and grossly scary 3D tattoo designs.
8) Bio-Mechanical Tattoo Stomach Abdomen Tattoo 3D
Mechanical or Bio-Mechanical aka Biomechanical tattoos are another hot 3D tattoo idea. It is a combination of mechanical or robotic machines with organic elements. Here is a perfect example of a 3D biomechanical tattoo. Beyond the ripped skin is the mechanical robotic-like structure. This is a very realistic and surreal tattoo design. It might even fit the "bizarre" description. Nevertheless, it is captivating in its own unique way.
9) Alien Chest
It is amazing what shadows can do for a tattoo if inked correctly that is. Take a look at this Alien tattoo on the left side of the chest. It is tattooed entirely in gray ink (different shades of gray). However, the precise shadow work is what sends this tattoo into the next dimension. This Alien tattoo looks very real and looks like the alien is ready to leap off the chest.
10) Aquarium Fish Hip
If you like real fish or animation characters like Nemo, a fish tattoo may be perfect for you. Or better yet, an aquarium tattoo of different types of fish. Here is a unique and original tattoo idea. It tuns a part of your body into a 3D fish aquarium. And the best part, you don't even have to feed the fish or change the water. This aquarium tattoo design gives you the impression that you are looking through glass into an actual aquarium or as if you are in a submarine looking out through the round window. Pretty neat tattoo idea for lovers of aquatic life.
11) Surreal Compass Flowers
What can be better than an awesome 3D tattoo? An awesome surreal 3D tattoo. Surrealism combines real-world elements and places them in a dream world setting. Take this surreal compass with flowers tattoo for instance. In addition to being one of the most amazing 3D tattoos, it also has that dreamy quality to it with soft colors and flowing design.
12) 3D Leg Tattoo
This tattoo is one of the most bizarre 3D Tattoos. Take a closer look at it. You will be shocked at how real this tattoo looks. It looks like the leg is wooden and has been carefully carved out to create an amazing design. It looks like a wood carving. This is the type of wood carving design you would expect to find on antique wood furniture or on fine handcrafted furniture, not on a human leg. This tattoo definitely makes the list of Amazing 3D tattoos.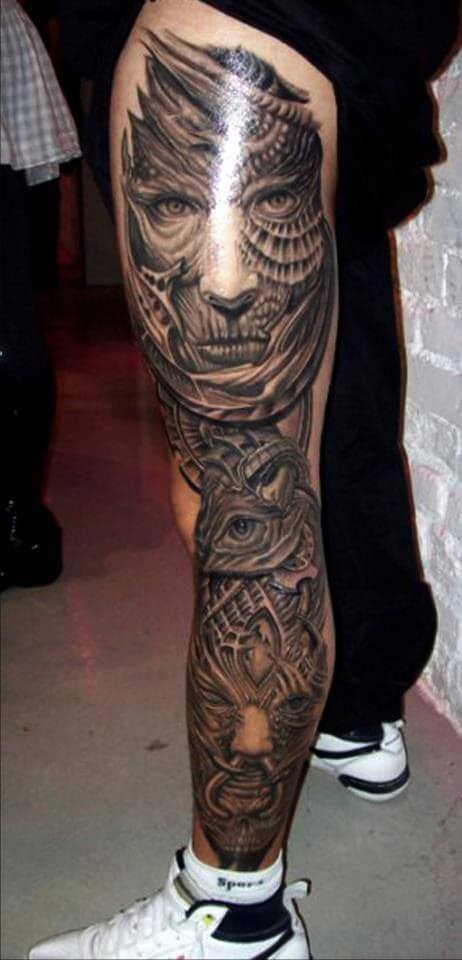 13) Libra Sign Bra on Breast
Here is a perfect example of using the contour of the body to add to the overall effect of the 3D tattoo. The contour of the body can greatly enhance the desired effect of the 3 denominational tattoos. Sometimes the flat body surface will not do. This is why the tattoo artists will use the shoulder area because it has a natural curve to it and makes the 3D effect more real. Or, as in this case, the contour of the breasts is used to bring out the two Libra sign scales. What else adds to the 3 denominational effects of this tattoo? Take a close look at the crystal or liquid-like buttons at the top of the scales, one on the left and one on the right. They almost seem to protrude from the body. This helps to add to the overall 3D effect.
14) 3D Cross Nails Shoulder Tattoo
Here is an interesting yet painful to look at the tattoo. It is two large nails tied together in the form of a cross. The larger of the nails is then thrust through the skin into the right shoulder. The skin is tearing and ripping apart. Thick blood is shown pouring out of the large wound. Very nice shadow work on the entire piece that gives this tattoo the 3D effect. Even the blood running down the arm has good shadow work. Very good and very detailed 3D tattoo.
15) Skeleton Pirate Cat Tattoo 3D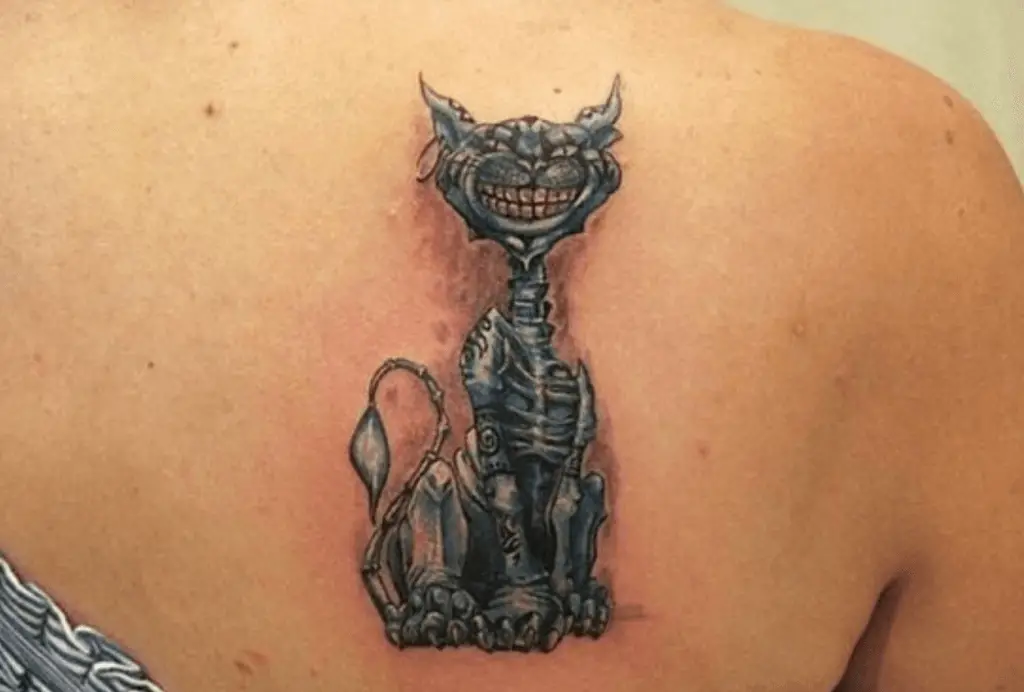 This is the pirate cat that did not make it into the Pirates of the Caribbean: The Curse of the Black Pearl (2003) movie, but most certainly should have. It would have made a nice addition to the skeleton pirate crew. The flesh on this cat is rotting away and the bones are showing, just like the skeleton pirates. The earring is a nice touch as well. What brings this cat alive is the very good depth and shadow work. The cat itself has good depth when you look a the ribs, they seem to be closer to the front. In addition, the good shadow work finishes this piece off and make it one of the best 3D pirate cat tattoos out there.