Known for their bold black outlines, brightly coloured shading and almost cartoon-like style, American traditional tattoos rose to prominence during the Second World War. These old school designs that still influence traditional flash tattoos to this day, were first created by the famous tattoo artist Sailor Jerry.
Born Norman Collins, Sailor Jerry trained as a tattooist in Chicago, before serving in the Navy. He became fascinated by both ships and Japanese artistry and later combined his two loves by setting up a tattoo shop in Honolulu. Here, he tattooed a variety of Asian-inspired and nautical designs for sailors on shore leave. Since then, many artists have followed in Jerry's footsteps creating long-lasting retro designs with heavy linework and bold colours.
If you're fascinated by vintage tattoo styles and want a design that will stand the test of time, look no further. Below we cover 15 of the most popular American traditional tattoos and their meanings. Read on to be inspired!
Top traditional tattoos
1.    Pin-up girls
Characterised by their sexy curves and blush cheeks, pin-up girls are a highly distinctive American traditional tattoo. An exaggerated, idealised version of the feminine form, sailors who wouldn't have any female company for months would get pin-up girls tattooed on their arms before voyages. Some would even have them styled to look like the woman they loved.
2.    Anchors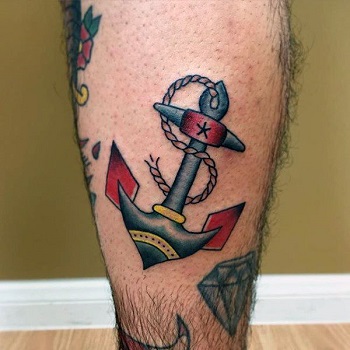 Featuring lots of black shading to replicate dark metal, flashes of colour and often a looped rope, traditional anchor tattoos have clear nautical connotations. On a deeper level, they symbolise the things or people in your life that keep you stable and grounded. For that reason, they are often depicted with names in banners in tribute to someone special.
3.    Swallows
Another nautical themed tattoo, swallows were traditionally tattooed on sailors one they'd travelled 5,000 miles at sea. However, what they represent is even more significant. There is a belief that if a sailor dies at sea, their soul is carried to heaven by birds. Plus, as migrating birds, swallows also symbolise the broader concept of returning home to loved ones.
4.    Snakes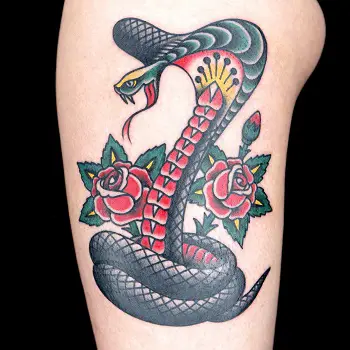 Snake tattoos can have a whole host of different meanings, from virility to transformation and renewal. American traditional snake tattoos are often depicted coiled and ready to strike, with their venomous fangs exposed. As such, they can be seen as a warning not to cross someone or they may be used as a protective symbol to ward off evil.
5.    Ships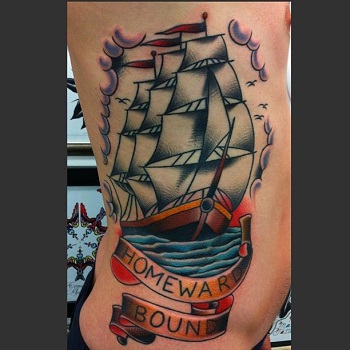 Traditional ship tattoos often feature Sailor Jerry's classic clipper ship designs with full sails, which are much more aesthetically pleasing than modern-day ships. This style of tattoo is said to represent both adventure and the longing to return home. More broadly, ship tattoos can symbolise a love of travel, your journey through life or the navigation of turbulent waters.
6.    Wolves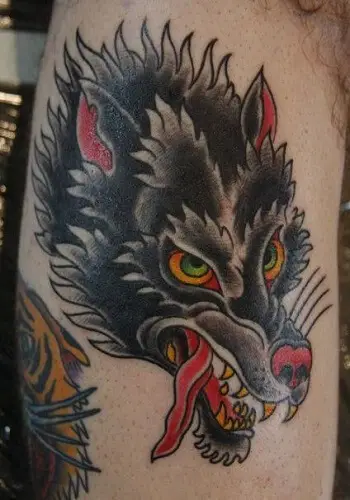 Often depicted snarling, traditional wolf tattoos can look aggressive and slightly cartoonish on the surface. However, wolves are also highly symbolic creatures. They are skilled hunters with strong survival instincts and determination, and they're also pack animals with strong family bonds. If that resonates with you, this could be the American traditional tattoo for you.
7.    Compasses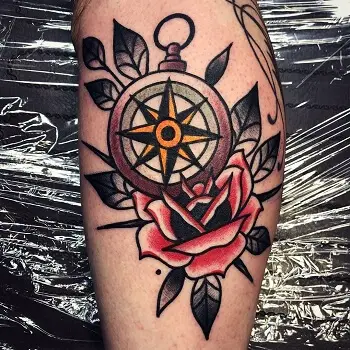 Compasses provide direction for travellers, keeping them on the right course so they don't get lost. Compass tattoos can therefore represent a love of travel or be more meaningful. They can act as a positive reminder to stay on the right path in life or provide reassurance that no matter where you are right now, you'll get to where you're meant to be in the end.
8.    Hearts
Hearts are some of the most common American traditional tattoos out there. Usually coloured a bright shade of red, classic heart tattoos symbolise love or adoration. They are therefore often paired with "mom" or a sweetheart's name in a banner. However, they may also be depicted as being pierced by a dagger which can signify heartbreak or betrayal.
9.    Sharks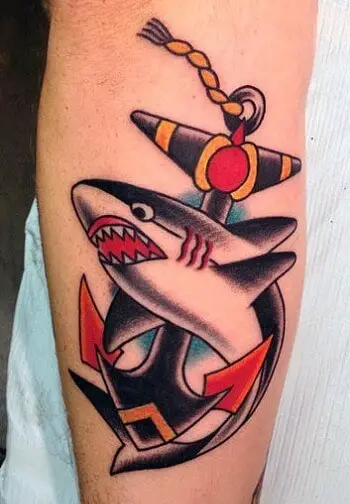 Despite being a real threat to sailors through history, sharks are a popular traditional tattoo icon. While they're often designed with pointed fins and sharp teeth, old school sharks tend to be more cartoonish than frightening. In terms of symbolism, they can be a sign of bravery or of protection against the perils of the sea. As sharks move continuously and sailors are always travelling, there's also some synergy between the two there.
10. Gypsy women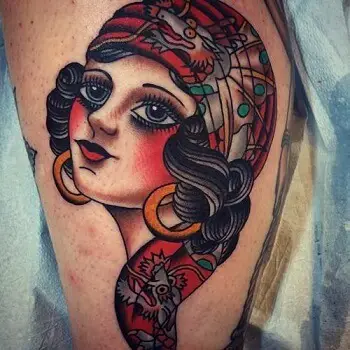 Rather than a realistic portrayal of a person, traditional portraits accentuate certain features and tend to include big eyes, long lashes and retro hairstyles. Gypsy women are one of the most popular American traditional portrait tattoos, with distinct patterned headscarves and hoop earrings. These designs have an air of mystery and symbolise a free-spirited nature.
11. Panthers
Just like wolf tattoos of the same style, traditional panthers are portrayed as ferocious, snarling animals. However, as well as being powerful predators with razor sharp teeth, panthers are also extremely loyal and protective of their families. As such, panther tattoos can represent a sense of courage and guardianship, in addition to their masculine traits.
12. Daggers
The symbolism of traditional dagger tattoos varies from person to person. On the one hand, daggers are weapons used for quick results, often as a last resort. They, therefore, have links to danger and violence, however, they can also be a sign of protection and bravery. They can also be paired with classic hearts or with roses to signify the duality of beauty and pain.
13. Eagles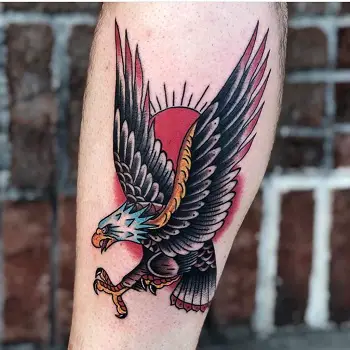 As the national animal of the USA, the bald eagle is a highly patriotic symbol. Originally worn by servicemen to show their commitment to their country, American eagle tattoos are often accompanied by the American flag as a symbol of pride. They're also representative of freedom, power, hope and even the American dream itself.
14. Dragons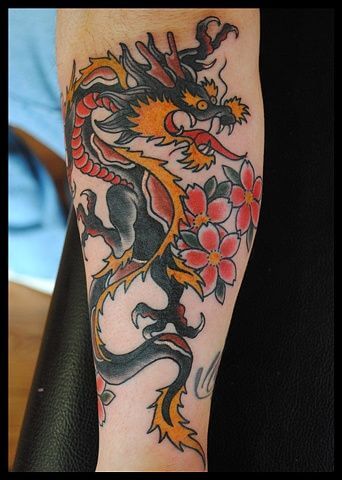 Dragons are an American traditional tattoo highly influenced by Sailor Jerry's love for Japanese art. Generally depicted with clawed feet, long thin bodies and no wings like classic Asian dragons, this iconic tattoo design represents protection, boldness and bravery. And, according to the culture they're inspired by, dragon tattoos can also be a sign of good luck.
15. Skulls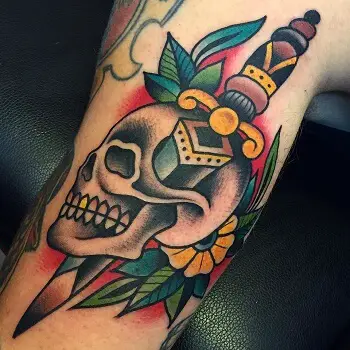 Slightly macabre in nature, traditional skull tattoos have a definite sense of memento mori (remember you will die in Latin) about them. Popular amongst warriors and later bikers and punks, skull tattoos can be a symbol that you're not afraid of death or that you have a penchant for the darker things in life. Or they may simply be a reminder to live life to the full.
Think you'd prefer a similar design but with a more contemporary twist? Browse an incredible 129 neo-traditional tattoo designs on our blog!