Top 30 Skull Tattoos Ideas Explained
Traditionally, the Skull is used as a symbol of death and decay, and these are the usual ideas when we see a skull tattoo is to induce a skull tattoo on a person's body. However, this is not the only meaning of a skull tattoo. Tattoo designs are an exciting one because they sometimes mean very different things than we assume first. Although many skull tattoos represent death and darkness, as we count on them, other less obvious and less pathological meanings of skull tattoos include protection, power, strength and overcoming obstacles.
Here we will be discussing 30 different skull tattoos with their impact and meanings encompassing the concept of skull tattoos meanings and skull tattoos ideas in depth:
SKULL TATTOO WITH CROSSBONES
Have you ever wonder to be a pirate? At first glance skull tattoo might looks a bit spooky, but it has a relaxed look with a touch of elegant creativity. It is also considered one of the best in skull tattoos ideas. Your tattoos indeed define your personality, and the location is up to you according to your personality.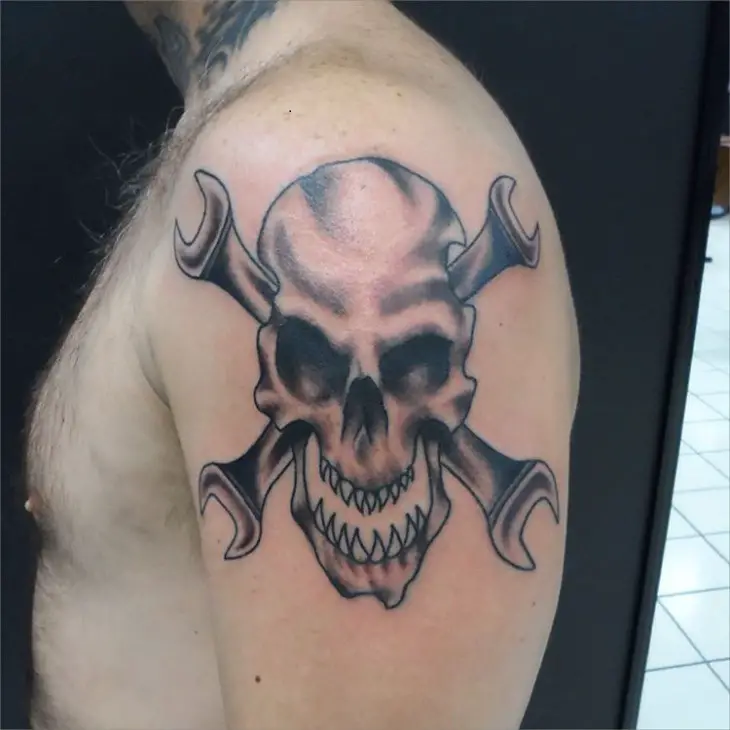 SUGAR SKULL TATTOO
A sugar skull comes from Mexican culture and represents the Day of the Dead. This tattoo has a unique meaning in skull tattoos meaning dictionary. This type of Skull is usually designed in pictures with colorful flowers and butterflies and is made to honor the dead.
SKULL LEAF TATTOO
Skull sheets usually cover the entire arm and sometimes have a pirate cross on it. The tattoo usually symbolizes that the person lives his own life according to his own ways.
If you are willing to know more about Skull leaf tattoos and their relevant meanings, pay a visit at https://tattooli.com/best-138-of-leaf-tattoo-meanings-tattoos-of-leaves/ .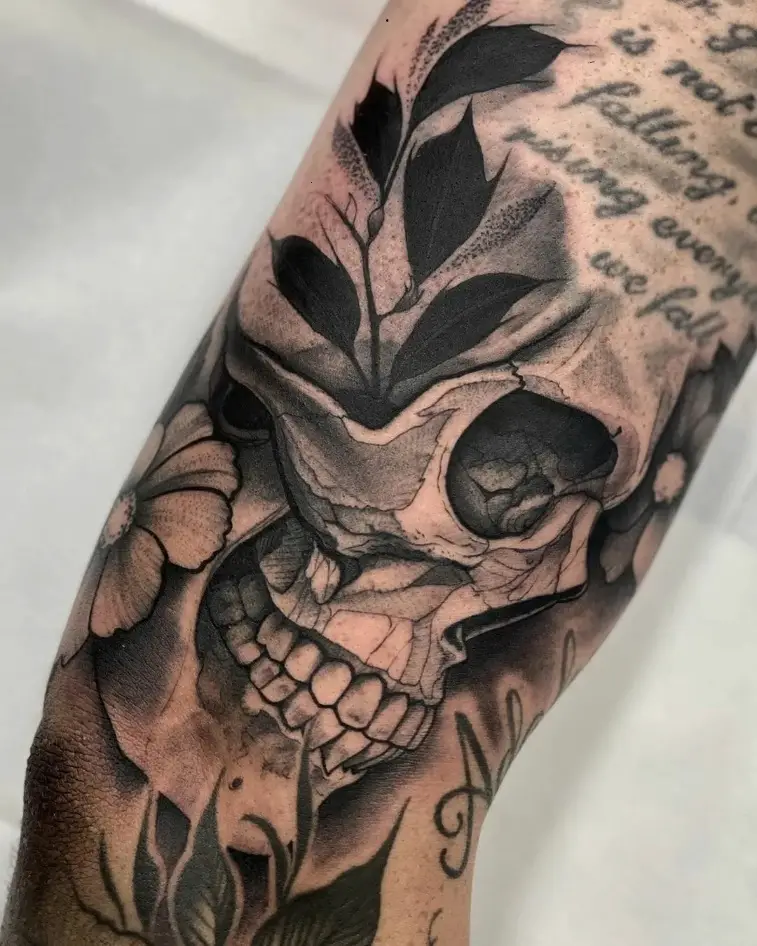 LONGHORN SKULL TATTOO
The tattoo has been widely used by Americans as it is inspired by Native American culture. This tattoo is the best choice among skull tattoos for men by Americans. The American believes that this tattoo is a symbol of fighting the earth's evil elements with valour and courage.
Are you looking to know more about Americans how much they love tattoos. Must click the link for more info: https://tattooli.com/15-american-traditional-tattoo-designs-meanings/
THE WING SKULL TATTOO
A skull with wings comes from hundreds of years of artistic culture and represents our mortality or also symbolize a sense of character growth.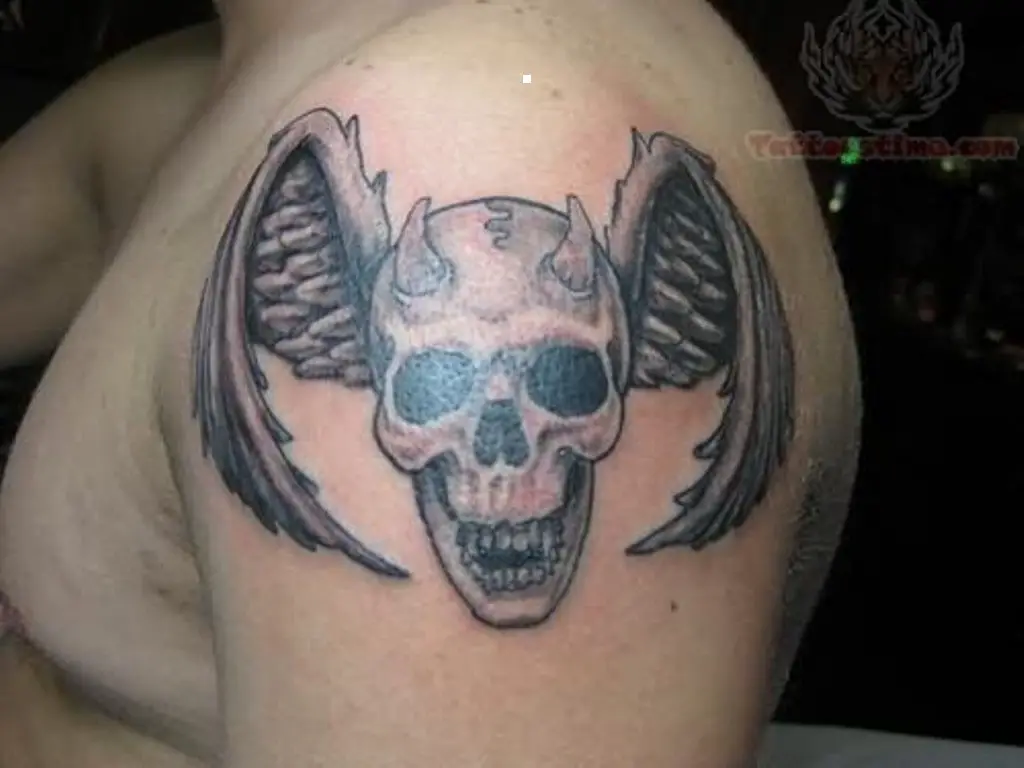 TRIBAL TATTOO ON SKULL
This Skull is geometric in design and is usually adorned in remembrance of those who have passed away. It can also symbolize the presence of the spirit of those who have died.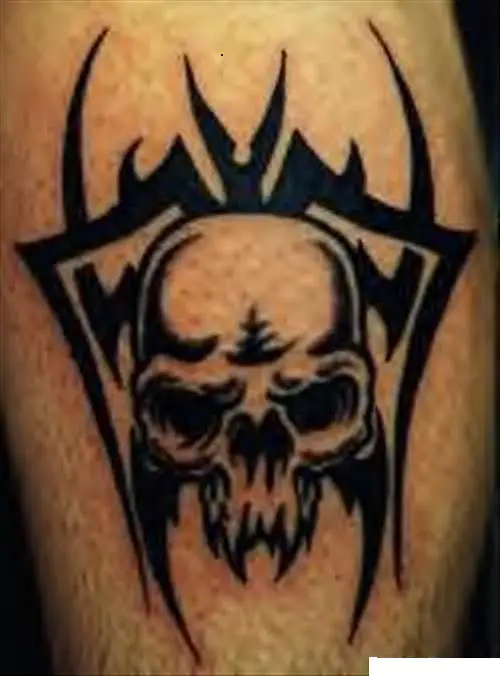 SKULL AND SNAKE TATTOO FOR MEN
The snake or serpent skull tattoo symbolizes death. When they come together, the tattoo as a whole represents the persistence of knowledge after death. You might count this in the category of most bizarre skull tattoos meaning.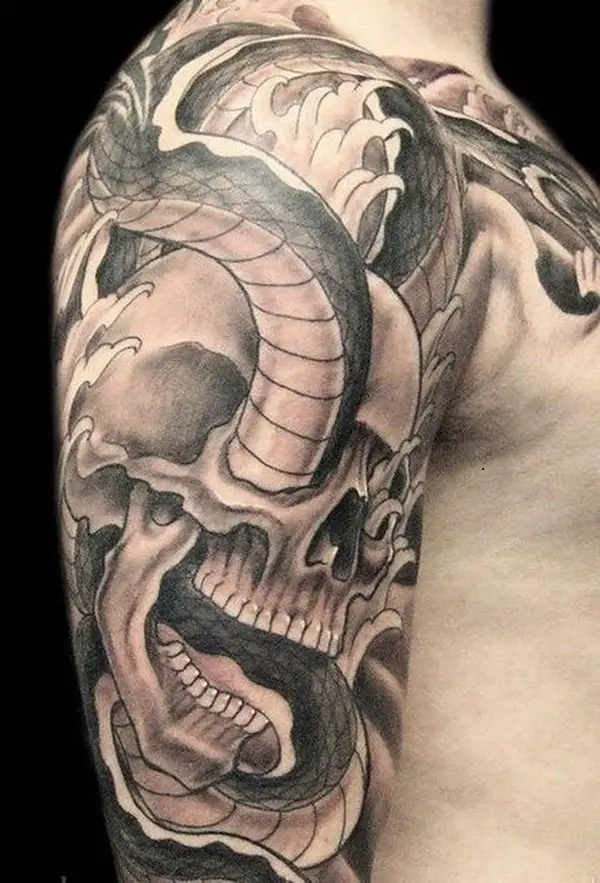 MOWER TATTOO
Apart from the fact that skull tattoos meaning varies from design to design. This mower grim reaper tattoo is a common representation of death, this tattoo actually symbolizes the circle of life and can represent courage and good fortune.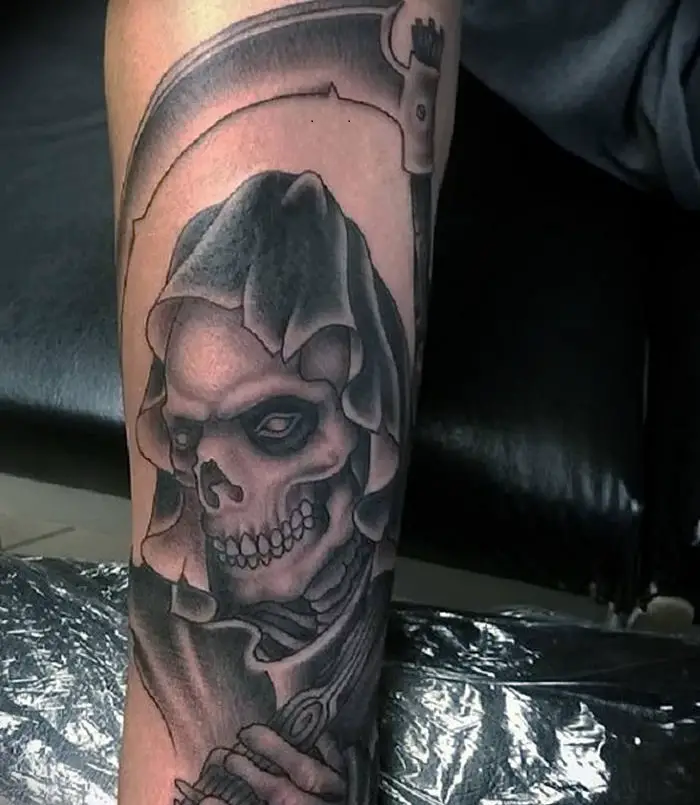 CELTIC SKULL TATTOO
This tattoo is considered by Celtic culture to be "the seat of the soul". It is among the greatest skull tattoo ideas. It represents a type of portal that leads to a higher form of power, knowledge and understanding.
HUMAN SKULL TATTOO
The human skull tattoo usually represents death; the person who wears this tattoo usually uses it to symbolize that death does not scare them. It might be one of the greatest choice for skull tattoos for men. The tattoo guy also reminds people that death is inevitable, which is why we should always live life to the fullest.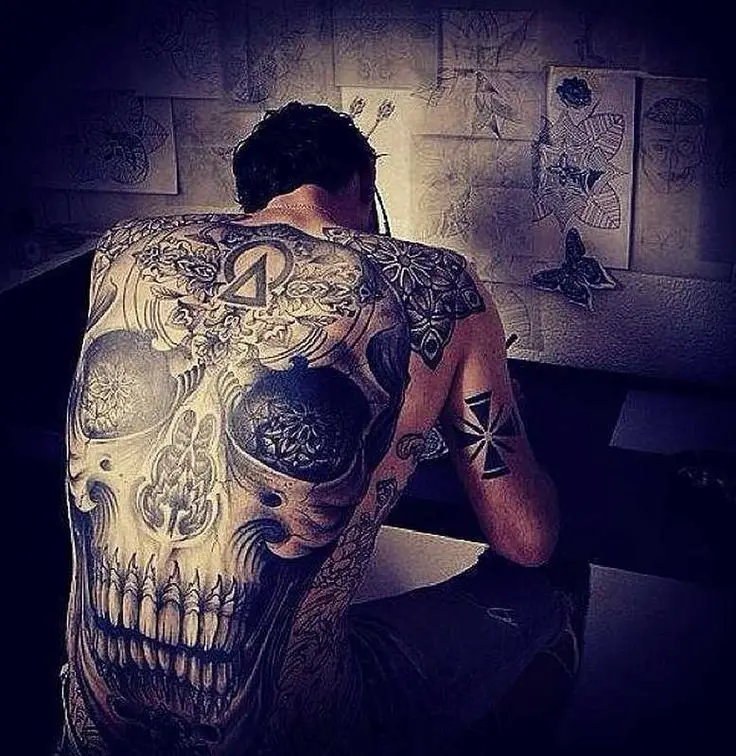 ROSE SKULL TATTOO
This tattoo is interesting because it represents two different things. The Skull represents life and death, while the rose represents beauty and love. Together, the Skull and the rose tattoo symbolize a struggle between the beautiful and the ugly in times of evil versus good.
Many interesting facts and methodologies can be read at https://tattooli.com/rose-tattoo/ . Have a scroll!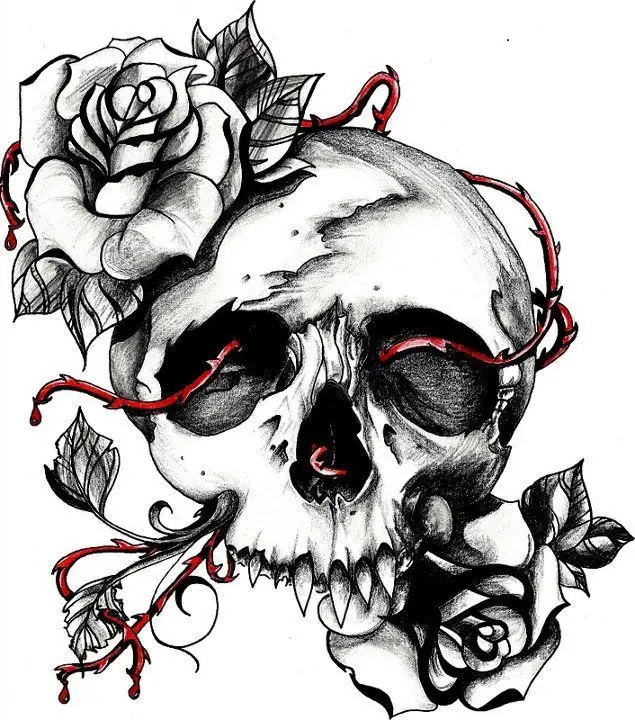 SKULL LEAF TATTOO
Skull sheets usually cover the entire arm and sometimes have a pirate cross on it. The skull leaves symbolize that the person with this tattoo lives by their own rules and goes their way. A perfect example for skull tattoos for men.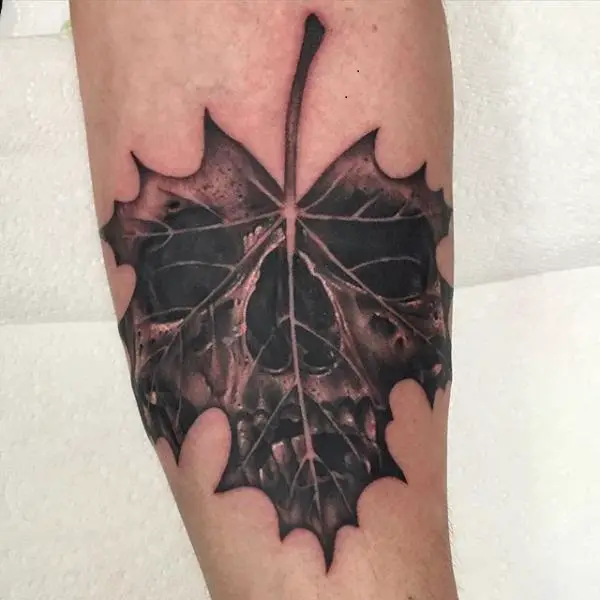 BULL SKULL TATTOO
Popular in Texas and the western United States, the bull skull tattoo design symbolizes strength, courage, and agility. It might be the best choice in the nomination of skull tattoos for men.
MEXICAN SKULL TATTOO
In Mexico, the Day of the Dead is a popular holiday where families come together to make skulls decorated with sugar or candy. These skulls represent a celebration of life. It might be consider as one of the absurd skull tattoos ideas we have.
SHAKESPEARE'S SKULL TATTOO
This Skull symbolizes the absurdity of life and the union of comedy and death.
FEMALE SKULL TATTOO WITH RED ACCENTS
Red accents draw more attention to this skull ink. A female perspective personalizes a person who has passed away and was a loved one to the wearer.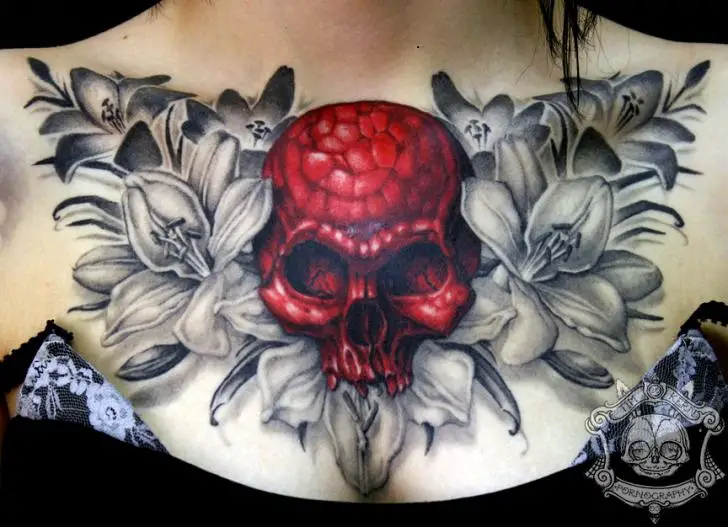 BLACK NEO-TRADITIONAL SKULL
The Neo tattoo represents a clear reminder of the short lines between death and life. The tattoo symbolizes master over slaves.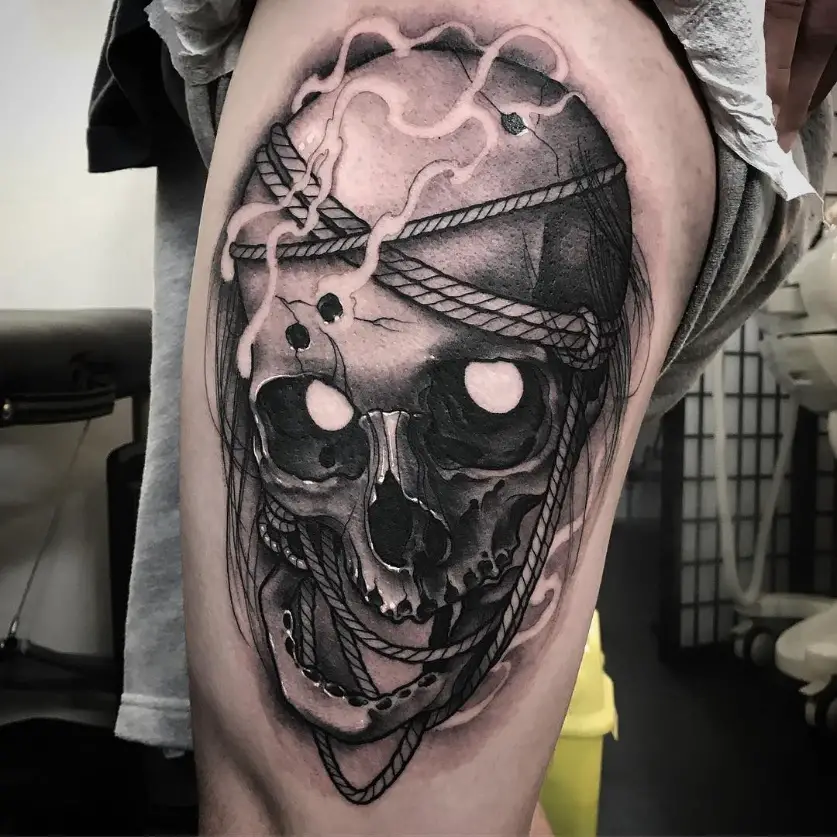 LITTLE SUGAR SKULL TATTOOS IN BLACK
A little floral design of the Sugar Skull is an attractive choice for Emo boys! It gives the Skull a pleasant look with deep meaning.
COOL SPANISH SKULL TATTOO ON CALF
It is a true masterpiece! The calf is an excellent place to put all the bells and whistles. The net on the girl's face is an indication of death, and the roses represent life.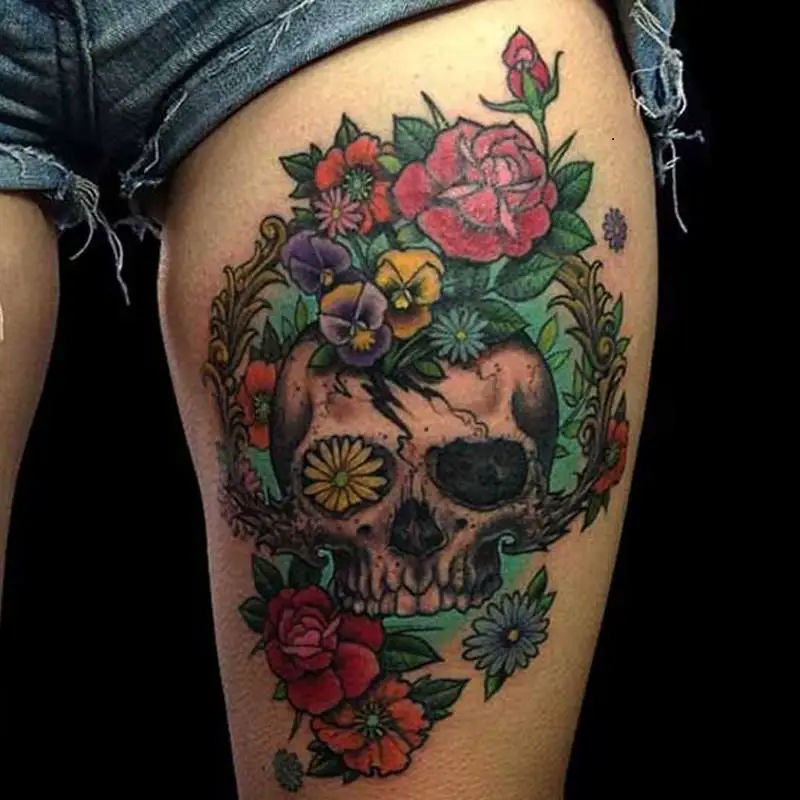 SKULL LITTLE FINGER TATTOO
What a masterpiece! A small sugar skull looks like a signet ring. White light works well with the design shown.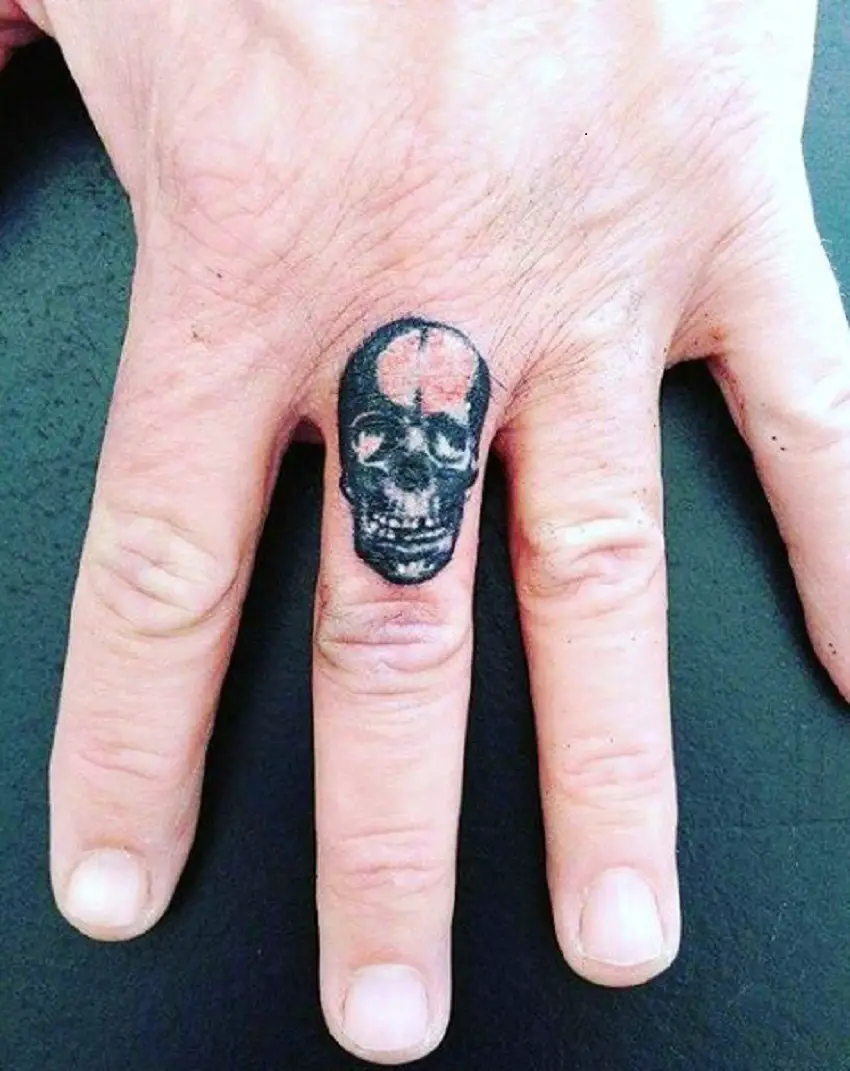 SKULL STOMACH TATTOO FOR LADIES
A black and grey couple tattoo is ideal for women to show that love is endless. More women tattoo ideas can be found at https://tattooli.com/leg-tattoos-for-women/ .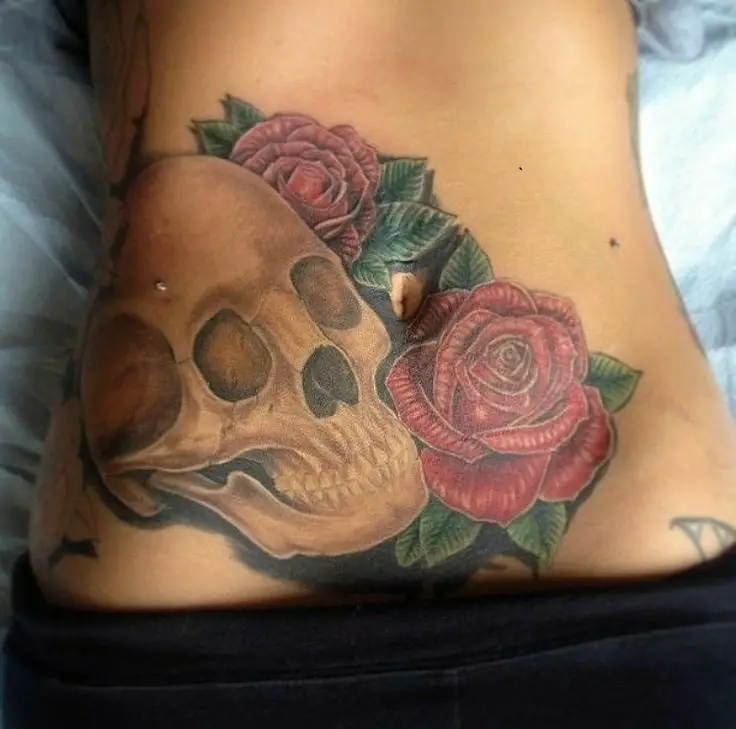 SKULL TATTOO ON THE ARM WITH GEOMETRIC LINES
A quirky two-sided design is a great way to portray man and woman as an endless entity. The geometric side speaks of the man and the flowers – of the woman. It would even look better than two different skulls.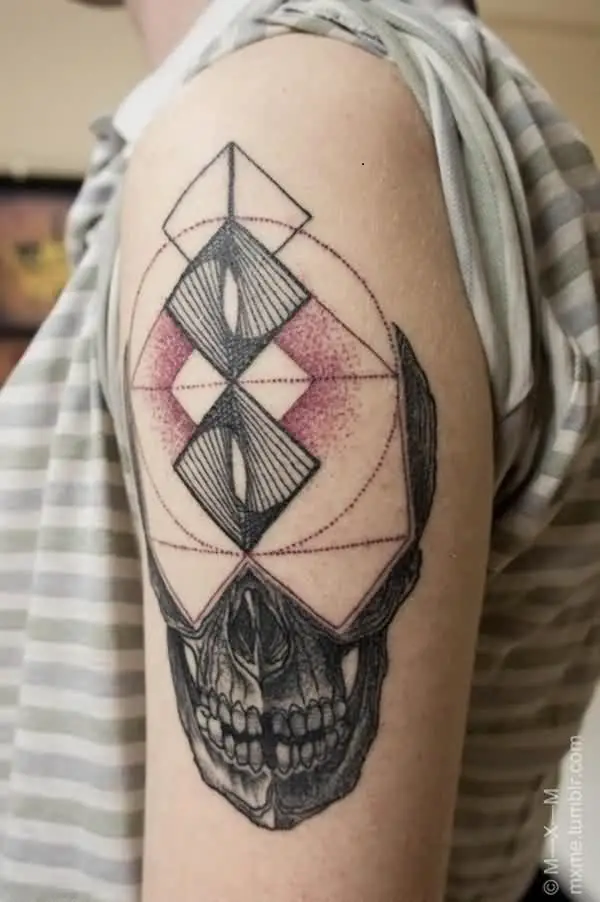 SKULL WRIST TATTOO WITH DIAMONDS
Simple, but significant! The diamonds in the eye sockets are brilliantly coloured, and it looks like they sparkle. The tattoo represents eloquence and elite nature.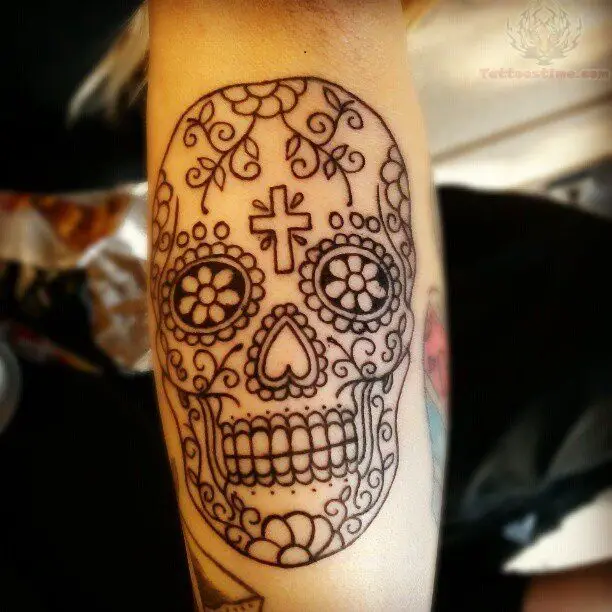 CATRINA TATTOO
We can spend hours looking at a Catrina tattoo in colour or black and white, as their finish and detail is often stunning. Catrina brings out femininity and strength.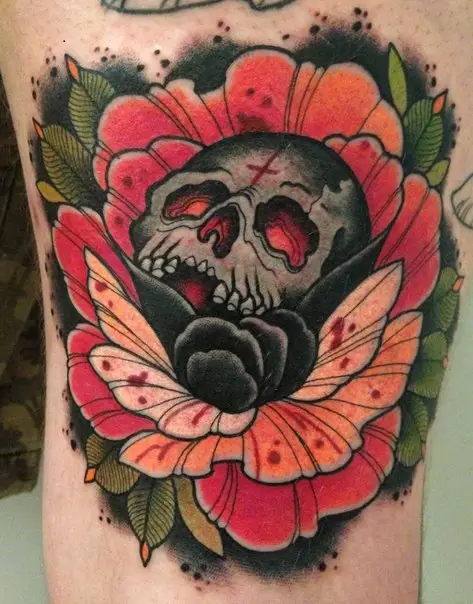 TWIN SKULL TATTOOS
These tattoos are the coolest adventure one can have. If you have a lot of space and want to make two skulls, this is a great idea.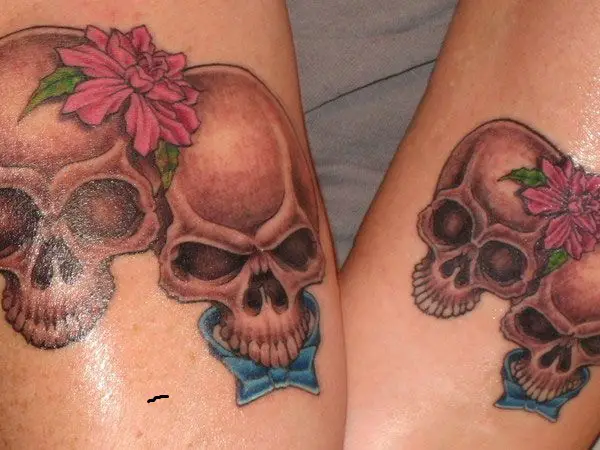 SKULL WITH CLOCK TATTOO
In the case of the mixture of the Skull with a clock, this means the passage of time. The most accurate interpretation given to this type of tattoo is to live as if it were the last second of your life.
SKULL WITH A MIRROR TATTOO
The meaning of this tattoo interprets that beauty is volatile, and it will end here. It also describes that from inside, we all are the same. More beautiful tattoos for women can be found at https://tattooli.com/unique-tattoo-ideas-for-women/
SKULL TATTOO WITH CROWN
A relatively large and detailed design, with a background colour, combines different elements such as the mirror, the rose, the crown and of course, the Skull. It dignifies the supreme ruling authority.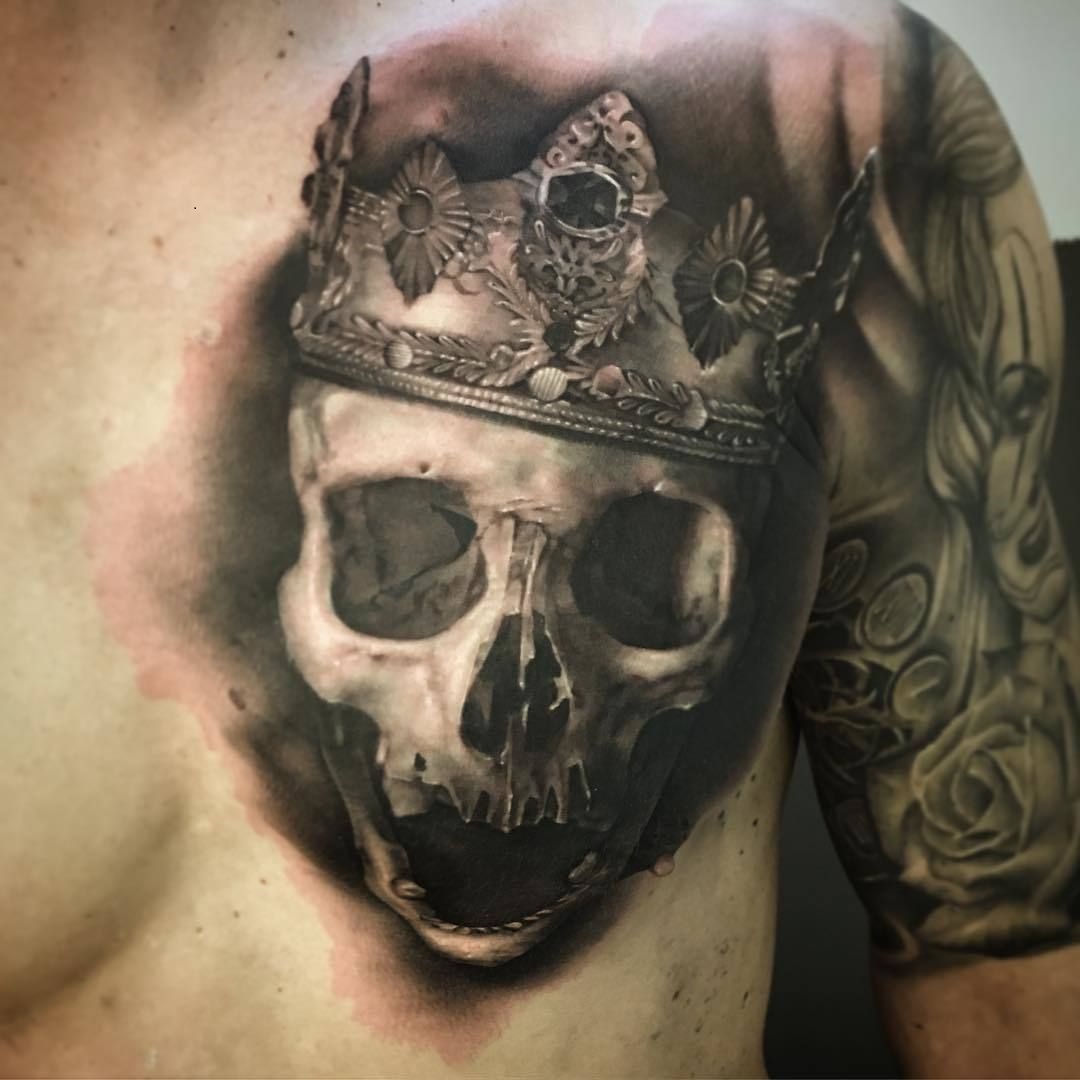 RED SKULL TATTOO FOR MEN
A red skull tattoo symbolizes dominance and aggression. It is not common but can be called as one of the most outrageous among the present skull tattoos ideas for men.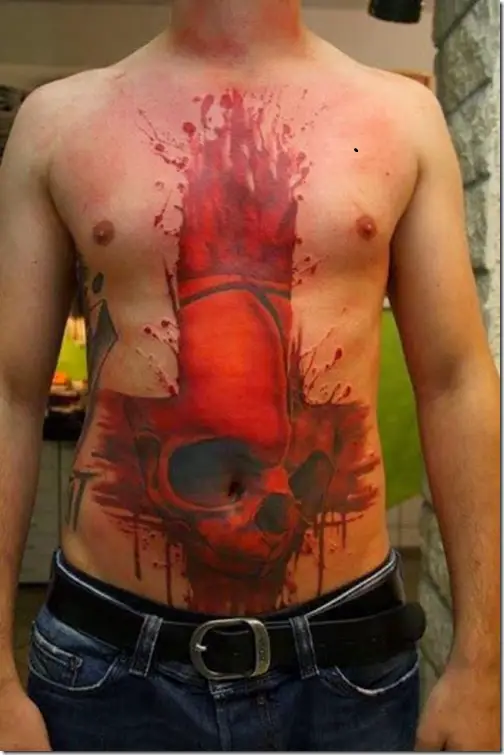 DIABOLICAL SKULL TATTOO
The diabolic skull tattoo has a very horrific meaning as it has been used by dark religions for their deadly rituals. This might be a myth but our ancestors hold this believe. This skull tattoo is uncommon in skull tattoos for men but possesses very satanic type meanings and the person having it is a deadly guy.