A flower tattoo is one of the most popular forms of body art out there, with various sizes, styles and colours to choose from. But where's best to place them on your body? If you've got your heart set on a floral piece but can't decide where to put it, read on to discover our 10 favourite flower tattoo placements.
1.  Shoulder/ upper arm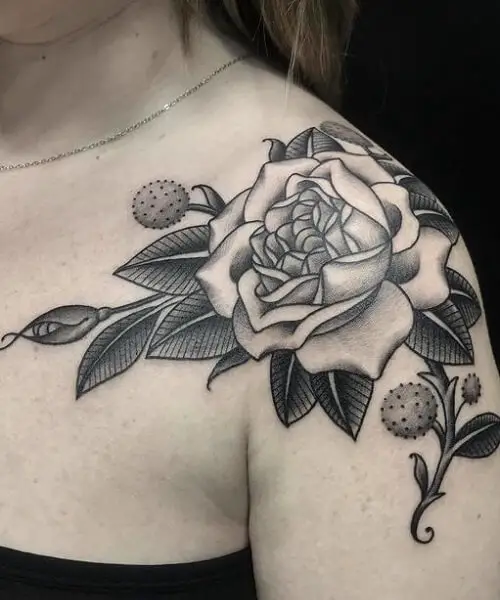 A popular placement for flower tattoos, the rounded shape of the shoulder makes it suitable for a range of floral designs. Larger flowers like sunflowers, roses and peonies work well as standalone pieces here. Alternatively, you may want to choose a design with leaves that drip down the arm or spread across your chest – it's completely up to you!
The shoulder area is a great choice for flower tattoos as they can be showed off or covered up depending on the occasion. They also look edgy and sexy, without the need to reveal lots of skin. Plus, a shoulder flower tattoo won't really be affected by ageing or pregnancy.
2.  Thigh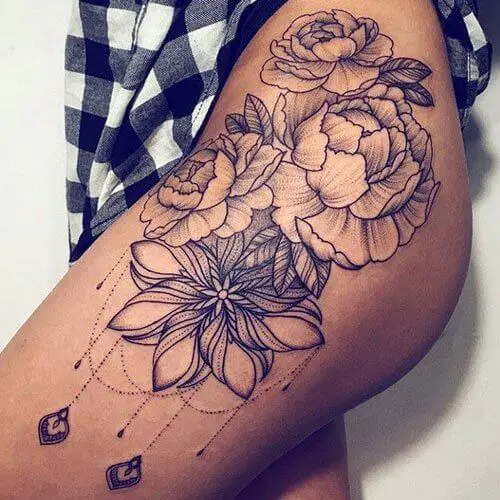 Choosing the thigh area for your next flower tattoo gives you more space to work with. You can go as big as you like and even incorporate elements like animals and skulls into your floral thigh piece if you wish. Flower tattoos in this area are usually made up of several large flowers backed by leaves that follow the shape of your body. This can help to create a flattering look that accentuates your curves while slimming your legs. Better still, thigh tattoos aren't generally too painful since it's such a fleshy area.
3.  Wrist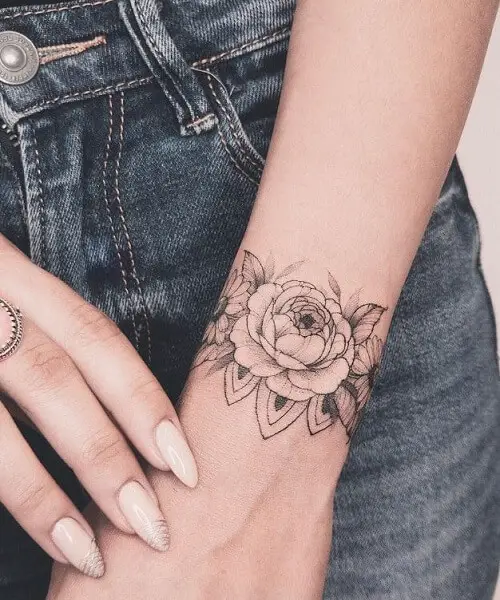 On the other end of the spectrum are floral wrist tattoos. Flower tattoos in this region are often small, minimalistic designs. Wraparound styles are also common. Delicate fine line wildflowers, daisy chains and florals that incorporate vines are all popular flower tattoos for wrists. Another option is to get a single flower tattoo on the side of your wrist for a clean and simple look.
Whichever floral wrist design you prefer, just make sure you choose a flower tattoo with meaning or one that you'll like forever. It's a prominent spot and you'll see it every day!
4.  Back of arm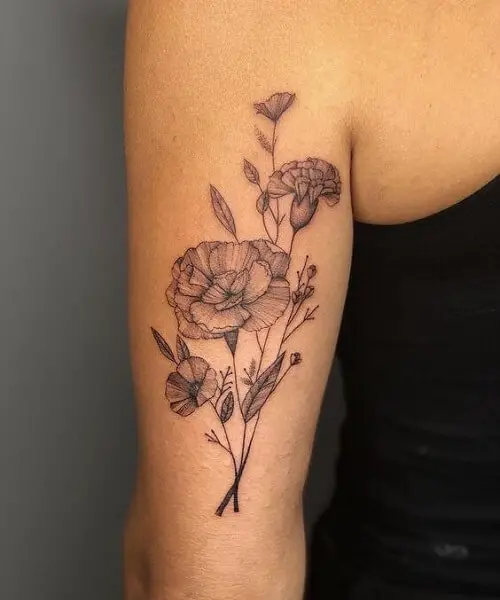 Getting a flower tattoo on the back of your arm is right on trend! This Instagram-worthy placement is a discreet spot for those who are looking for less prominent flower tattoos. They peek out from under t-shirt sleeves and are only visible from the back.
Dainty minimalistic floral designs are the most popular choice for this area of the body, namely floral bouquets and fine line styles. These flower tattoos are feminine but have a quirky edge and you can even add a geometric shape into the mix for a modern twist.
5.  Ankle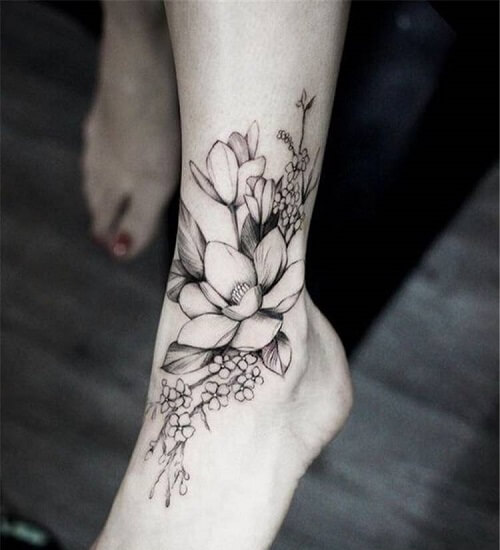 The ankle is a highly versatile area when it comes to flower tattoos. Opt for wraparound styles like the wrist or designs that sit on one side and even extend down the foot. Lillies, hibiscus flower tattoos with leaves and blossom branches are some of the most flattering for the outer ankle, as their natural curves will follow the outline of your muscle. This can help to make your legs look slimmer and they'll also freely follow with your ankle as you move. Anklet flower tattoos are also cute, but be sure to choose a dainty chain or you may make your legs look shorter.
6.  Sternum
An extremely popular placement for flower tattoos in recent years, the sternum is a feminine and sexy spot for a variety of floral designs. You can go as big or as small as you like, but the best sternum flower tattoo designs are generally the ones that fit the curve of your chest.
Floral chandelier tattoos with beading look elegant and often feature lotuses or peonies in the centre. Geometric diamond-shaped designs that extend upwards feel contemporary, while styles with leaves that reach across the ribs are extremely pretty. Just be aware that this is a painful spot to get a flower tattoo!
7.  Upper back
Another highly versatile spot for flower tattoos is the upper back region. The large, flat surface area means almost any design will work here. Choose large wildflower tattoos that span your shoulder blades or single rose tattoos that elegantly drip down your spine. Lotus flowers with mandala-style dotwork are another popular choice for the centre of the upper back. It really is prime real estate, so consider adding other elements into your flower tattoo to make the most of this area!
8.  Collarbone
Flower tattoos on the collarbone can be small floral designs on one side or a symmetrical pair. Either way, they're a feminine and stylish choice that can easily be covered or shown off, just like shoulder tattoos. Collarbone flower tattoos are also a great alternative to full chest pieces and you can choose whatever size design you like for this area.
Whether you prefer delicate fine line flower tattoos that sit right across the collarbone or larger florals that extend over the chest towards the shoulder, there's an option for everyone. Peonies and roses backed by leaves are particularly popular for bigger collarbone designs.
9.  Ribs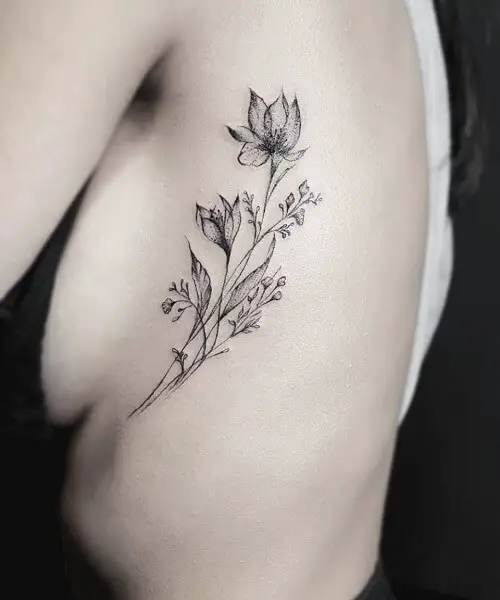 The ribs are a sensual, feminine placement for flower tattoos as they're only visible in a bikini or lingerie. Delicate cherry blossoms and peonies with leaves can be designed to follow the curves of your body. Single flowers and minimalistic bouquets also work well on the flatter part at the side of the ribs. Or, if you'd like something bigger, why not try the back of the ribs and extend your flower tattoo design up your back? This will give you room for multiple flowers and even a complementary butterfly tattoo if you wish.
10.Knee
Not for the faint-hearted, flower tattoos on the knee are notoriously painful. However, they're an eye-catching choice for those who are already pretty heavily tattooed. Like the shoulder, the knee's rounded shape works well with large flowers like roses, peonies and sunflowers. Large traditional flowers featuring bold colours are also great for creating a vibrant look, while mandala-style flowers in black and grey are more subtle. Alternatively, you could try a garland surround rather than tattooing your entire knee.
Whichever style you choose, you're bound the make a statement when you wear a ripped pair of jeans with this striking flower tattoo placement.
Changed your mind about getting a flower tattoo? Explore more tattoos for women on our blog for inspiration.