We all know the feeling of having that special someone in their life. As you are reading this, you probably also find yourself in the tattoo way of life too. What could be a better symbolism to the two than to get a tattoo to show that? Couples tattoos are one of the most beautiful ways that you can prove that the other person is unique to you.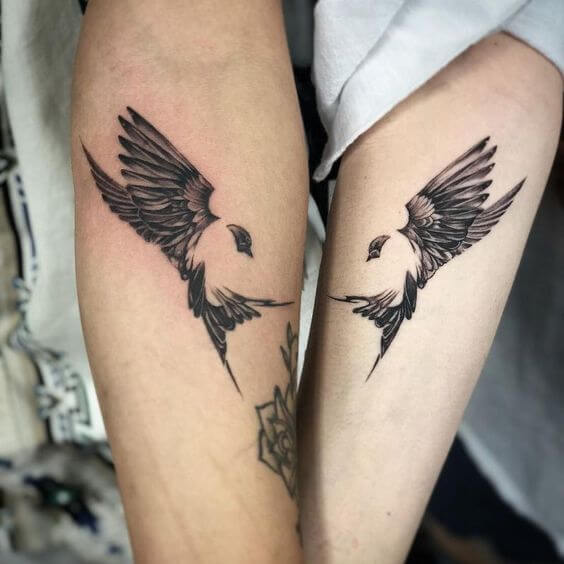 There are various ways in which you can prove this fact through tattoos. Some are obvious to other people, and some are more secretive and personal. When you think of tattoos for couples, your initial thought may be to have wedding bands tattooed. But that will only work if you are, or planning to get married. This article is designed to show you that not only married, or engaged people can have matching tattoos, but anyone can. The symbolism is of "a couple," not necessarily of lovers. It could be a "couple" of best friends or a "couple" of siblings.
Take a look through the article and see what we have found that gives this symbolization some meaning.
Matching Couple Tattoos
Identically matching tattoos are one of the all-time favorites. They prove something that other types of tattoos usually cant. That proof comes in the form of togetherness. They show a feeling of mutual love and respect. That one is not better than the other. They can be stand-alone tattoos that provoke thought in yourself, and conversation with others.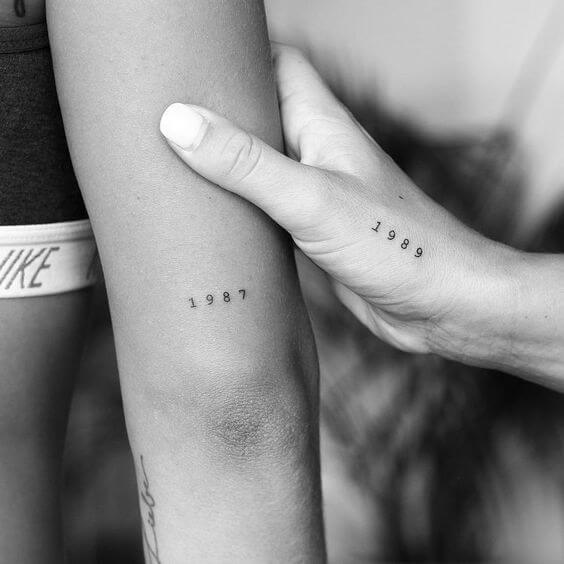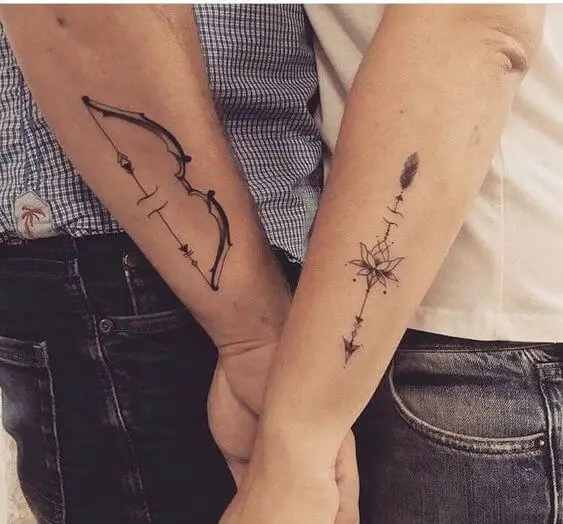 When you are away from your loved one, you will both have the same reminder of each other that will serve as a permanent bond. Matching couple tattoos are commonly small, but can be any size or image that you both desire. Often, you would tend to have something of significance to each other, such as a time in your lives that remind you of each other. That does not have to be of a time that you even knew the other person, however. It could be that you both did something that reminds you, or of a time that you first met.
Or perhaps you both have a great fondness to something that is your most significant common bond. With a little bit of thought, these are generally easy to figure out.
Here are some examples:
Matching Music Tattoos for Couples
Music has always been something that can influence relationships. It is often being played where you meet, or at a place that you like to go. Perhaps it is an album or artist that you both particularly enjoy. Or maybe it is your wedding song.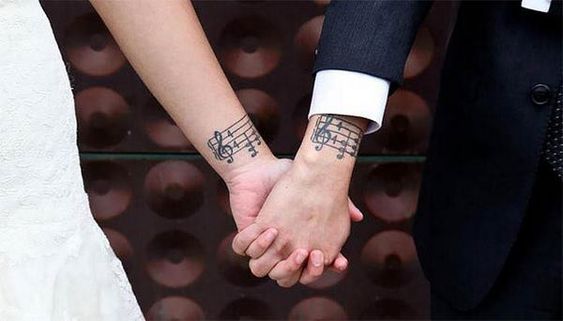 Here are a few options that you have: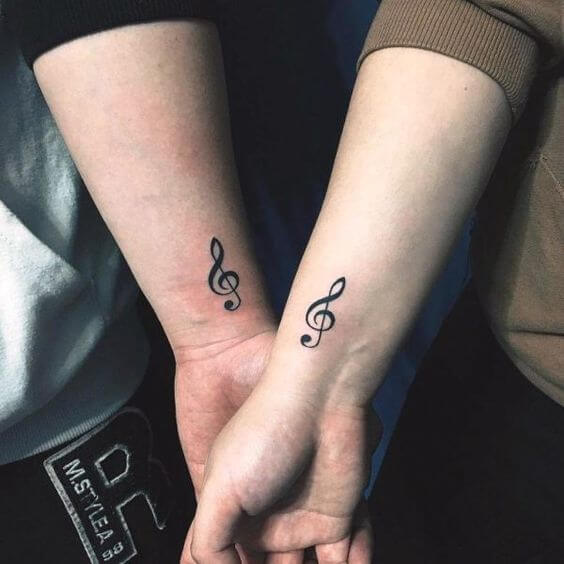 I like the idea of having the first set of musical notes from "your couple song." That way, not only does it remind you of each other, it will always hold a special place for the song too.
Matching Animal Tattoos
Animals can be another great bond between people. I have found that a couple is both animal lovers, or they are not. If you are an animal lover, then there is also likely to be an animal that you are both very fond of using in your matching animal tattoos.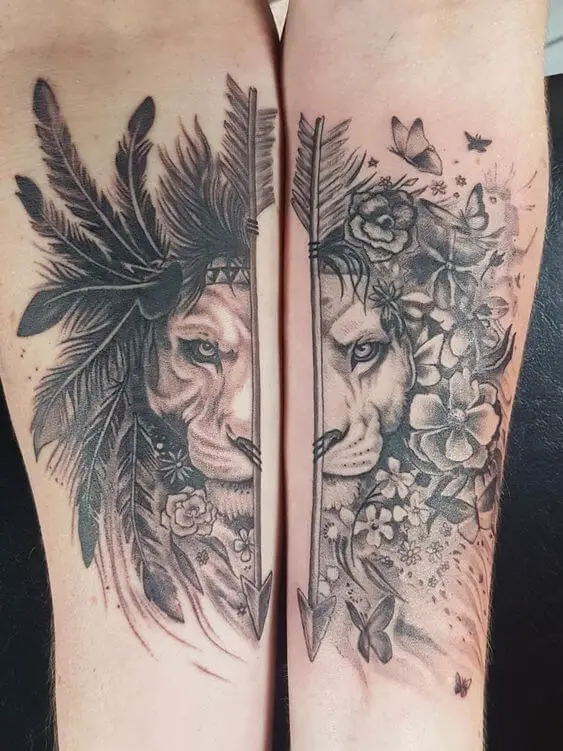 Here is a list of some of the ideas: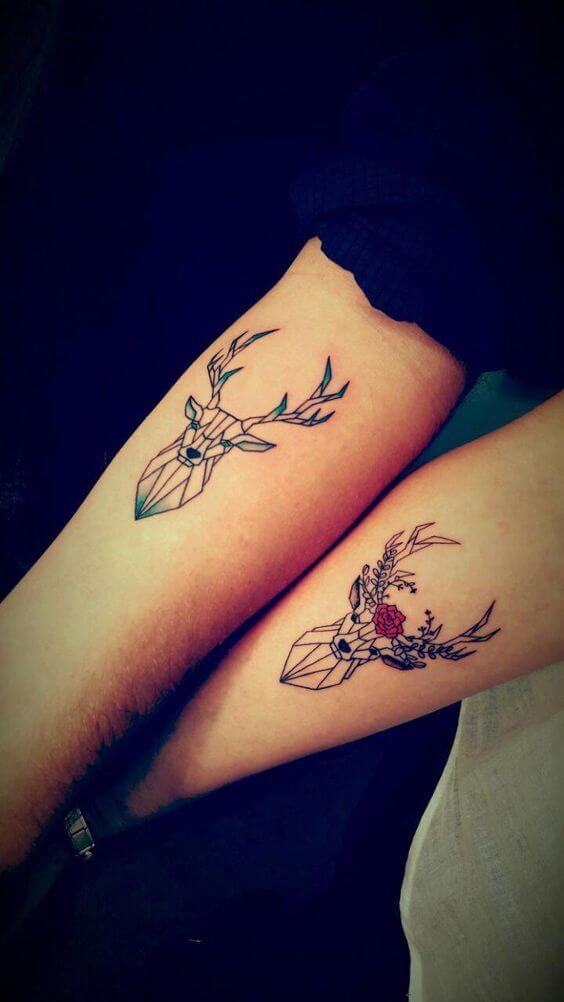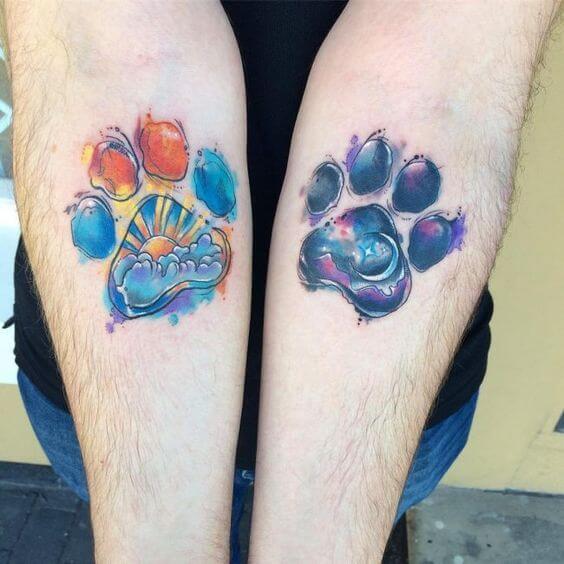 Swans or Doves as symbols of love
There are many symbolic meanings to animals, and I would suggest that you take a look through our tattoo meaning section and see if there is anything that you find relevant to you.
Location Tattoos
We are not talking about the location of the tattoo. It is using a place as a tattoo. As with music, areas you visit are a very relevant theme throughout a relationship.
Some of the places that you could use as tattoos are: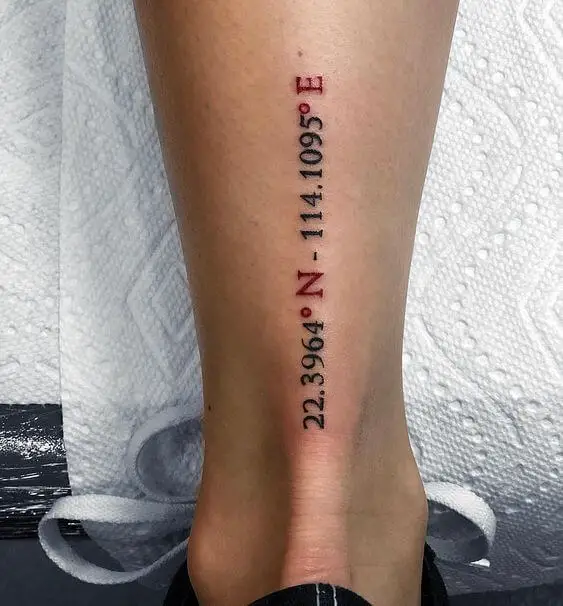 Your First or Favorite Holiday Destination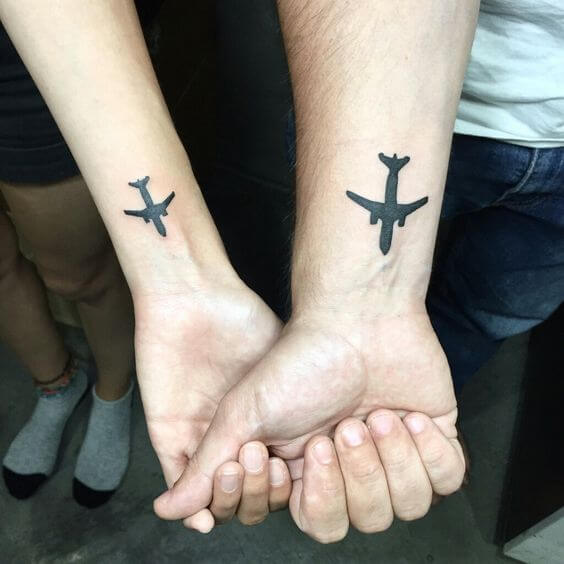 A place you would both love to Visit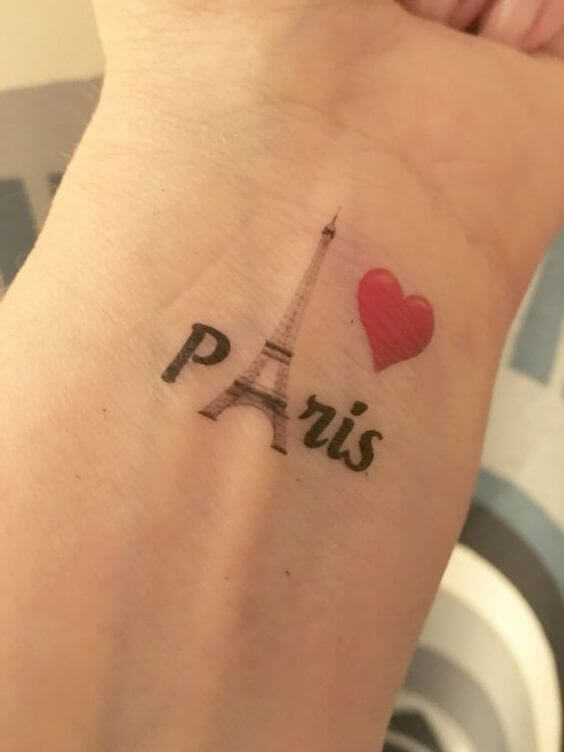 As with all of these ideas, the world is your oyster. Within all of these ideas are numerous and endless possibilities. Perhaps there is a time in your life, even when you hadn't met each other, that you worked the same job. Have you both been baristas in a coffee shop? You could have a cappuccino with a heart dusted on it. Have you both been in the Navy? You don't have to have seen one another there, but it certainly holds relevance to how well you both get on. So why not use an anchor or something similar?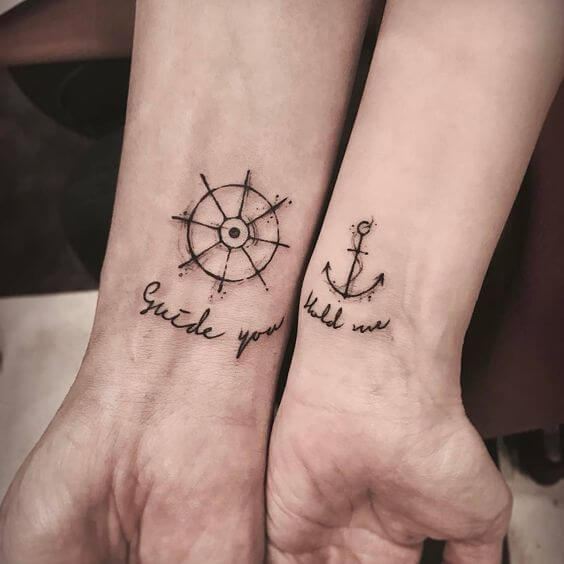 Small Tattoos for Couples
Perhaps you do not want to have a great big piece of art to show your affection. Maybe you want to have something small and dainty. There are plenty of small tattoos that couples can have that still show massive commitment. Almost anything that you can think of can be made tiny. Tattoo artists are very good at doing what you ask of them. Providing you have found the right one, of course. Outlines can be very effective ways to get a statement without having to have massive amounts of ink put into your skin.
Here is a list of a few of the best: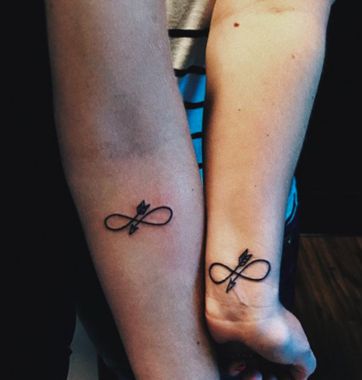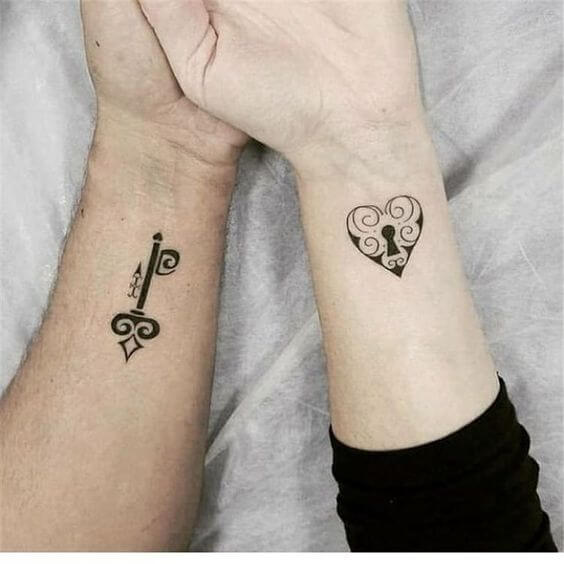 "K" and "Q" for King and Queen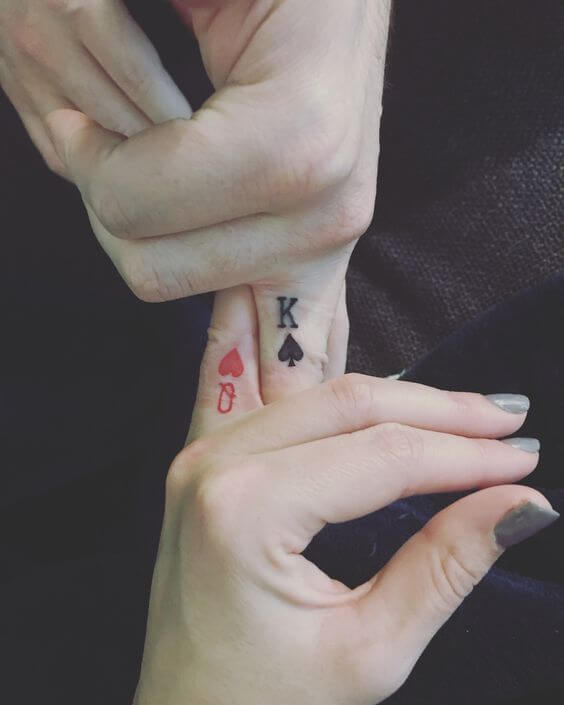 The other persons first initial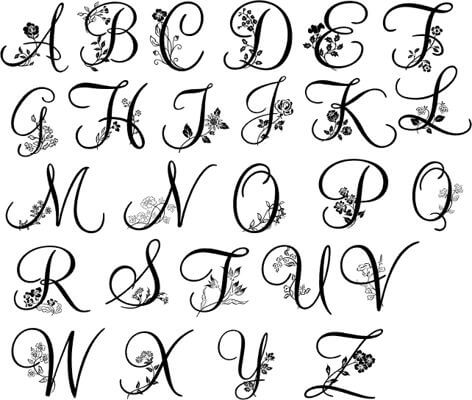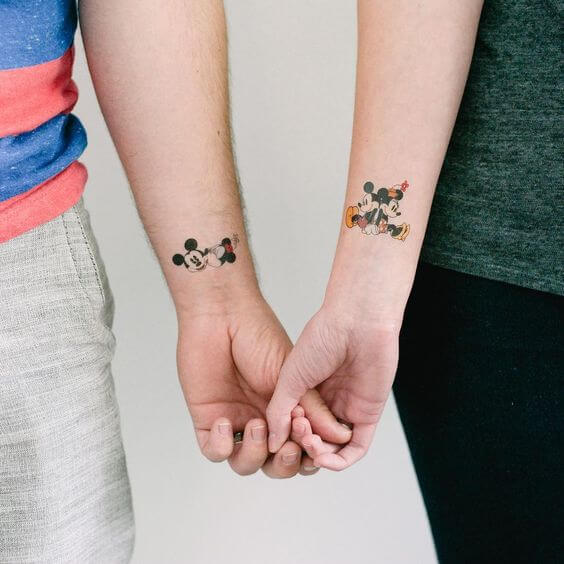 As I have said, there are an infinite amount of these tiny couple tattoos that you can choose. You could also even have them matching. For example, you could hold hands and have half a heart on joining fingers. Or a rocket on one arm going to the moon on the arm of the other.
Cute Couple Tattoos
There are some adorable couples tattoos available now. Anything that has matching themes and a love element is the beginning of a cute tattoo. What makes it, though, is when those two tattoos meet up when you are both together and in a natural position. The first thought is going to be when you are holding hands. Your hands are a brilliant place to get matching tattoos, but it is by no means the only place.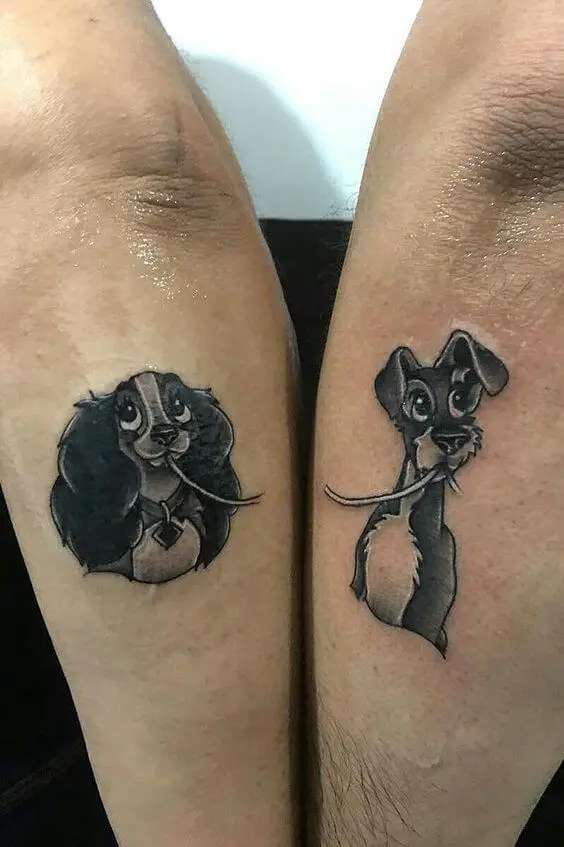 Think a little bit outside the box with this idea, and you would be amazed at some of the ideas that you can find. How about on the shoulder of the shortest one of the two of you and wherever that matches on the taller one? So that when you are stood next to each other they meet? Or on your feet to show that you will stand together? Perhaps on your thighs where your legs meet when you are sat together? There are so many places you could use; you have to have a little think.
As for cute Couple tattoos, here is a list of some of them:
Characters are passing something to the matching character.
Characters that are inevitably going to end up together.
Birds perching on a swing looking at each other
Anything that you can think of that you may need in pairs works well. More often than not, the trend is that if one tattoo requires another to complete it, that is an ideal candidate.
Sea-based Tattoos For Couples
There are a lot of sea-based images that you can use for tattoos for a couple. The sea has a connotation that you are lost without the other person. Or that one navigates another. Or that one person keeps the other steady. As you start to see each other for how you work together, you may find that one of you is more likely to be one of the images, while the other person is the other.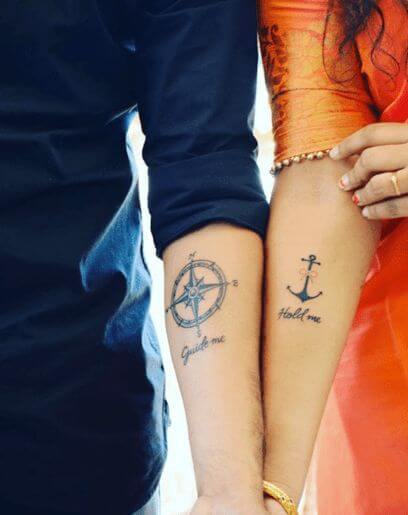 Here are a few examples: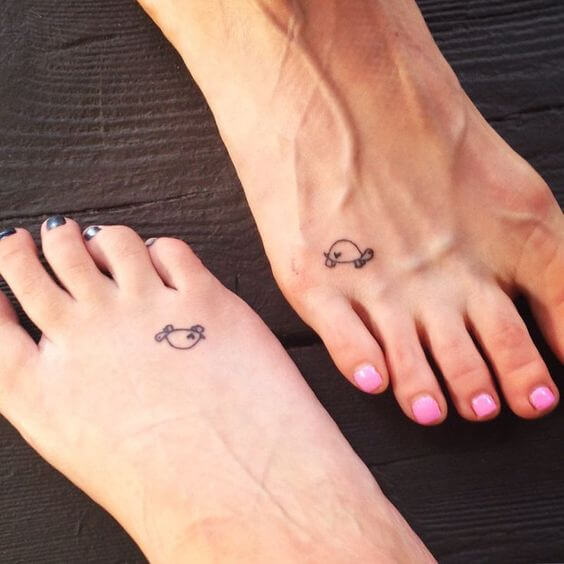 An anchor and a ship wheel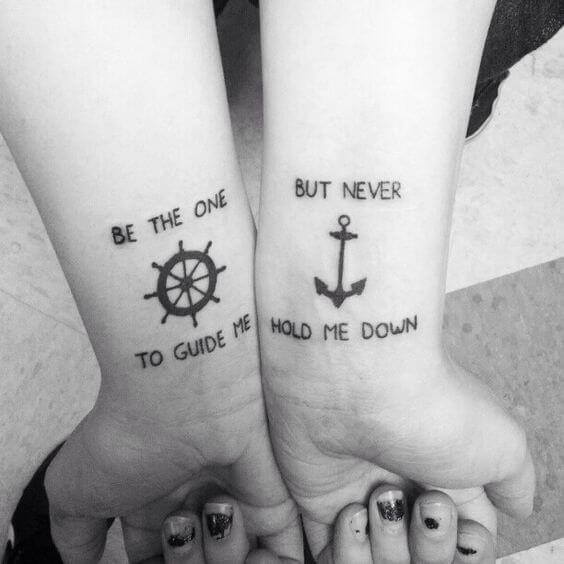 A ship wheel and a compass
A ship wheel and a lighthouse
A map and Compass
There are many variations of even just the above. You can mix and match them any way you would like, or that suits you.
Finger Tattoos for Couples
Given the size of the average finger, you are going to be looking at small tattoos. However, finger tattoos are becoming more and more popular now. Getting a matching symbol on your finger can show special commitment. The hands are places that you can have difficulty covering up at all times. That is what makes them so unique. You are declaring your feelings to the world.
Here we have some of the best finger tattoos for couples:
Heart Finger Tattoo
If you want something to be visible, but still a little more discrete, then half a heart on the underside of pairing fingers is a lovely idea.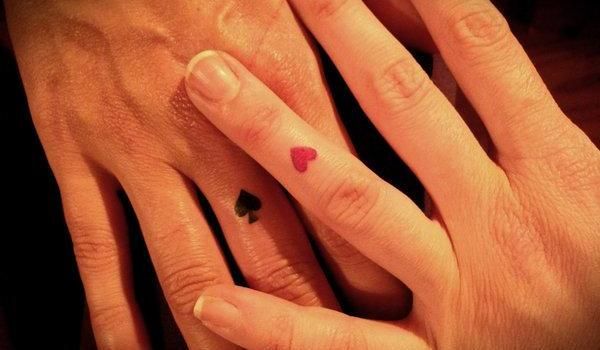 Love the idea of a love heart, but would like it a bit more obvious? Why not have a heart on matching fingers?
Fishing Hook Tattoos
Do you feel like you are hooked on the other person? Intertwining fishing hooks look beautiful and can be more manly if you do not want to have a heart.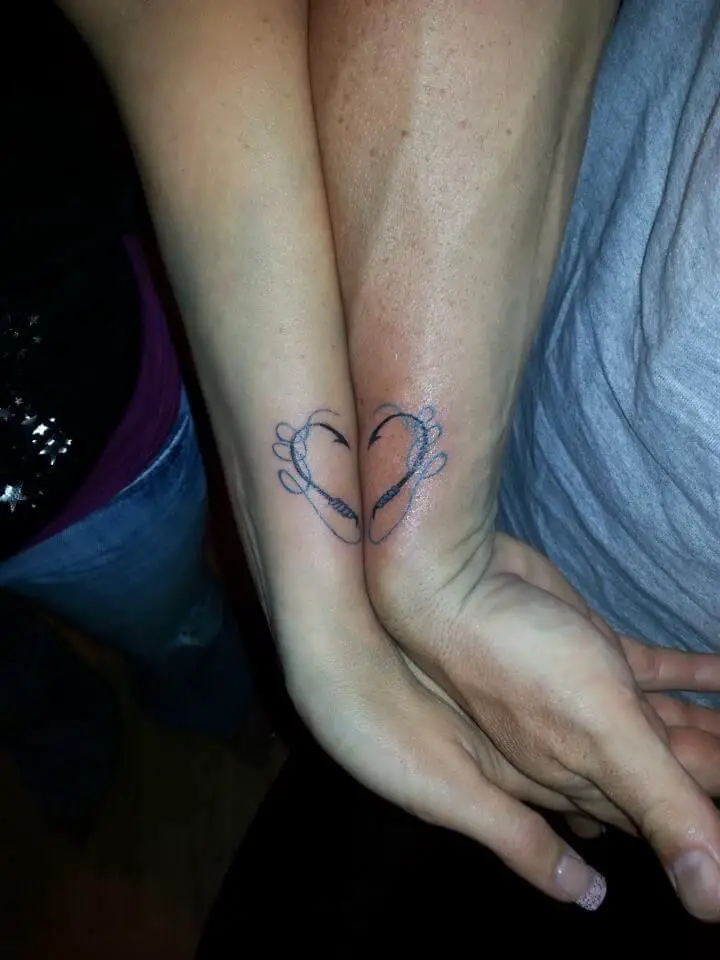 His and Hers
Having "His" and "Hers" tattooed on the ring fingers is almost as good as having wedding bands. It has considerable significance. Of course, you can change this to "His" and "His" or "Hers" and  "Hers."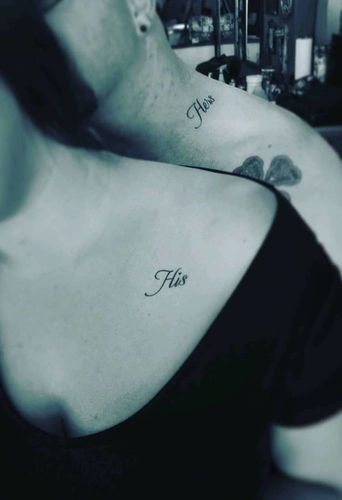 King and Queen
King and Queen tattoos are a brilliant idea. There are a few designs that you can choose from. Depending on what your main interests are, here are a few of the ways that you can show it: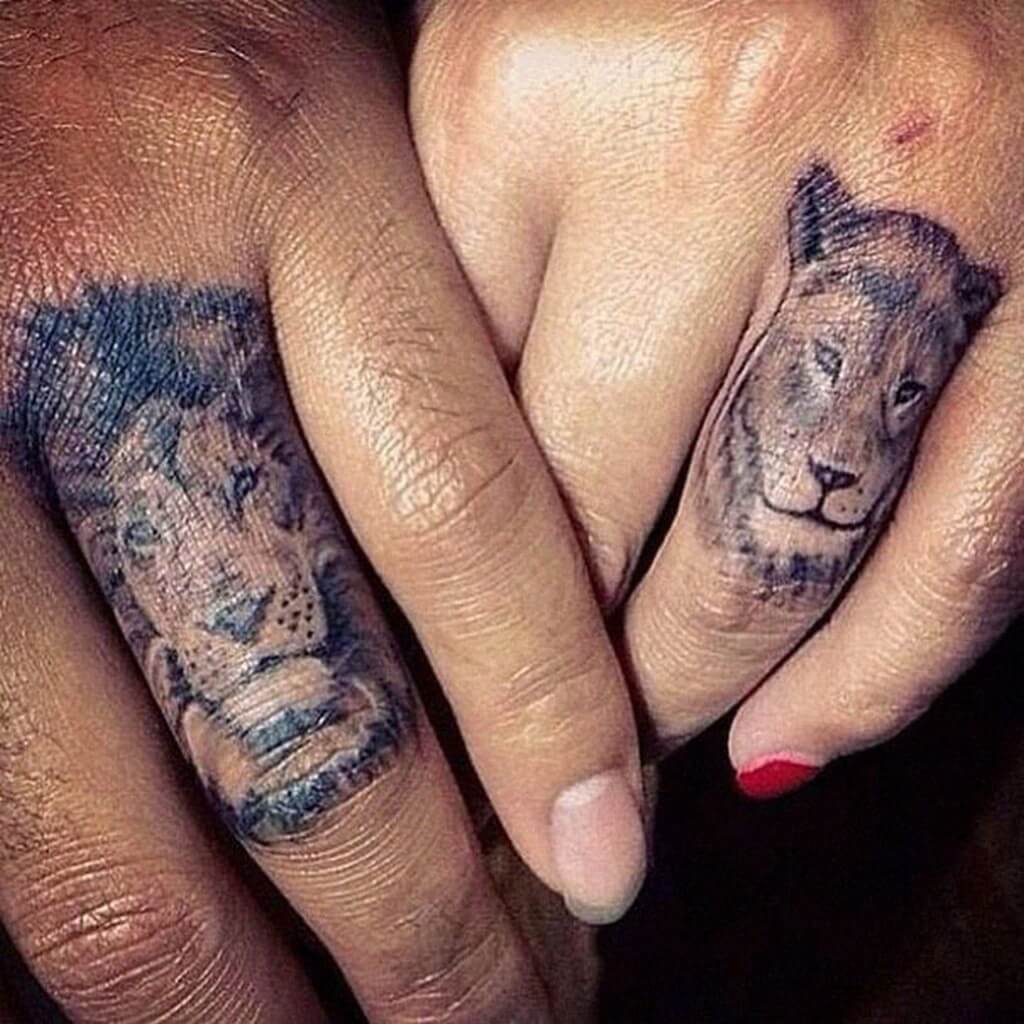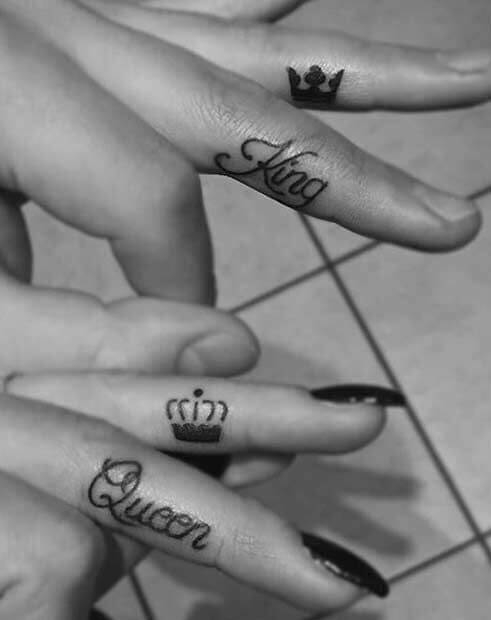 Other Finger Tattoos for Couples
This list could be endless. You can have whatever you can think of that will fit on your finger. If there are special symbols you, then try to simplify them into a size that is easy to fit. Some of these ideas have been mentioned before, but we would like to show you that they can fit well and look good on the fingers.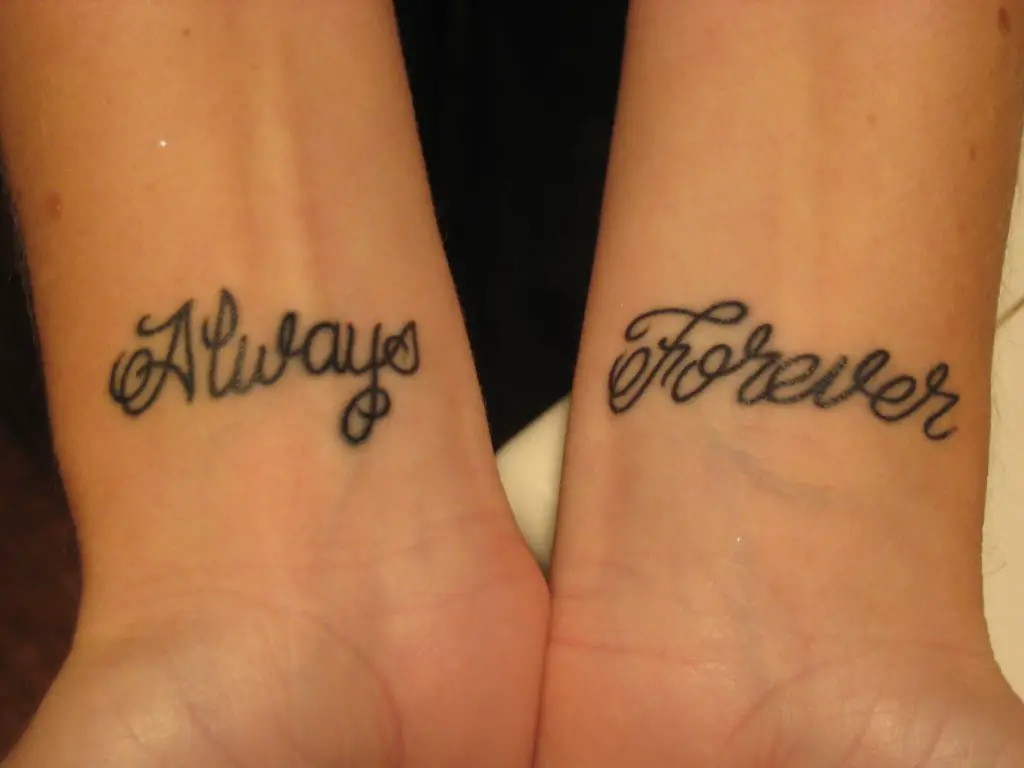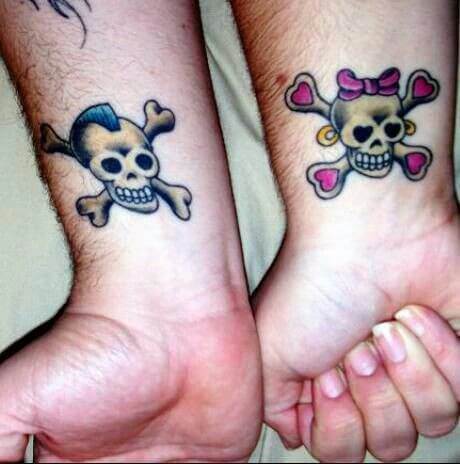 Infinity symbol
Sun and Moon
Initials or names of your partner
Anchors
Wedding Bands
Couple Tattoos – Conclusion
Tattoos for couples are a real display of affection and commitment. There are endless possibilities of tattoos that you can have for this reason. Take your time in deciding what you should have. Sit down with the other person who is going to have the tattoo with you, and write down some ideas that you like. You could even sketch some ideas up for more of a unique and personalized inking.
Picking from the ideas above, you also have the option to add a few of the designs together to make new ideas. Add a K for king and a Q for queen into the candy skulls, or insert initials into the locket and key. Infinity symbols can be made with the first name of the other person, or your family name if you are already married. This goes the same for the wedding bands.
Couple tattoos are very individual, and the more unique you can make them, the better it is. Not only will you know that you are the only person in your partner's thoughts, but you will also see that you two are the single people with this specific bond.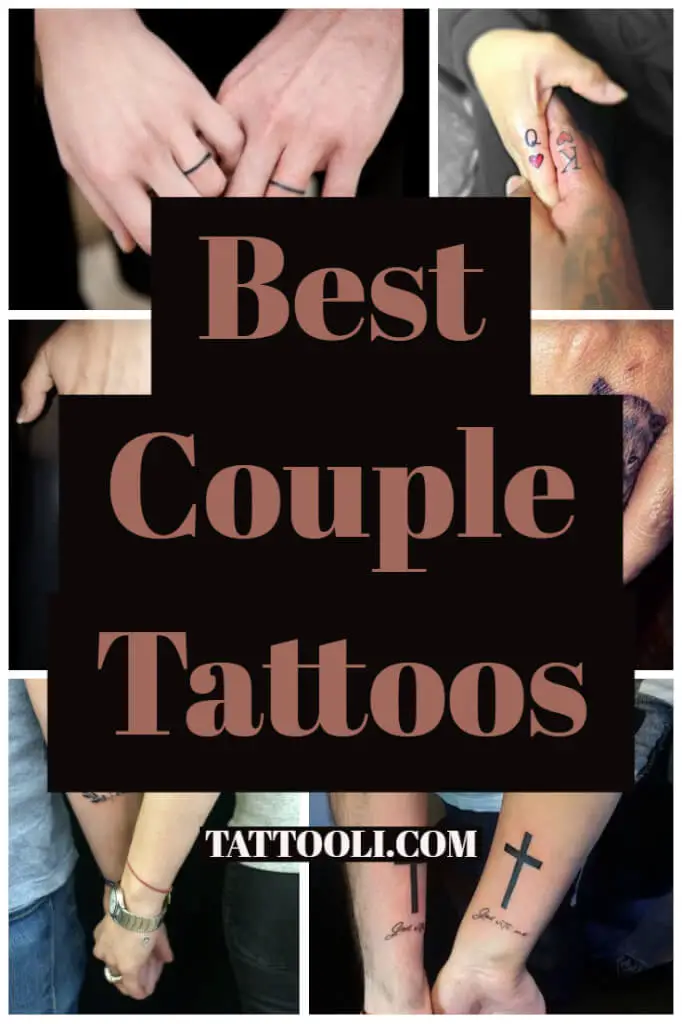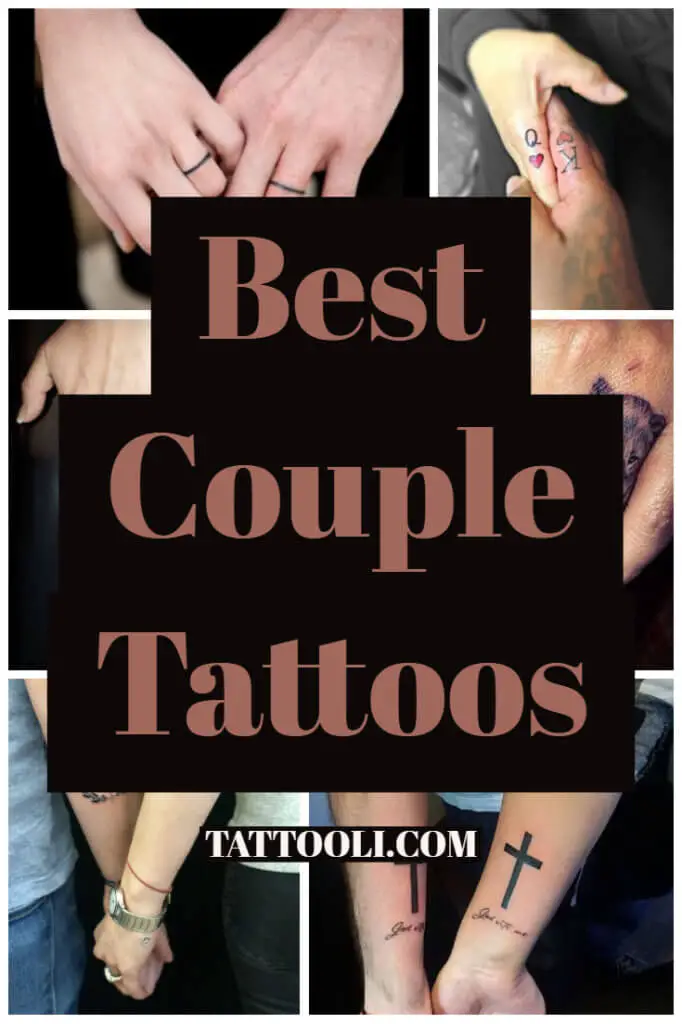 I hope that this has helped you to make some choices in getting your ink. If you have any other brilliant ideas that we have missed out, please leave a comment and let us know.