I am a bride-to-be with a lot of tattoos. My tattoos are a part of who I am, as each tells a story about my life and is quite literally carried with me everywhere I go. On any typical day, I not only love my tattoos; I embrace and show them off. My wedding day, however, seems to be another story.
Except for the tattoos on my upper back and my collar bones, most of my tattoos will be hidden by my wedding dress.
Deciding between having them airbrush covered on the big day or showing as they would on any other has not been an easy one.
As tattoos become more and more common, they also become more socially acceptable.
Should I hide my tattoos if I am a bride?
For tattooed brides, however, deciding whether or not to have their ink covered is not so much about social acceptance as it is about vanity and personal preference.
This is especially true if you, like me are planning on wearing a traditional wedding dress or are holding a formal wedding. While choosing to let your tattoos show or hiding them for the day is entirely based on personal choice, this article will act as a guide to help you make the decision that is best for you.
Choose Your Dress Before You Decide
When choosing your wedding dress, do not even think about your devil tattoos. Don't buy a dress you would generally detest simply because it hides a tattoo on your shoulder or chest. Since your dress is one of the most important decisions you will have to make, choose the one that makes you feel the best. If you decide to have your tattoos covered, you can always have it done with airbrush makeup instead.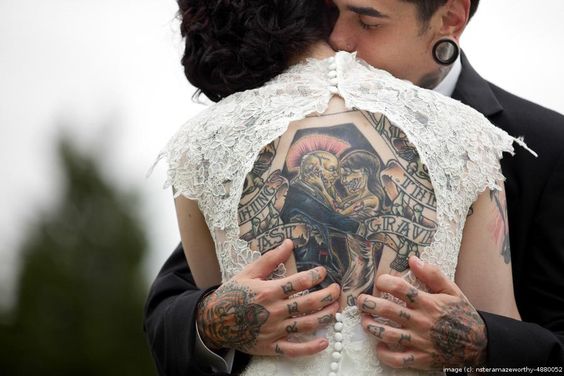 How do the Tattoos Look With Your Dress?
After you have chosen the dress of your dreams, try it on and pay particular attention to how it looks with your tattoos and most importantly, how does it make you feel? Ask your close friends and family for their opinions as well. When your sole focus is on how the tattoos look with the dress, you will be able to make a more practical decision about whether or not to cover them up. You may find that your sleeve tattoos give a fun and wild edge to your ball gown. On the flip side, you may see that the floral tattoo on your chest looks tacky with your traditional dress.
Think About Why You Are Considering Covering Them
Are you considering covering your tattoos to please your family or because it will make you feel more confident on the big day? Remember that it is your wedding day and that the decision you make should be based only on your feeling towards your tattoos. If you truly love and cherish your emblems and are just thinking about covering them to please others, you will likely regret it. However, if you know you will feel uncomfortable having them showing, hiding them is probably the best decision you can make.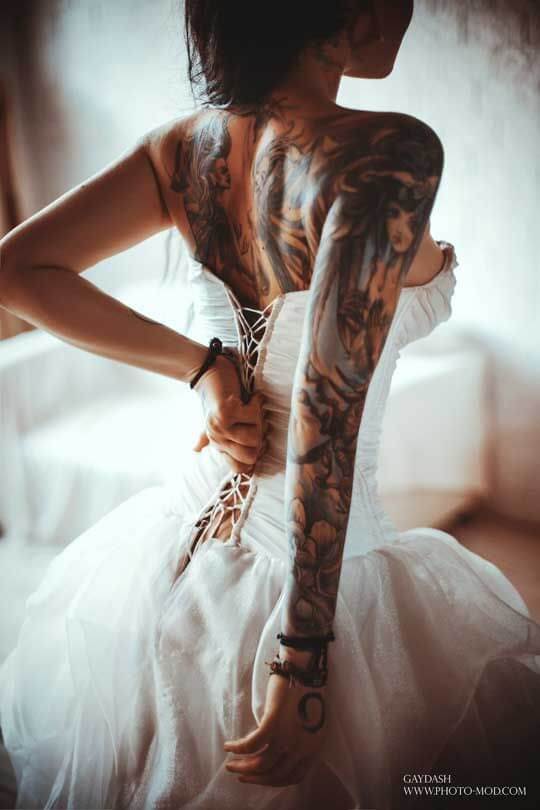 Talk With Your Fiance
While I previously said pleasing yourself is what is most important, it is also essential that your fiance feels comfortable with your decision as well.
Ask him how he would think of you walking down the aisle with your tattoos showing, and likewise how he would feel about seeing you without them. This is a choice that should be made together since the day is all about both of you.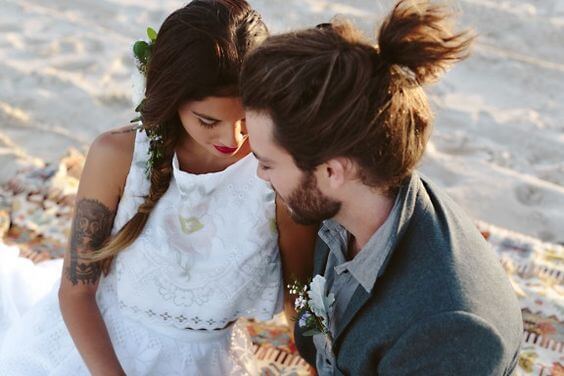 Look to the Future
Remember that photographs are the only lasting thing you will have after your wedding day other than your marriage and memories. Consider how you want those pictures to look in twenty or fifty years.
Do you want to look back and see yourself with or without the tattoos? I found this to be the question I asked myself that was the most helpful in making my own decision.
Let`s see some tattooed brides for inspiration now! 🙂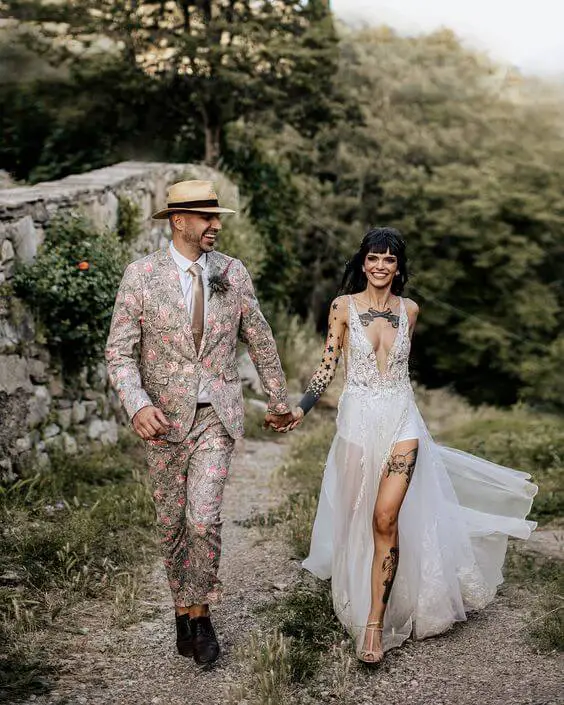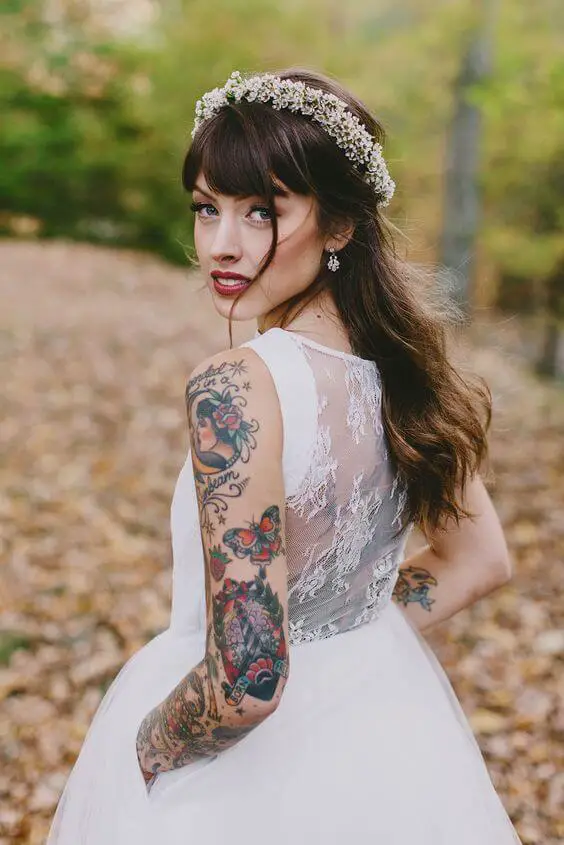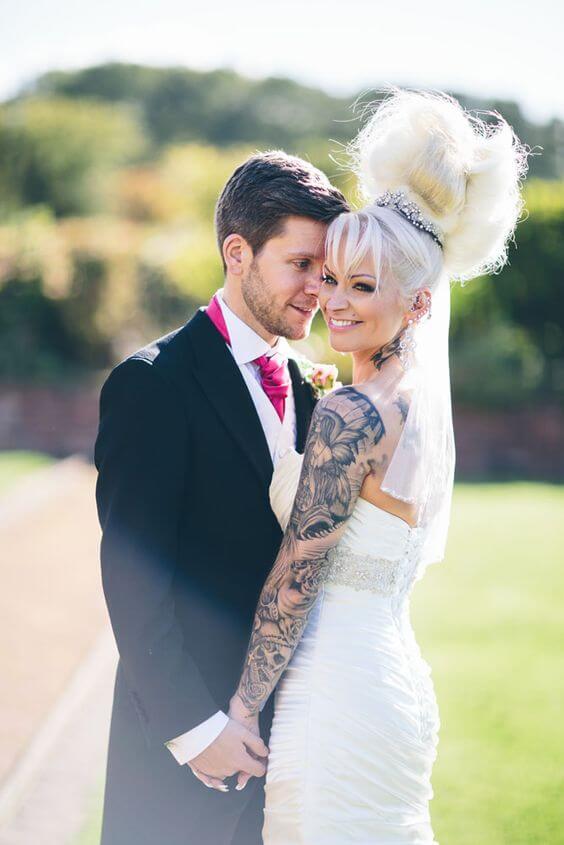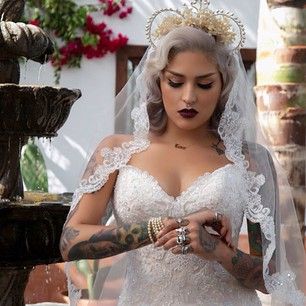 Source of images: Pinterest.com