Are your ex-boyfriends name a little passe now that you're dating again? Are you getting married or worried about what Dad might think when he sees your latest tattoo? Fortunately, there are plenty of makeup products available on the market to help cover up tattoos easily. Whatever the reason or occasion you may need to cover up for, there are plenty of great products available to you on the market. One of the essential tips for choosing a tattoo coverup is that you will have to blend your skin tone perfectly with the coverup foundation.
Many people have found that combining two or three different foundations yielded their actual skin tone. If it's not blended well, you will be easily able to tell where you have attempted to cover up the tattoo. Many bridal shops and internet sites claim to offer tattoo cover up kits, but if it's an important enough event you need to cover up for, it's best to go for a better brand that will do a great job at concealing even the darkest of tattoos and will be waterproof and long-lasting.
Here are the top five highly recommended products for covering up that tattoo:
Dermablend
Dermablend is first on the list just because once you use it, you may not use anything else. The product was started 25 years ago by a dermatologist looking to help women cover up unsightly skin conditions such as birthmarks, scars, spider veins, rosacea, uneven skin tones and bruising. Many users have successfully covered up even the darkest of tattoos with this product and give it rave reviews. The product is hypoallergenic for those sensitive to skin products. It won't rub off on clothing or furniture.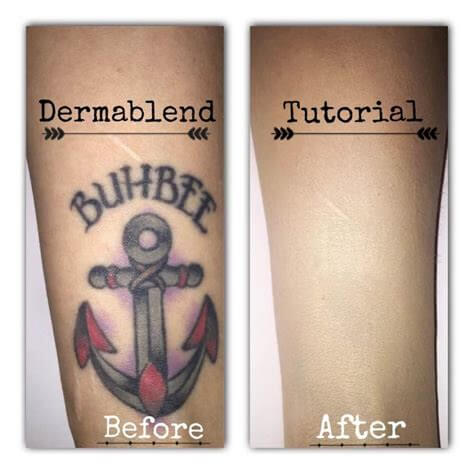 Dermablend also has one of the most extended coverage times at 16 hours and requires no additional reapplication throughout the day.
It is one of the more pricier fixes at $50. You can order the product online. The Dermablend website even offers a tutorial on how to apply your makeup to cover the tattoo. However, they highly recommend that you go to a store carrying the product to have a consultation with one of their makeup experts.
The makeup consultants can correctly color match your skin tones, show you step by step how to apply the product and offer you samples to try before purchasing the product. Many Sephora counters carry Dermablend and higher-end retail stores like Macy's or Dillard's. To locate a store near you and get more information on the product go to www.dermablend.com.
Tattoo Camo
Tattoo Camo sells the #1 rated tattoo camouflage kit. The product claims to be an excellent concealer for tattoos as well as spider veins, birthmarks, and acne marks. Each of their products is sold in kit form. Each kit contains a paste that completely covers the entire tattoo, and a setting powder to make the coverage smudge resistant.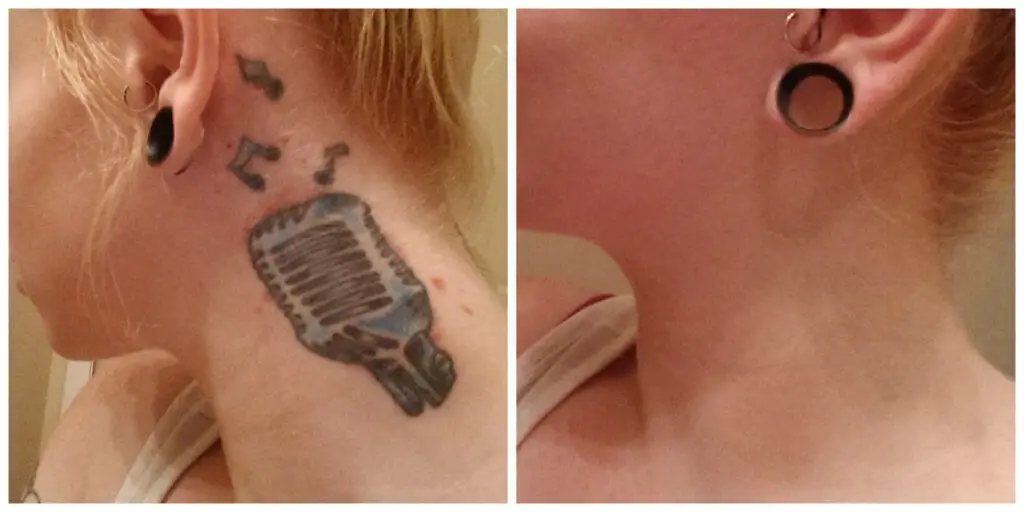 The product is water resistant and is mostly smudge proof. Each kit offers an easy step by step instructions on how to apply the makeup. You can order easily online. The basic package with the paste and setting powder will only cost you $35.
The recommended kit runs $45 for the paste, setting powder, and makeup remover. If you happen to choose the wrong shade, you can return it. The company also has a satisfaction guarantee. Kits can be ordered online or by mail. For more information on Tattoo Camo, go to www.tattoocamo.com.
Judith August Cosmetic Solutions
Judith August is a former model who started her line of cosmetic products after spending years in the industry learning to cover flaws and helping other models and women cover up skin flaws. Her website is full of helpful advice for all sorts of skin issues, but most especially tattoos. Her product recommendation is available to buy through her website.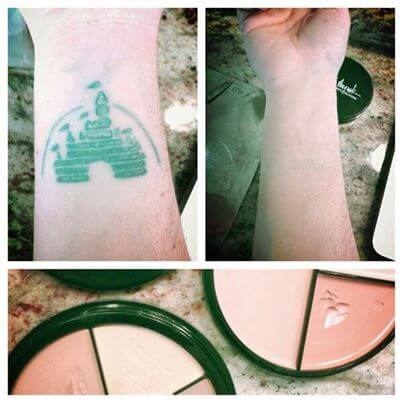 Killer Cover is a product used by the theatre industry to cover up tattoos and other hard to cover skin blemishes and marks. It offers a unique five color wheel that makes it easy for you to blend various foundation colors and effectively cover up your tattoo. For $69 you get the total blackout makeup with five different foundation colors, setting powder, remover, and cleanser.
This product will wear well through regular all day use and is very competitively priced with other products. Each kit contains step by step instructions to blending your makeup well to cover your tattoo. She has stores located in Beverly Hills and Las Vegas. Online ordering is available through her website at http://judithaugustcosmetics.com/.
Do it on the Cheap
If you need a quick fix and aren't covering too dark of a tattoo, you can try using some white costume face paint found at party or costume stores along with your foundation. All you need to do is dab on and blend a thin layer of the white face paint over your tattoo first so that it completely covers the symbol, and you can no longer see the tattoo through the color.
You may need to wait for the paint to dry, then apply a second thin layer. Once it is dry, you put your foundation over it, taking care to blend it with the skin not covered by the face paint. Then you're done. To remove the makeup, rub Vaseline over the face paint and powder. This is a quick and inexpensive fix for quickly covering tattoos. While it doesn't work as well as other products on the market, it does a good enough job to make a list and comes at a price anyone can afford.
CoverMark
Covermark cosmetics have become worldwide leaders in makeup camouflage. Their products cover a variety of different skin problems and issues, but one of their most popular kits is the tattoo removal kit. What makes Covermark so popular is the price for what you get and the quality of product you receive. Beauty specialists are available by phone to quickly walk you through the buying and application process. If you are hesitant about going out and buying a product you can't return and spending a fortune on it, Covermark offers you a sample pack for only $9.95.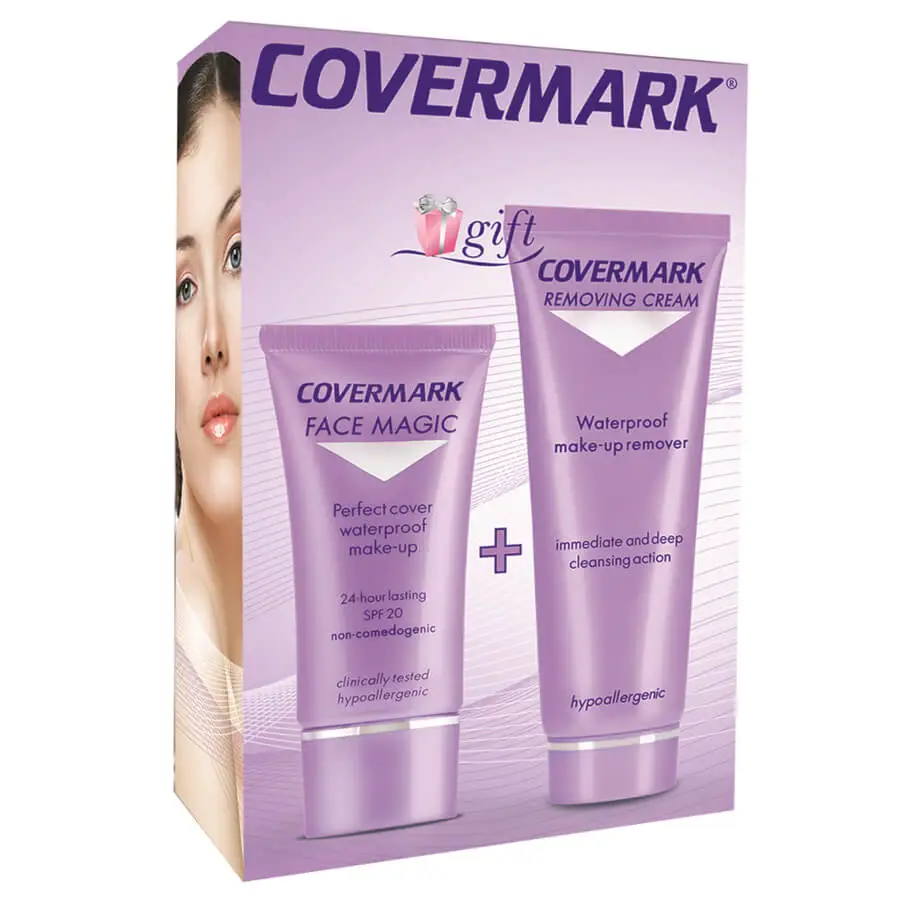 It includes a variety of different shades and colors to match your shade and skin tones easily. Once you are ready to buy, the tattoo removal kit Covermark offers runs you $30. The package contains a primer, finishing powder, lotion, applicator sponge, brush, remover, and how to instructions. These products are long-lasting and waterproof. To get more information, go to www.covermarkusa.com.