Johnny Depp is perhaps one of the most versatile actors in recent years. We have seen in many movies, and like many of his persona, Mr. Depp also has a lot of tattoo in his body. By the time of this writing, Captain Jack Sparrow have 27 tattoos in total. A significant number of his tattoos are dedicated to his inner circle, and some are devoted to his portrayal in his favorite movie.
if you already have tattoos and would like to keep them bright and nice, feel free to check this post about best lotions for old tattoos
We are listing Johnny Depp tattoos from the top to the bottom of his body, complete with the meaning.
1. Crow (right hand)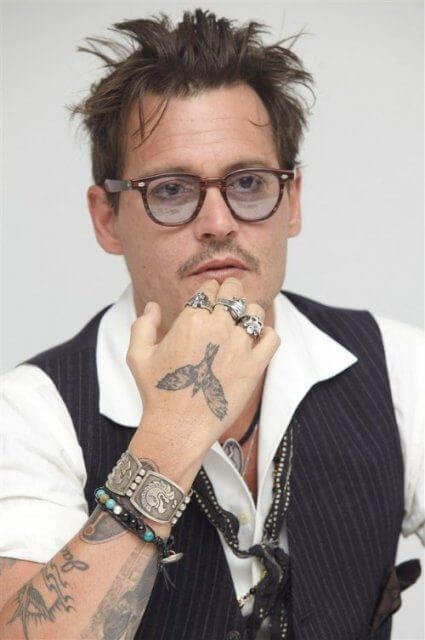 Johnny Depp loves the 'The Crow' so much he tattooed the crow symbol in his right hand. It also to remember the late Brendan Lee, who died when filming 'The Crow.'
2. Skull & Crossbones (inner bicep)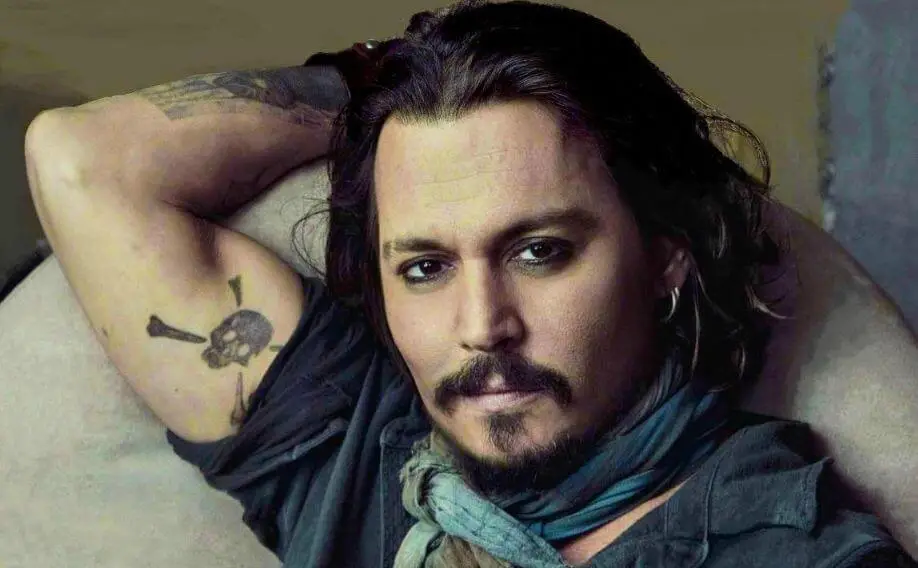 These tattoos signify danger. It is also the most recognized Jolly Roger of the pirates. Johnny likes this tattoo because of the connection to his role in Pirates of the Caribbean.
3. No Reason (right wrist)
Precisely as the name suggests.
4. Silence, Exile, Cunning (left arm)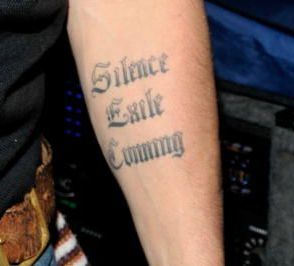 A quote from the book 'A Portrait of the Artist as a Young Man' by James Joyce.
5. SLIM to SCUM (knuckles)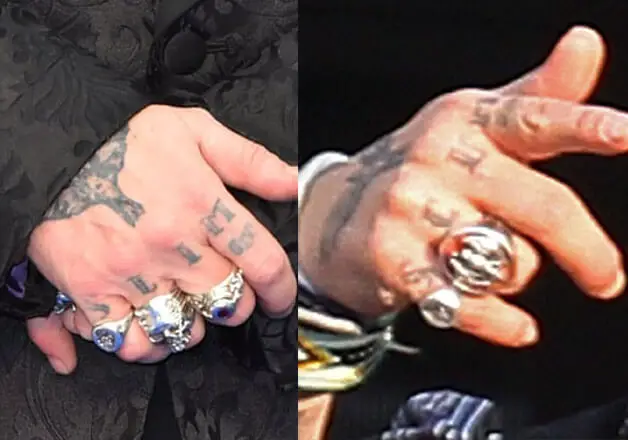 This tattoo is dedicated to his now ex-wife, Amber Heard. Johnny changes it to scum after the divorce.
6. Comanche Shield (right calf)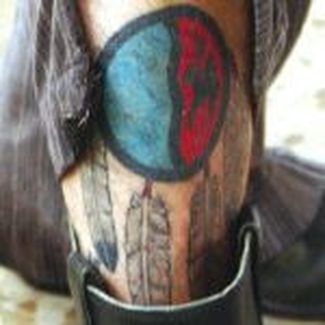 Johnny Depp tattooed this one to honor his ancestors, who were native Indians.
7. Gonzo Fist (left calf)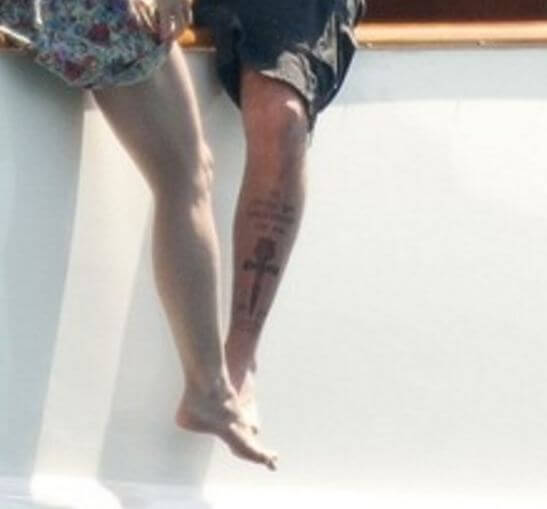 Johnny Depp supported the idea of Gonzo Journalism from his close friend, Hunter S. Thompson
8. Sailor (right arm forearm)
This tattoo is a portrait of Johnny Depp's grandfather, who was a sailor.
9. Betty Sue Portrait (left arm forearm)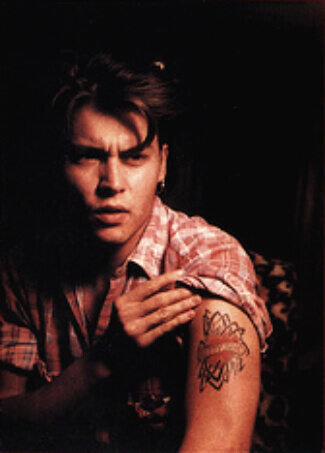 Another tattoo for Johnny Depp's mother, Betty Sue. In this portrait, Betty Sue is using his waitress uniform.
10. Guitarist (left bicep) – One of our favorite Johnny Depp Tattoos

Depp's aspiration to become a rock band member is coming true. His son draws this one.
11. Inverted triangle (left bicep)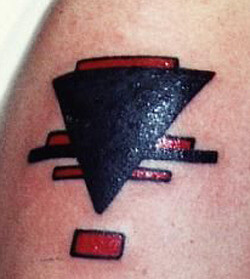 There is no significant story behind this tattoo. But it is known to be drawn by the Russian painter, Ilya Chasnik.
12. Lily-Rose Depp (chest)
This tattoo is Johnny Depp's daughter's name.
13. No Reason (right wrist)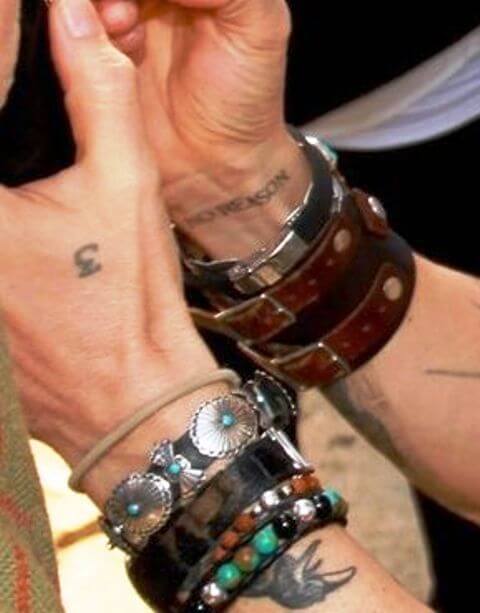 Precisely as the name suggests.
14. Rook Tattoo (left forearm)
Johnny Depp is a fan of the card game rook. In this tattoo, there are three visible cards.
15. Skeleton Key (left wrist)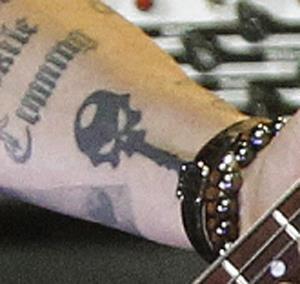 Johnny Depp once said, "One was a skeleton key because for me when I was a child, I thought that a skeleton key could literally open any door. So that if you ever got your hands on a skeleton key, you'd be almost unstoppable—no barrier could hold you back. It seemed like an incredibly magical thing. For me now, that's still what it represents."
16. Snake (right forearm)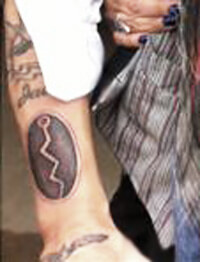 Another sign of Johnny Depp roots in as Native Indians. The snake symbolizes the primordial energy in Indians culture.
17. Jack (and Sparrow) (right arm)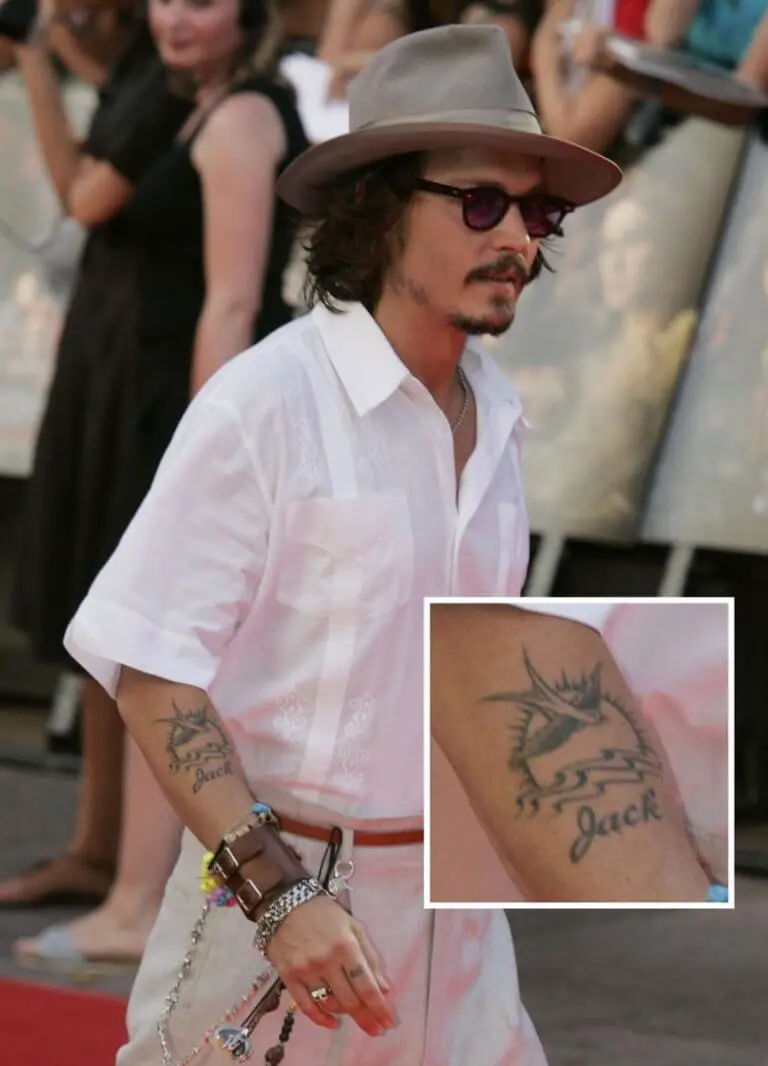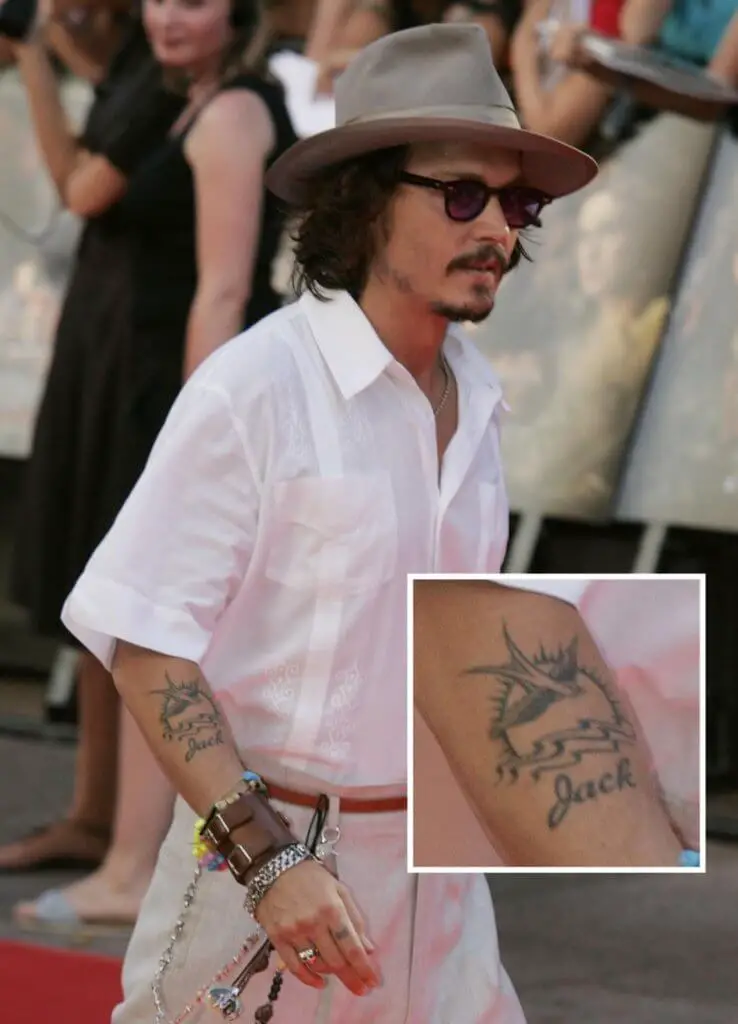 This tattoo is originally a fake tattoo to support his role as Captain Jack Sparrow. But Mr. Depp loves it so much he got it inked in real life.
18. The Brave (right arm)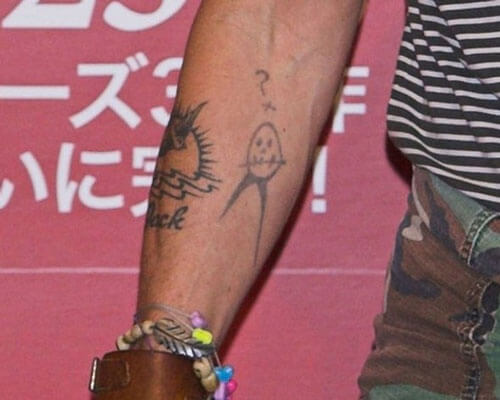 Johnny Depp has directed a movie before, "The Brave" (1997). A homage to his first director debut.
19. Three Hearts (upper left arm)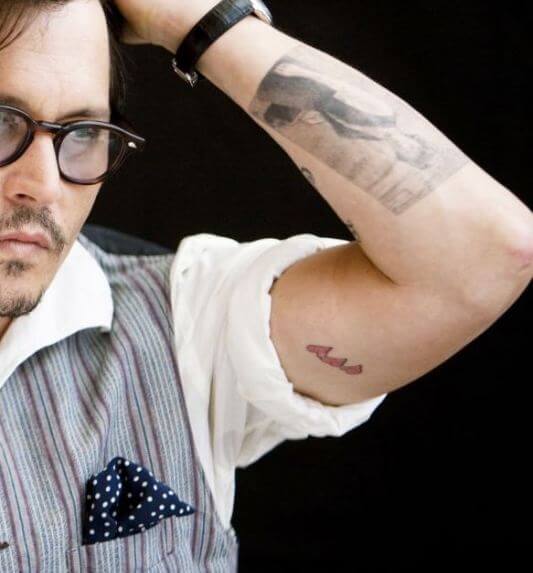 This one signifies that Johnny Depp is a family.
It represents his ex-wife Vanessa, and his two kids Jack Sparrow and Lyly Rose.
20. Three Rectangles (right hand)
Another tattoo that represents Depp's connection with the number "3."
21. Wind Over The Heaven (right bicep)
He got this matching tattoos with Marylyn Manson. This symbolized wind over heaven.
22. Winona Forever – Wino Forever (right bicep)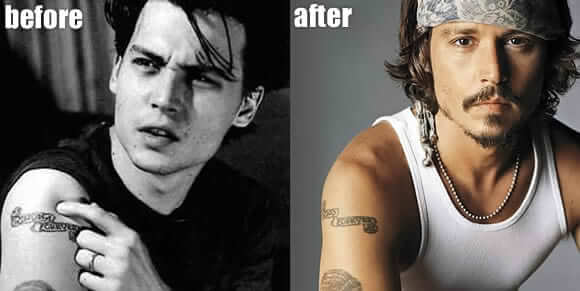 Do you know that Depp was in a relationship with Winona Rider a long time ago? When they broke up, Depp changes the tattoo to Wino Forever. Quite funny.
23. Zig Zag (left hand)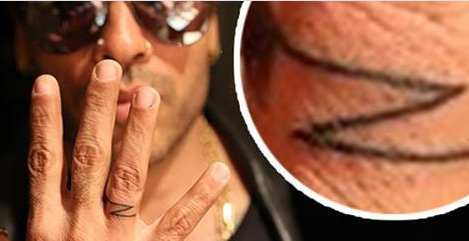 One of the many tattoos that shows that Depp has great respect for his Native Americans culture. Zig Zag symbol represents the soul that will go from earth to heaven.
24. ? (right leg)
No significant information about this tattoo.
25. Salve Ogum (left arm)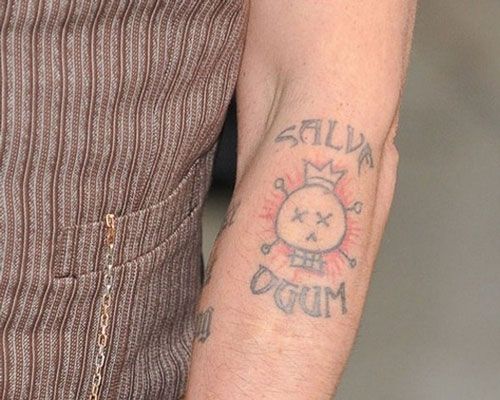 An afro American deity called Ogum. While Salve is a Latin meaning of saving. Depp got this tattoo on his trip to Hawaii.
26. Les Fleurs Du Mal (back)
Another tattoo that is matching his best friend, Marilyn Manson. Manson describes it as "the flowers of evil, this giant skeleton thing."
27. Brothers (Chest)
This one also a matching tattoo with Marilyn Manson. "This one I actually got with Johnny Depp. It says "brother" on the outside and my name and his name in the middle of it. Mark Mahoney did it." says Manson.
28. Betty Sue (bicep)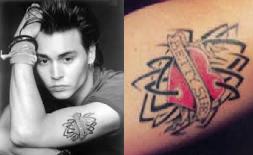 Betty Sue is Johnny Depp's mother's name.
29. Three (left hands)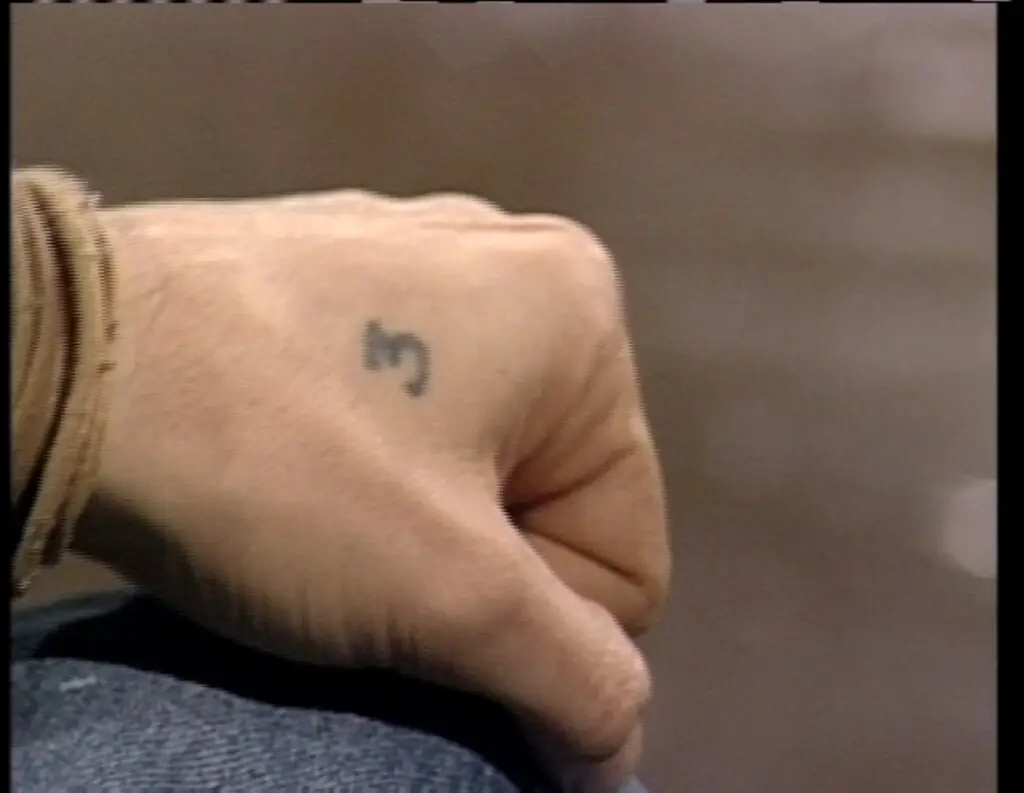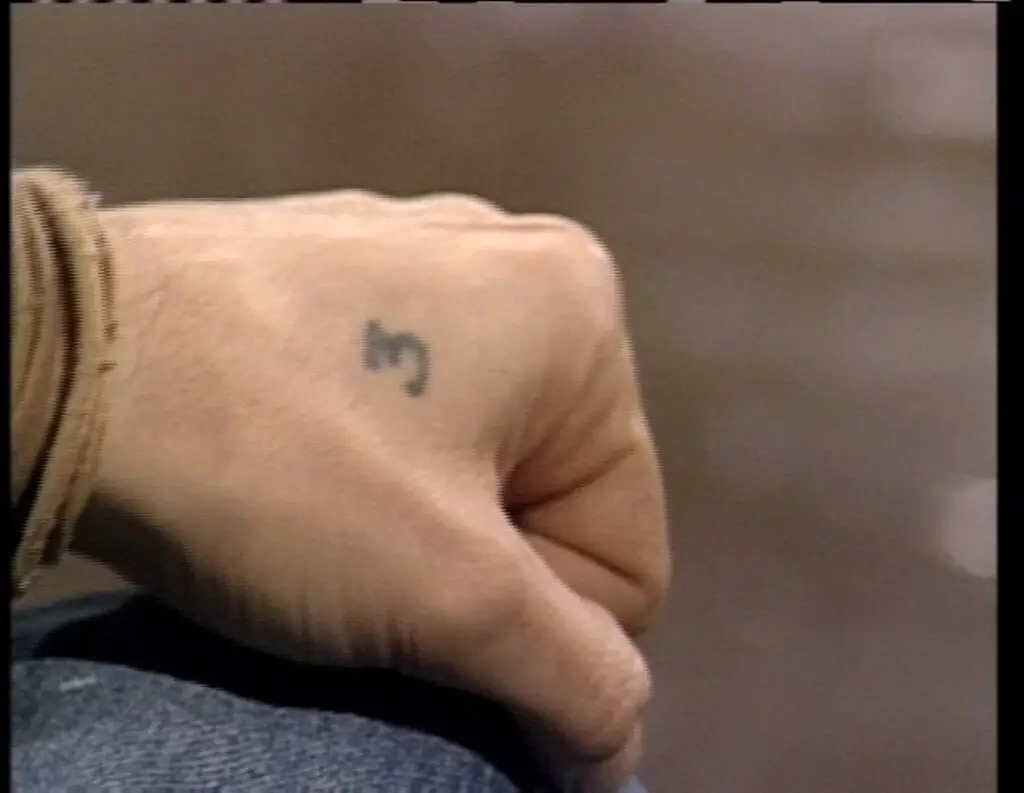 Johnny Depp believes that 3 is a magical number. He once stated that in an interview that it involves people to make a third one (a baby), so he believes 3 is a mystical number. "3 is a sort of special number for me. It's a very creative number. Triangle, trinity — you know, two people make another person. Three is a mystical, magical number."
30. Man is a giddy thing (left inner bicep)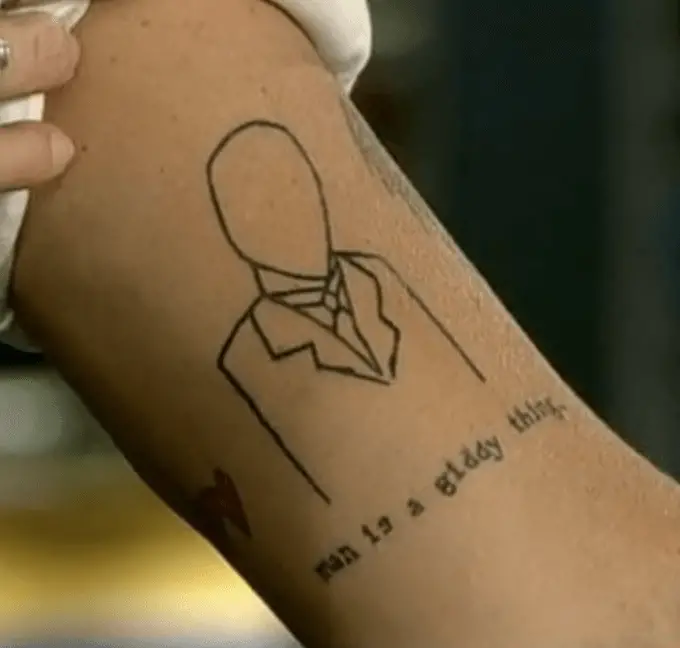 Another tattoo that is drawn by Johnny Depp's son, Jack Sparrow.
The 'Man is a Giddy thing' is a famous line from Shakespeare's novel Much Ado About Nothing and also a line from the Mumford and Sons song "Sigh No More."
His son, Jack, added the faceless man on top of the line.