When you are newly inked, the number one thing you must do is using non-scented, antibacterial soap for tattoos to ensure the design remain bright and healthy. You must remember that the tattooed area is like an open-wound so proper aftercare is required to avoid the risk of blurring the intricate lines.  Most tattoo artists might probably suggest a soap bar that they use or promote, but we've put together an unbiased list of the best soap for tattoos. However, first, it's important to know when and how to use the soap to clean the affected area.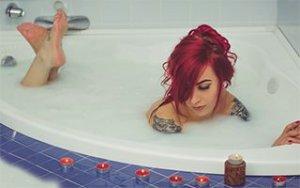 How often should you wash your tattoo with soap?
Ideally, an antibacterial soap for tattoos should be used twice a day to keep the area free of infection. For best results, wash the area thoroughly every morning upon waking up and every night before going to bed. Make sure the washing sessions are short and efficient and keep the area clean and dry in between washes.
However, you'll need to wash the oozing area immediately if you tend to sweat a lot or exercise frequently.

The best soap for tattoos
Dial Gold Hand Soap Refill
Dial Gold Hand Soap Refill is the favorite among ink aficionados. This 52-ounce juggernaut is the best soap for tattoos out there regarding price, quality, ability, and efficiency. This tattoo cleanser is designed to make sure your ink stays clean and infection-free especially when you have a big tattoo like Asian tattoos.  The bar is big enough to cover a large area, and you will never run out of it. However, the soap is not 100% odor-free making it less suitable for folks with sensitive skin type.
H2Ocean Blue Green Foam Soap
If you're prone to irritation from fragrant soaps, you're inevitably going to love the H2Ocean Blue Green Foam Soap. This 100% vegan, paraben-free, odorless and irritation free cleanser is loaded with aloe vera that helps in moisturizing the dry skin and keeping the new tattoo hydrated and disinfected.
Tattoo Goo Deep Cleansing Soap
This broad-spectrum germicidal cleansing soap is a fan-favorite because of its ability to remove more dead skin cells, germs and dirt in comparison to other products, no wonder it's the bestselling soap on Amazon.  Along with inhibiting infection and dislodging dried dead skin, this antibacterial soap for tattoos works wonders on dermal piercings as well.
Dr. Bronner's Tea Tree Soap
Dr. Bronner's Tea Tree Soap is a vegan, anti-bacterial scent-free and mild cleanser specially formulated with a mix of light, natural elements to clean the tattooed area without the downsides of chemical-based products.
Conclusion
All in all, when looking for the best antibacterial soap for tattoos, settle for something as natural as possible. Avoid cleansers that contain alcohol, paraben, fragrance, petroleum or any artificial colors especially if you are vulnerable to infections. The most important part of aftercare is washing the tattooed area with the right soap since it will decide how your tattoo turns out.
We hope you shouldn't have any problem keeping your new tat clean with the help of our top picks.