Sparrow tattoos are something that is most commonly preferred by both men and women. If you are thinking of getting a sparrow tattoo, then you should know that there are more than 65+ best tattoos that can be done by a sparrow. These little, tiny creatures symbolize peace, freedom, liberation and poignant and their impact is enormous. Their chirps are so lovely to hear in real life, and those impacts us to get loved and to get a tattoo. You cannot just limit yourself to get one sparrow tattoo as the array of these feathered friends will bring us more happiness.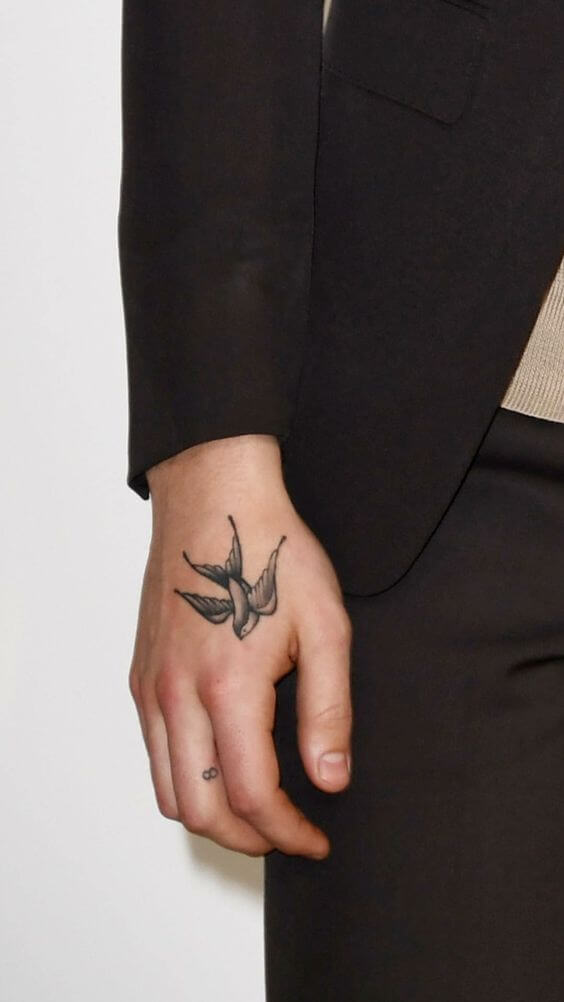 With a fantastic bird design with sparrow ink, it creates energy to fly across various limits we restrict ourselves. It is like getting the Phoenix energy to strive back and fight from where we were smashed. If you feel Phoenix is a big one to get the tattoo for, then you can go with a sparrow, as all the birds try to fly back after hitting hard. It causes an impulse to move on and get up to fight back with odds. Many Native Americans and East Asian have many imprints of sparrow tattoos even before modern technology have arrived to draw a symbol in hands.
Top 10 best sparrow tattoo designs
Sparrow tattoo is often misunderstood with swallow tattoos. The swallow tattoos are bluish with a forked tail and curved wings. Sparrows are grayish brown-colored and have smaller arms. With the size of both sparrow and swallow, they are much misunderstood. The tattoo which you find on a sailor's hand will probably be the swallow type. They prefer to swallow as they could see land nearby when they find a real swallow. To respect this feel, they mostly have a tattoo of the swallow. Every symbol has an emotional and meaningful backdrop to it. Take a look at these top inspiring and stylish sparrow tattoos which are gender-natural.
Traditional sparrow design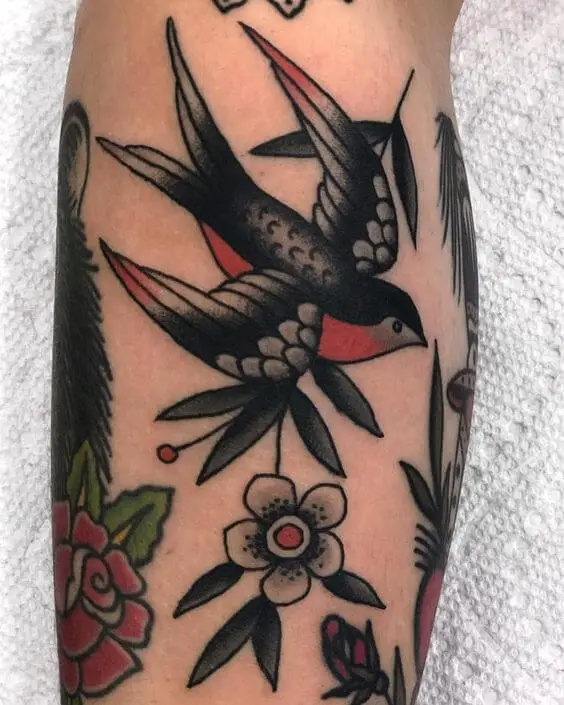 If you are a spirited person and wish to symbolize it as a tattoo, then you can go with the traditional sparrow tattoo. It is the most common type of sparrow tattoo, and it has a significant meaning. The traditional tattoos are the meaning of liberty nature of a person, and they cannot be restricted like the normal ones.
Jack sparrow design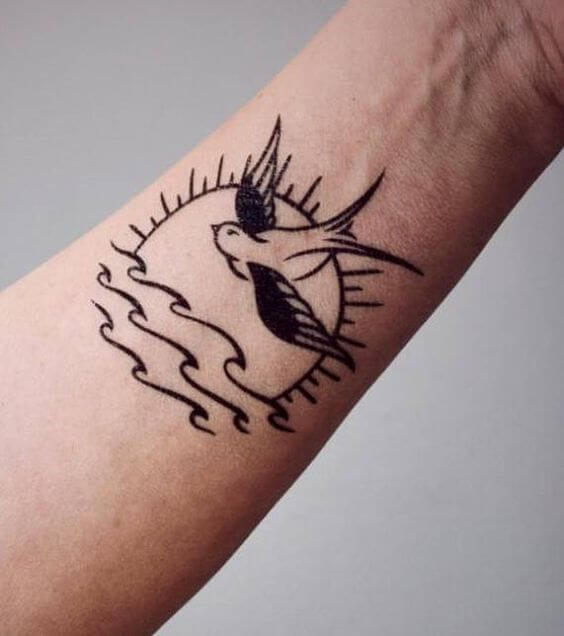 The person wearing this jack sparrow tattoo is said to be rebellious, bold and not caring anyone attitude. It is the most popular type of sparrow tattoo in recent times as Captain in the Pirates of the Caribbean is being associated with the tattoo. Most people love to have this tattoo to show their love towards Jack Sparrow of the movie.
Flying sparrow design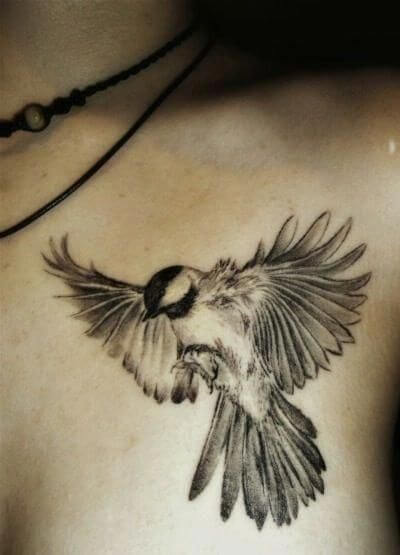 The flying sparrow or a group of flying sparrows symbolizes the free will attitude or a person who is said to be superior in all aspects than others mindset. Most people tend to get this type of sparrow tattoo to symbolize that they love freedom and need to fly without any worries.
Dead sparrow design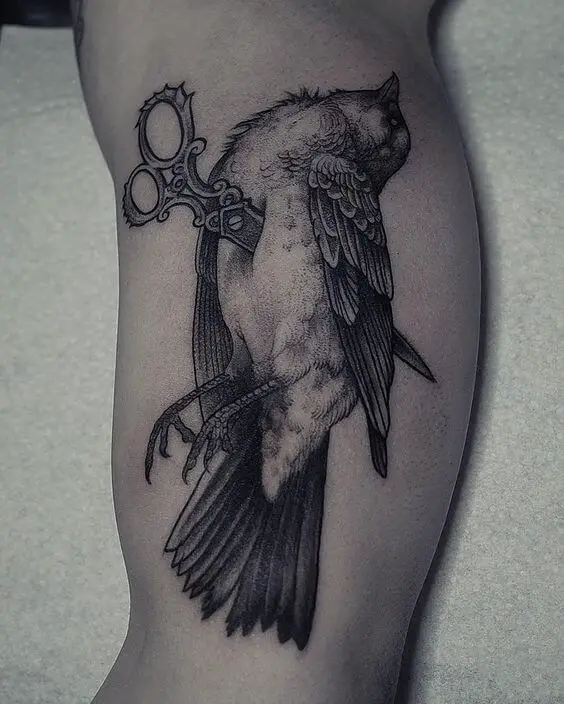 If there is any recent failure in their life or love-life, whatever the reason is, few people tend to get a dead sparrow tattoo in their arms. It is symbolizing of lost liberty or with no hope ahead. Some people tend to get this to remind themselves of the incident and stay motivated and work on to get up from that sorrow. If you are trying to get one, you need a professional tattoo artist to show that the bird is dead without confusing while taking a look.
Our favorite parlor: Jimmy's Ink – Prime Tattoo Parlor in Jacksonville, Florida
Tribal sparrow design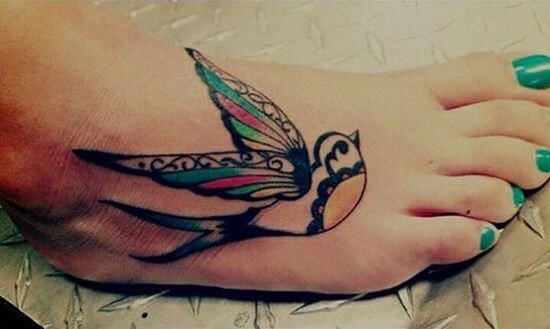 This design is a symbol of love between two people, luck, or fortune the people is hoping for. It looks exquisite and colorful as they have a beautiful blending of bright colors like pink, blue, green and orange. It seems like a tribal pattern, and hence the name of the tattoo became tribal sparrow tattoo. You can get them in various designs and knots with an in-depth discussion with the tattoo designer.
Miniature sparrow
Some people want to get a tattoo but not bright enough to look like a tattoo. Those people can opt for a small tattoo of sparrows that can be drawn on any body parts as they are tiny. You can keep it short, subtle and stylish with mil or bold colors depending on your requirement.
Two sparrow tattoos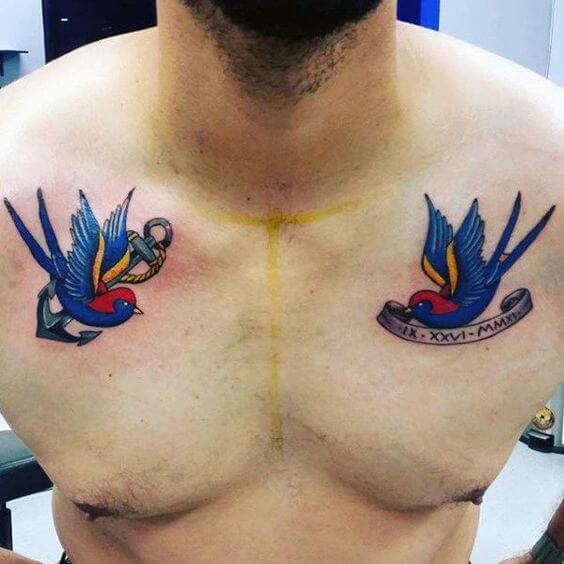 This type of tattoo has no particular meaning as these are designed for many centuries. Most symbols will be drawn like two sparrows sitting in a twig, in front of a sunset, beach, or a branch. The most common reason behind the tattoo is the love between two people. It is essential to choose the right professionals as in this case the swallows can be misunderstood as sparrows.
Good to know: Perfect tattoo for you! Do it for a lifetime!
Black Sparrow
These do not have any or no color blend which is still preferred by many people. It is considered these sparrows are the symbol of intelligence and seeing things deeper. Hence these types of sparrow tattoo are preferred by people who think they can do better compared to the mere people. It is a sign of ego and pride, and they have some most profound dark meaning like cult behavior.
Colored tattoos
It can be drawn as colored with the people's needs and wants. The sparrows can be decorated with different blends and shades like trying to convey details. They are brought like playing with each other, showing some expression, expressing love or agony, and waiting for miracles and so on. There is so much you can depict in a tattoo with the best professional tattoo designer.
Sparrow silhouette tattoo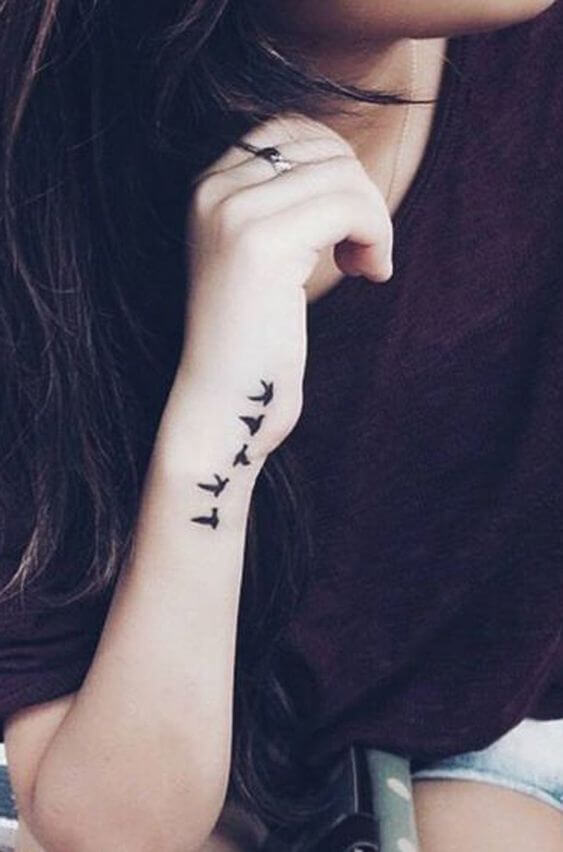 It is like a shadow that can be drawn as a sparrow tattoo which is commonly called a sparrow silhouette. It is a known thing that shadow speaks loud and profound than a picture which is preferred by people who like this design. This silhouette tattoo can be done in arms, back, legs, and other regions of the body.
Sparrow tattoo is excellent in expressing human emotions, and these are the most common types. If you are going to get a tattoo, do proper research as there is confusion between shallow and sparrow tattoos even which some tattoo designers get confused.
Before you go read this and thanks us later: The Untold Story of Tattoos: The Pain Doesn't End When the Needle Stops
 A big gallery with loads of sparrow tattoo ideas hand-picked for you!