From the Crusades to the modern-day, Christians have been getting religious body art for centuries. In fact, despite a Biblical passage that seems to forbid tattoos, Christians are getting more tattoos for men than ever before. Want to represent your faith and pay homage to the Almighty in ink? Be inspired by our list of the most iconic religious tattoos for men.
1.  Praying hands
Praying hands tattoos are a symbol of prayer that represents a person's faith. However, these popular religious tattoos for men can also have a more personal meaning. As people pray when they need guidance, a praying hands tattoo may be a symbol of hope in tough times. It may also act as a reminder to be thankful for what you have. Praying hands tattoos often incorporate other elements like clouds, Biblical verses, and rosary beads for Catholics.
2.  The Cross
The cross is the most iconic Christian symbol. It represents Jesus' crucifixion and sacrifice to save humanity. Believers have worn cross necklaces for hundreds of years to show their dedication to the faith. Nowadays, cross tattoos have become an even more powerful sign of devotion. They can also symbolize peace, strength, and endured pain. There are many different styles, but Celtic crosses are one of the most iconic religious tattoos for men.
3.  Portrait of Jesus Christ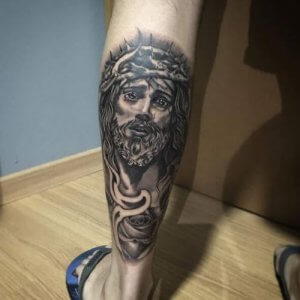 Jesus Christ has been portrayed in numerous paintings throughout the years. Today, his portrait features in all kinds of religious tattoos for men, from full sleeves to chest pieces. Tattoo portraits of Jesus represent a clear devotion to the Christian faith and serve as an inspiration for believers. As such, he is often depicted wearing his infamous crown of thorns or backed by rays of light from heaven.
4.  Virgin Mary
Looking for religious tattoo ideas for men? There are many different reasons to choose an image of the Virgin Mary. A central figure in Christianity, Mary is admired by Catholics for her unconditional love and strength in hard times. Virgin Mary tattoos can symbolize peace and hope for forgiveness while reminding us that miracles do happen. In Hispanic communities, she's also known as the protector of the poor and oppressed.
5.  Angels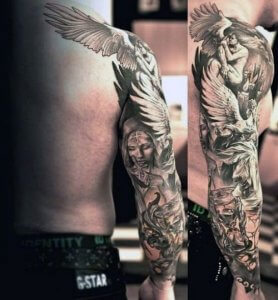 As God's messengers, angels are some of the most iconic religious tattoos for men all over the world. Their meaning depends on the wearer, but they have a clear connection to both religion and spiritualism. For some, angel tattoos are linked to guidance, hope, and innocence. For others, they are a symbol of protection in the form of a guardian angel. In this case, these Christian tattoos are often a memorial to a lost loved one.
6.  The Pearly Gates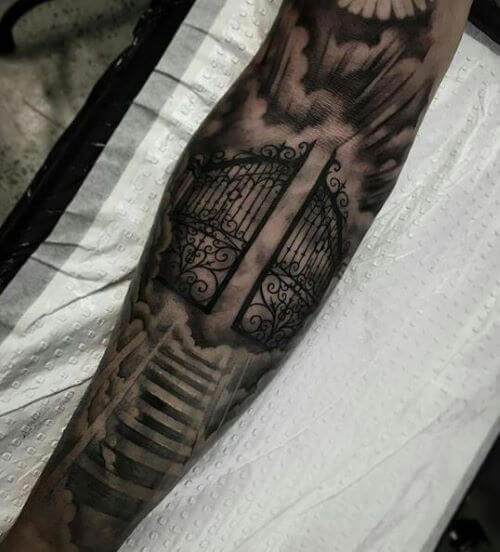 For Christians, entering the gates of heaven is the ultimate achievement. A pearly gates tattoo, therefore, symbolizes faith and a dedication to achieving that goal. Depictions of the gateway to heaven often feature a staircase. This represents the journey believers must take to reach eternal life. As one of the most common religious tattoo ideas for men, the pearly gates may also memorialize someone who has passed away.
Looking for something a little different? How about a San Judas Tadeo tattoo to keep your troubles away or an inspirational Biblical verse instead? Whatever your reason for choosing Christian tattoos, there's a whole host of religious tattoos for men out there to suit you!