Human beings always choose different ways to show their love to each other. According to them, the love that they have for not just other human beings, but for their animals, nature, art and even the objects around them should be portrayed in the best possible ways. Art has always been a preferred medium that is used to channelize emotions in a creative and satisfying way. Since the time of early humans, art has been used on walls, on rocks, on animals, and human beings to pass on the message.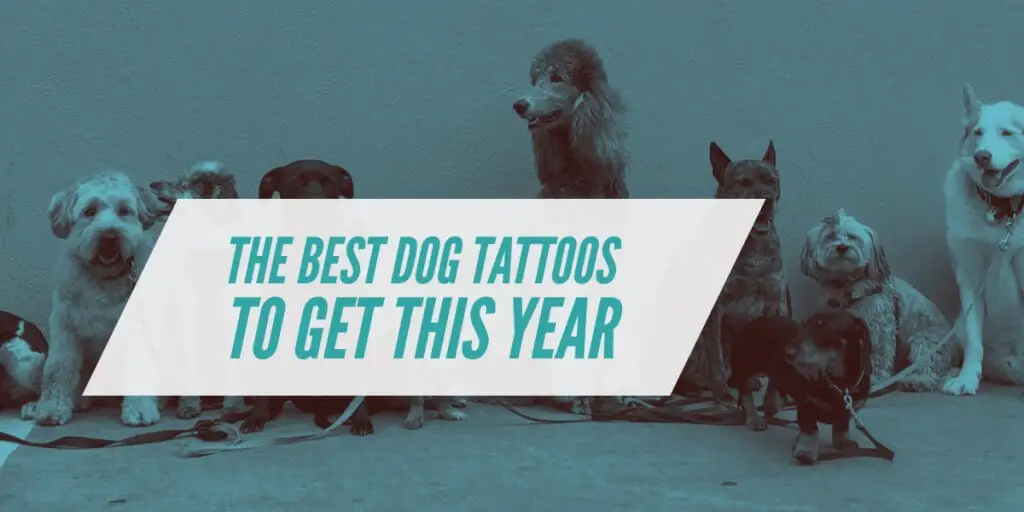 Art as a form of expression:
As times changed, the type of art changed but the medium remained constant. In today's time, when technology is at its peak, there are so many ways that people can choose to express their inner thoughts and emotions. However, even today, the most applicable and sensitive mode of doing so remains to be art. To make emotions even more powerful and touching, getting the thoughts tattooed on the body seems to the most relevant choice.
You can spot thousands around you that have one or more tattoos on their body.
An interesting part being, every tattoo that someone has expresses an emotion that is close to the person's heart or a personality they possess. It could be a name, a feeling, a goal, or a picture someone really dear to them. There are people who get their family members tattooed while some get their dogs tattooed. Getting a dog tattoo has been a really popular trend for several years and even more, people have started following it. These tattoos make sure that the dog you are crazy about stays with you all the while and you can see them whenever you feel so. They symbolize the immense love you have for your canine.
Dog tattoos:
If you are one of those and want to get a really cute tattoo for your furry friend, below mentioned are some ideas that you will absolutely love and want on yourself:
Pug
Getting a pug tattoo is a really cute choice. Pugs are considered to be one of the cutest breeds of all and are snuggly and comfortable. A pug tattoo has a really adorable face and will make your friends fall in love with your dog. There are various kinds of pug tattoos that you could try, for instance, the one in which your pug could be eating something, or is just standing there with its droopy eyes looking at you. If not that, you can even get a pug dog paw tattoo that will have an equal effect.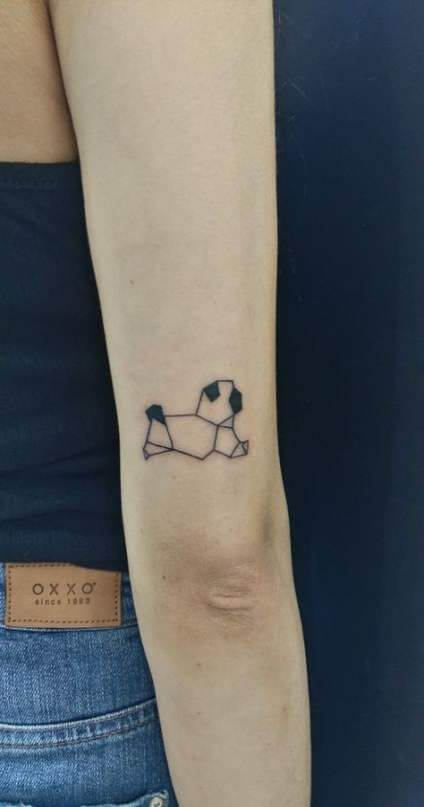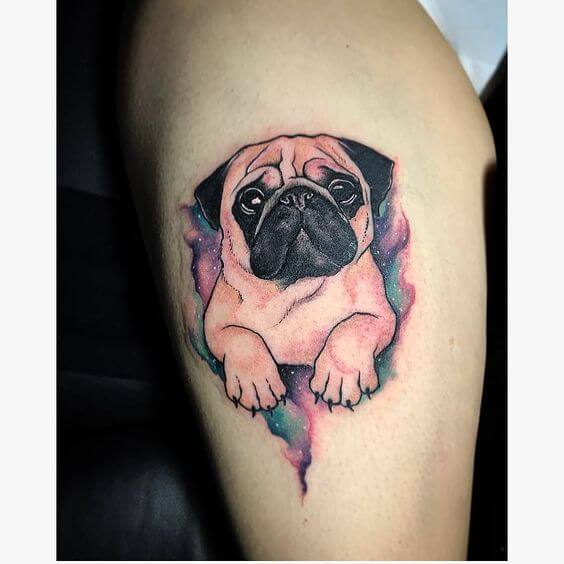 Husky
If you have a husky or had one, getting it tattooed would be a really cool choice. Huskies are beautiful creatures and a husky tattoo would look even more gorgeous. Make sure to add the intensity of their eyes in the tattoo so that it makes a strong influence. One of the most popular husky tattoos is a husky looking at the moon with a red rose it its mouth. It shows fierceness and strength. Even if you don't have a husky has a dog, getting one tattooed would be able to portray your personality.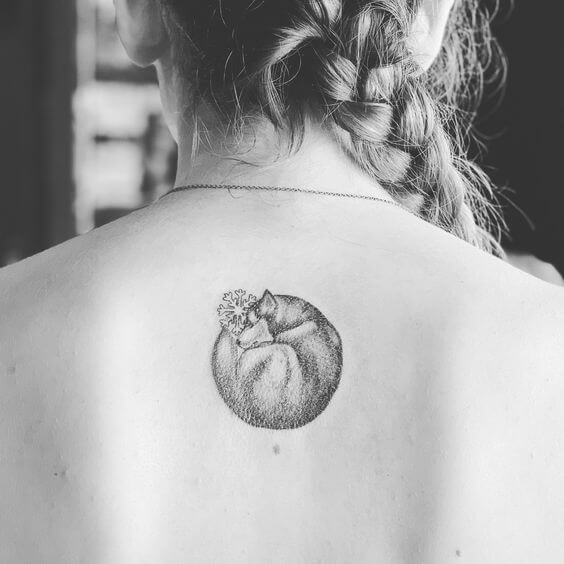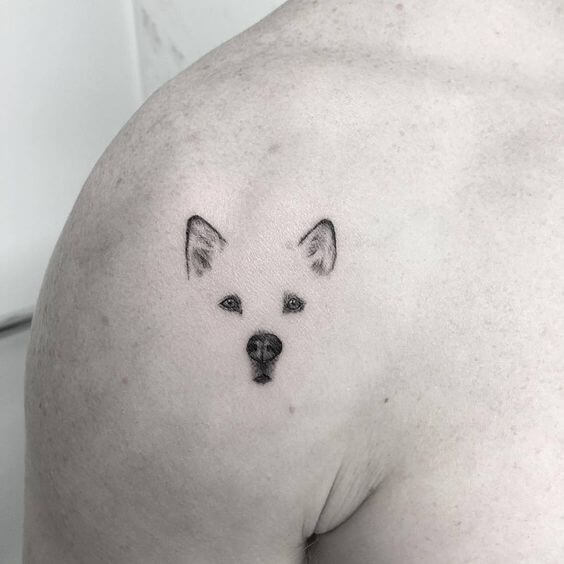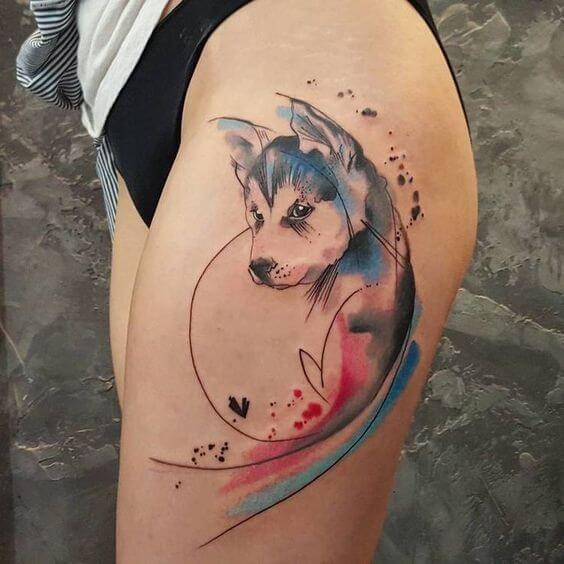 Dachshund
Dachshund tattoo is really beautiful and can be made on any body part. They don't take a lot of areas and look adorable. If you are getting a dog memorial tattoo, dachshunds with hearts around is an option you can consider. Getting a dog outline tattoo with a black and white dachshund on the side of your heel bone will look cool and classy. If you want to add a fun touch to your tattoo, get a hot dog tattooed in which the sausage will be your dog.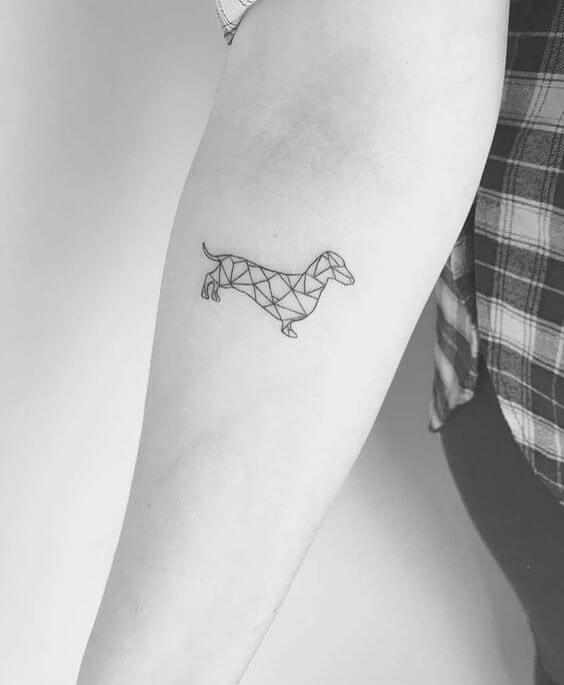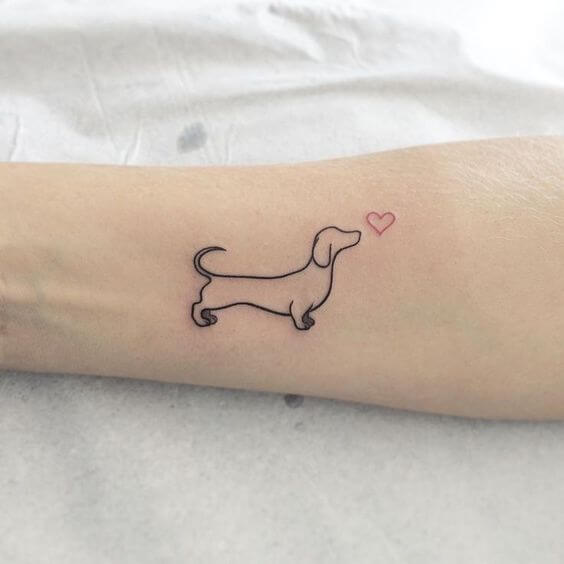 Beagle
Beagle dogs can be portrayed in a very artistic manner. They have a very naughty personality and getting such tattoos would look interesting. Beagle tattoo can also be sensitive and symbolize love in a very cute way. However, if you really like beagles and want them tattooed, get courage the cowardly dog tattoo. It will make you look different and give you an edge.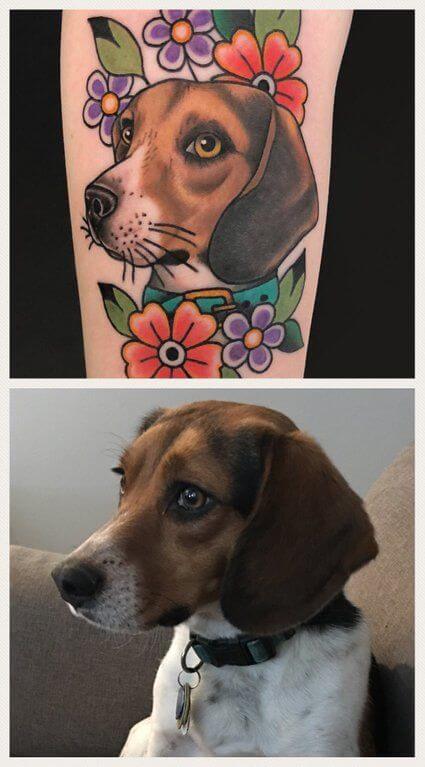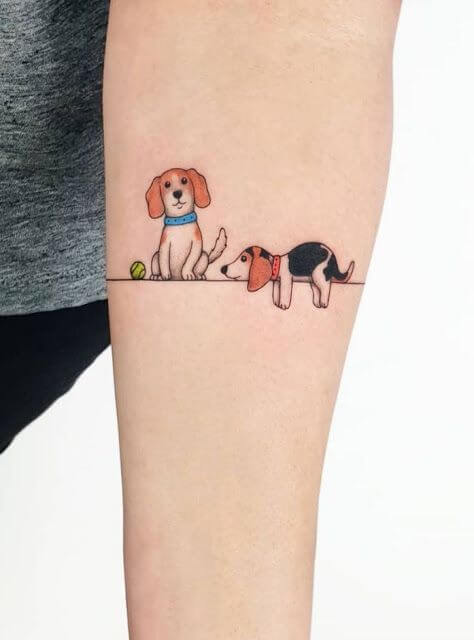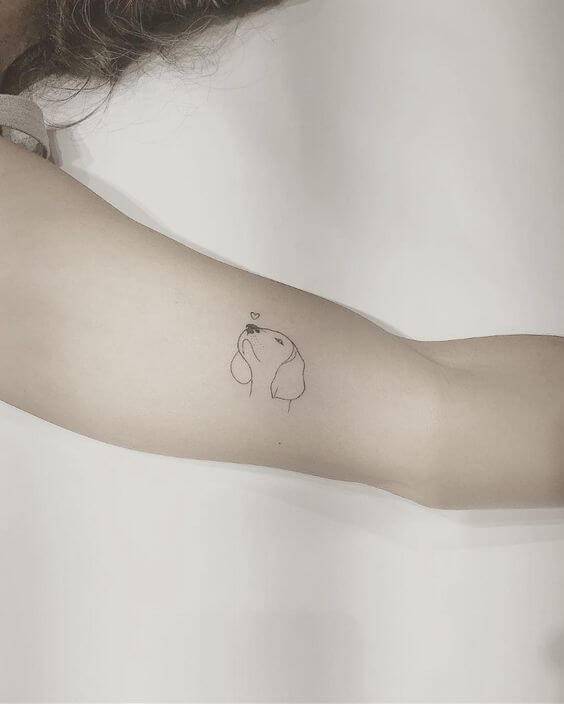 Doberman
A Doberman tattoo is best suited to people who have a very strong and dominating personality. Dobermans are considered to be dangerous and merciless when they attack someone. You would never want to mess with a Doberman. Additionally, they don't trust people easily and are very smart and fast creatures. If you admire such a personality or have one, getting them tattooed would be a good idea. However, if you have a dog of this breed, there are people who get them inked on their chest, close to the heart. This shows how important the dog is or was to the parent.
Pomeranian
A Pomeranian tattoo is suited for a person who doesn't look that fierce and has a cute exterior but is fearsome from the inside. Like a Pomeranian is, people with such personalities should be feared as they are quite short-tempered. They bark and have a really loud voice. However, they love their family and make sure to provide comfort to their loved ones. The best feature of a Pomeranian is their fur. If you are getting them inked on you, make sure to choose a design that glorified their dense fur and cute little face in the best way possible. For this, choose front poses instead of the side. A simple dog tattoo for a Pomeranian would look good too,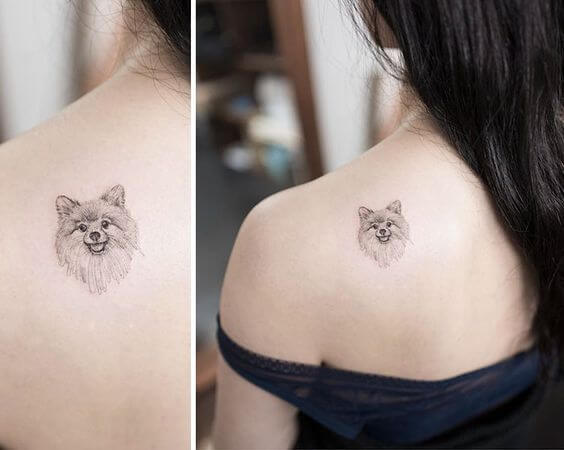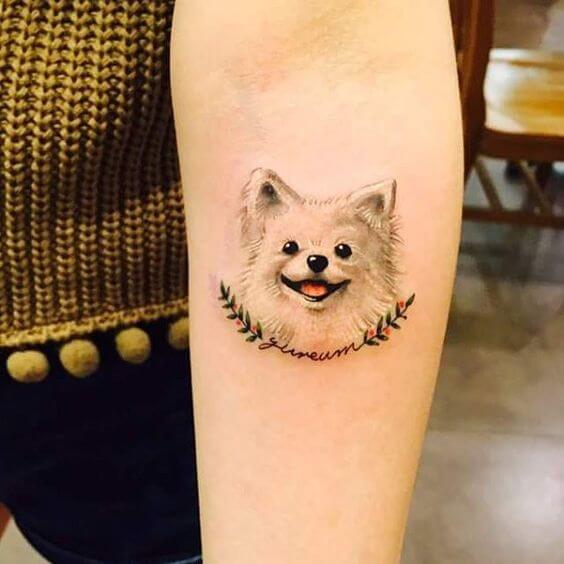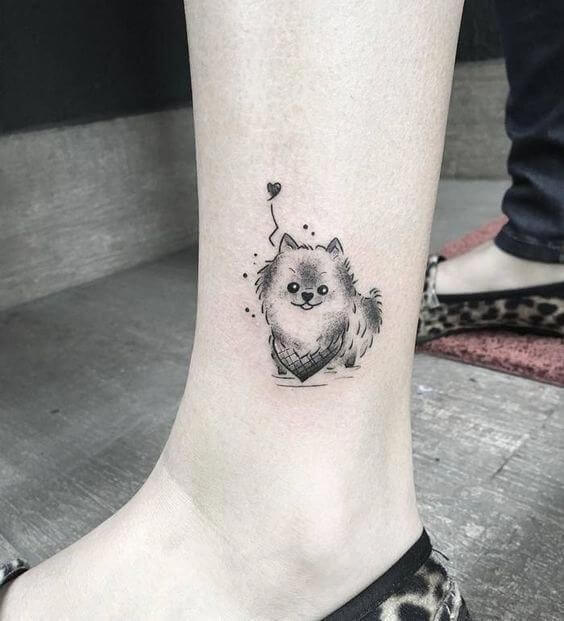 Chihuahua
They are really tiny dogs and look absolutely adorable. They are considered to be one of the cutest dogs and proof to be good family dogs. They like getting snuggly and comfort from the outside. They are not very brave and make excellent company. A Chihuahua tattoo looks innocent and lovely. Getting a flower tiara on top of the dog or around shows how tiny but beautiful this breed is. This design is very popular and looks good with a Chihuahua. Make sure to not add any fancy designs with this one as it doesn't really go and would make less sense. This is because Chihuahuas are not considered to be one of the fancy breeds; therefore, getting a minimalist dog tattoo would suffice.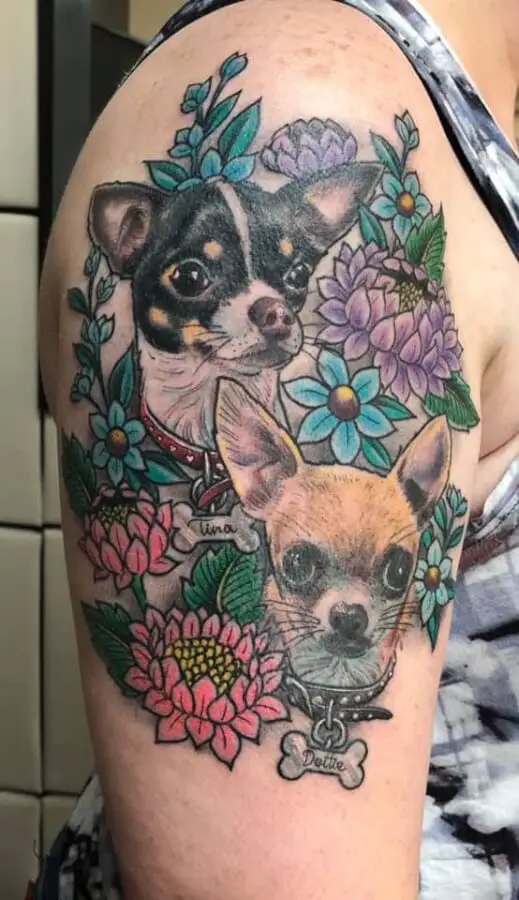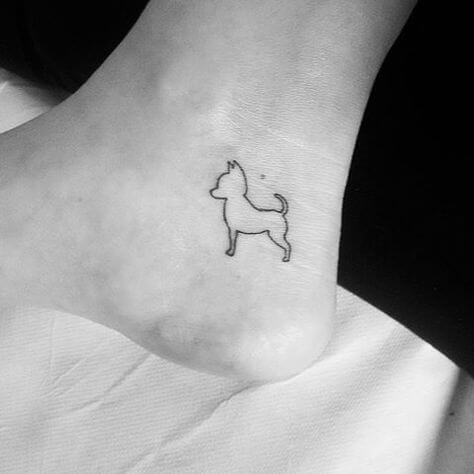 Golden retriever
Golden retrievers undoubtedly are the friendliest dogs and make the best pets. They are cute, beautiful, shiny and soft. They become a part of your family and act like a best friend to you. They know how to love and don't create a lot of mess. They like sleeping with you and protecting you at any cost. Golden retrievers may seem cute and calm on the outside, but dare you to mess with someone they care about. They make sure to hurt you and make you regret the mistake. Since they are big creatures, fitting a golden retriever tattoo on the limbs is difficult. This is why people prefer getting them on the back of the neck or the chest. To make it easier, some people get retriever pups tattooed instead of the adult ones.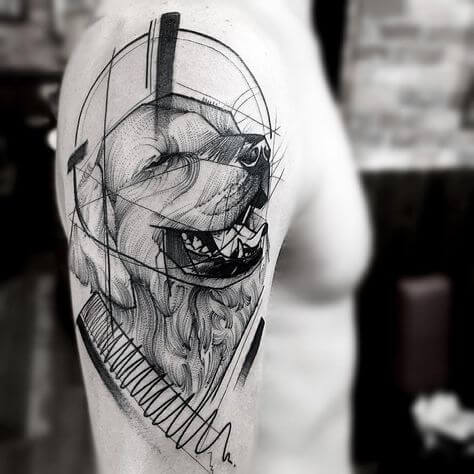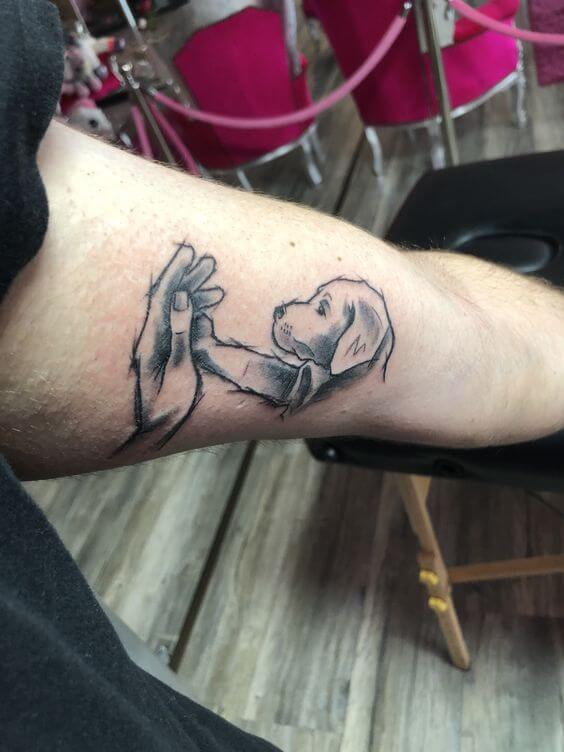 Boxer dog
Boxer dogs are attractive beings that have a class and style that gives them an edge. This breed loves pampering and is quite emotional. They don't prefer staying away from their family even for a bit. They have a strong body and are taller than most breeds. However, boxer dogs are cool and calm creatures that don't prefer getting into a fight for no reason. They are considered a bit lazy as well. They have an adorable face and eyes that can have a strong influence on you. A boxer dog tattoo that you get should be able to portray the innocence and love that these dogs have in them. Getting their face tattooed on the wrist is a trend that most people follow these days. You can also get more than one boxer face on your wrist. This looks cool too.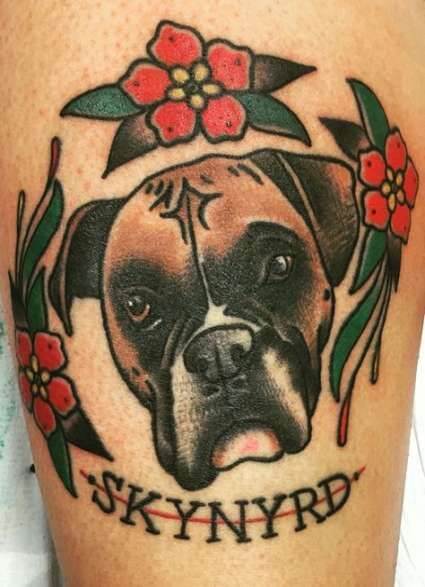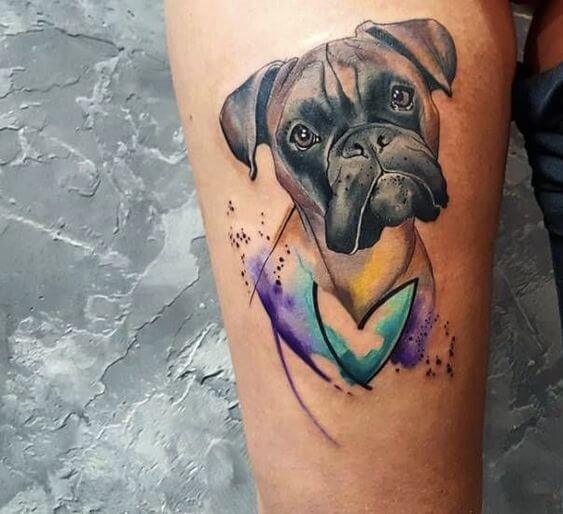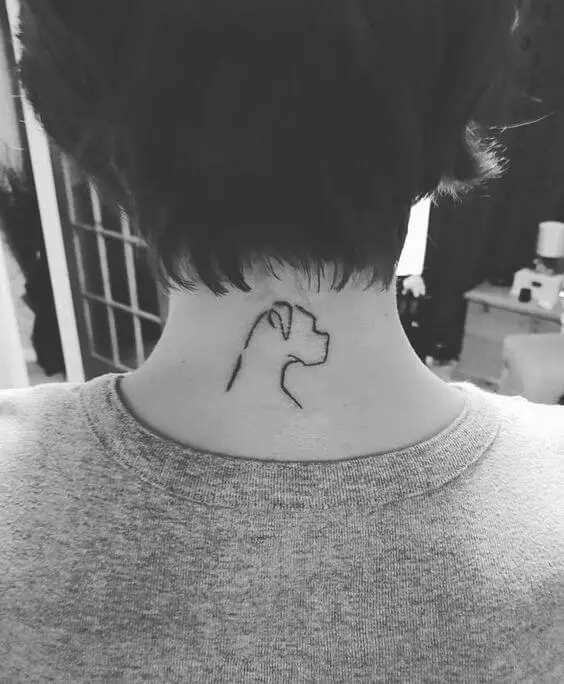 Shih Tzu
Shih Tzus are adorable dogs that the softest fur and the cutest face. They are small and look fancy. They come in different colors and love to play and jump around. This breed is friendly and doesn't harm anyone in most cases. They prefer being quiet and gobble on the food. They make friends easily because of their happy go lucky personality. A Shih Tzu tattoo looks good in all kinds of designs but the best is where the dog's face is inked with a flower or heart hovering on it. Their fur should be visible properly and their tongue should be out. Their cute little tongue when hangs out, they look their best. Getting a Shih Tzu dog paw tattoo is also a trend that people follow these days.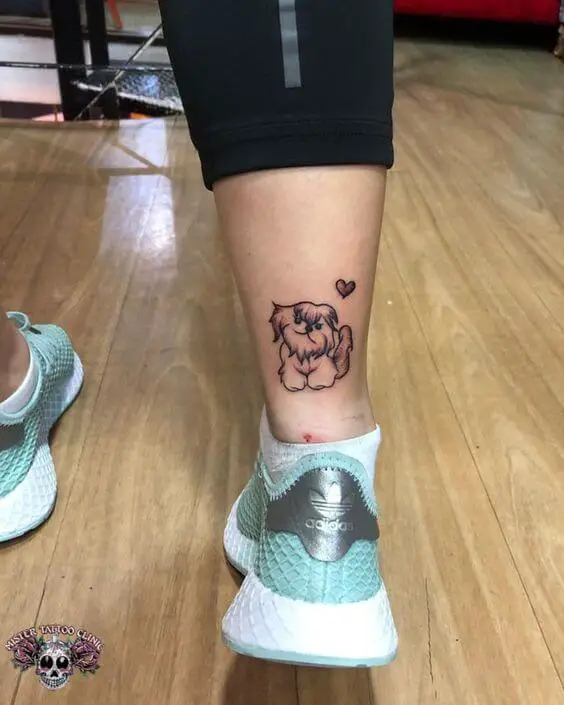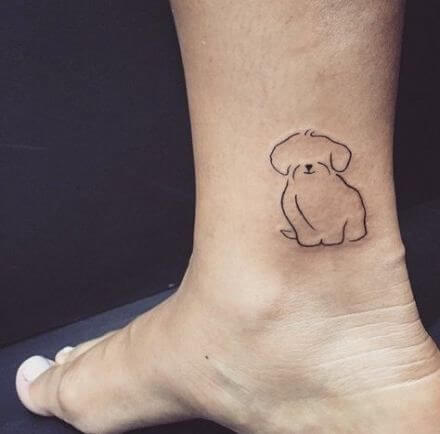 Labrador
Another friendly and hyperactive dog is a Labrador. These dogs don't like sitting, they just want to play and chew on things around them. They have a really fun personality and love getting attention. Being amazing family dogs, they work well in protecting the family and are short-tempered. They are able to judge threats easily and make sure to hurt a threat badly. People with a personality like this can get lab tattoos. Lab pups look great on a tattoo as they don't take a lot of areas and their cuteness seems unreal. Labs with a ball or a running or jumping lab are some of the choices people prefer. These designs help in portraying their active and vibrant personality in the best way. Another way to get them inked is by going neo classical. Labradors suit a neo-traditional dog tattoo as well and would be able to express your emotions in the best way.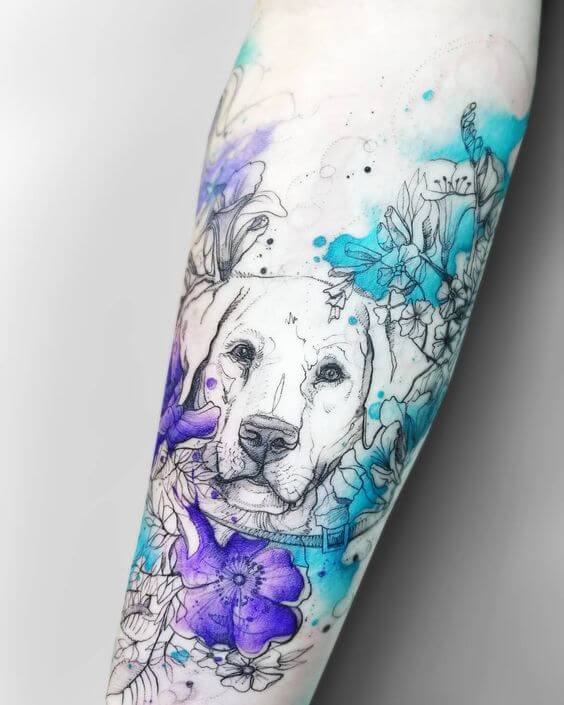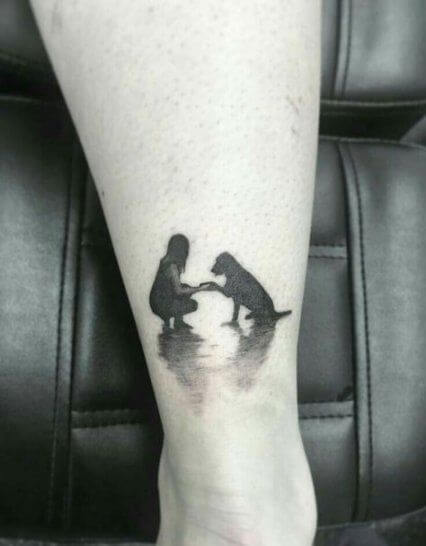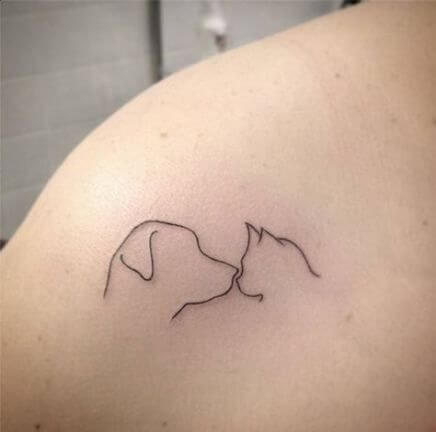 French bulldog
These dogs are lazy and want to spend their entire lying around. They hurt getting or work for something and may sleep the entire day. They don't eat much but require a lot of exercise due to their lazy behavior. They are loving and friendly. They prove to be good family dogs and like sleeping with their master. They can be trained easily but can be naughty sometimes.
A French bulldog tattoo as a memorial tattoo seems great. They look innocent and deprived of love. However, a very popular French bulldog tattoo could be the one where it is staring at you at its eyes seem really intense. It portrays a contrary image than what we have in mind for the breed, but that's what makes this tattoo more fun. It shows how a lazy and sweet being can turn into a predator in no time.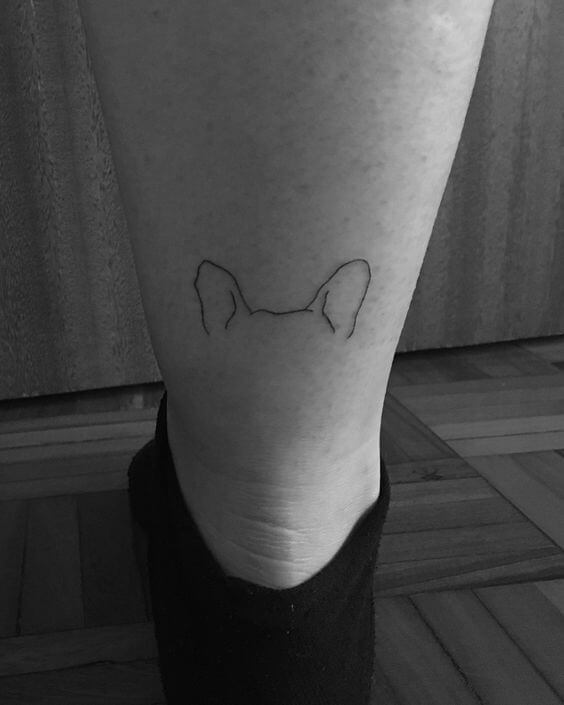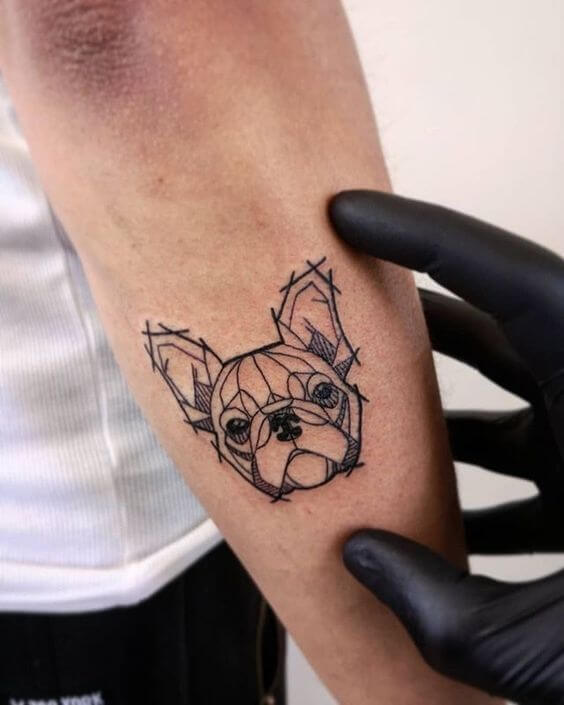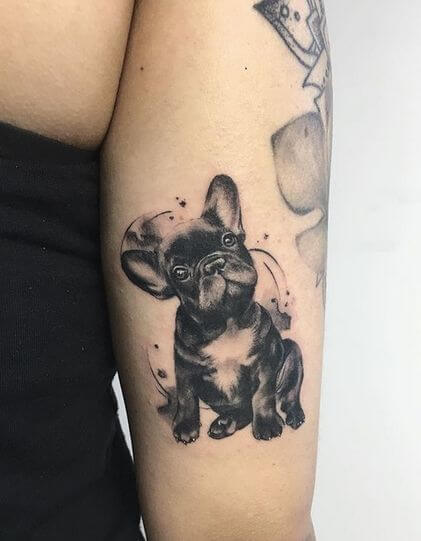 German Shepherd tattoo
This dog is adorable but scary. It knows how to love but shouldn't be annoyed. They are sweeter and more patient than a Pitbull or a Doberman. They are good family dogs and make sure to protect their family by hook or by crook. In their presence, no danger can harm their loved ones and they are great in providing love and comfort as well. They make good police as they are smart and have a strong nose. They sense a threat from a great distance and their barks can terrorize any individual. A German shepherd tattoo works great for any dog lover. Even if you don't have the dog but still love dogs, the German shepherd is a good choice.
Some even prefer getting a dog ear tattoo for a German shepherd. In this way, you don't have to get the entire face tattoo but just a symbol of your love and the presence of the dog.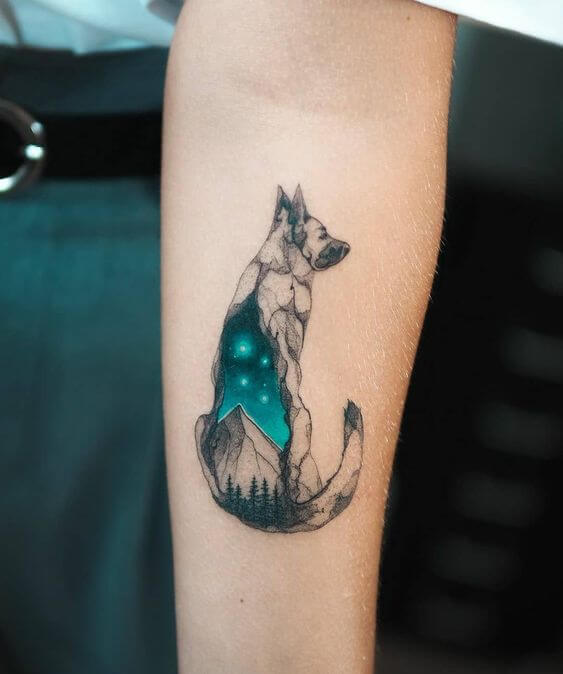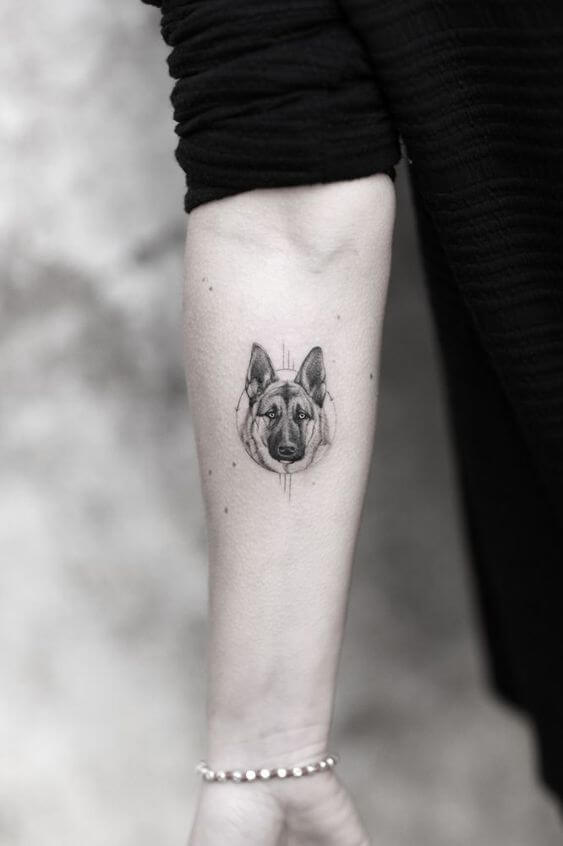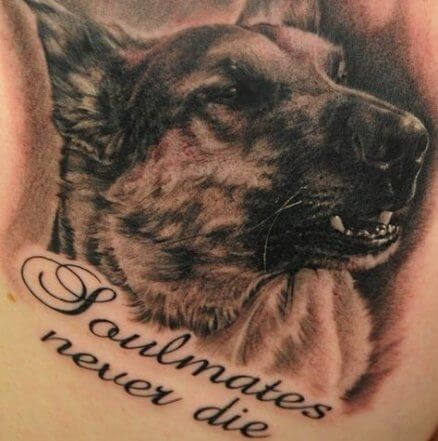 Final words:
Different dog breeds have different personalities. Getting a breed tattooed portrays not just your love for the dog or the breed but also the personality you have as an individual. The dog tattoos mentioned above work great for portraying personalities that you might have. Every dog tattoo has a specific design that suits the dog best, some of which are mentioned above. If you don't have a design in mind, going by those designs could be a good idea. There are various styles that you can follow for you dog tattoo, for instance, an Egyptian dog tattoo or just using a dog collar would look good too.