Airbrush tattoo is another beautiful thing you can do with an airbrush. Airbrush tattoo is better than traditional temporary tattoos since it can be applied almost everywhere in the body and will last longer. Unlike other temporary tattoos that will eventually wear off when you took a bath, airbrush tattoos will last up to one week with regular bathing.
Airbrush tattoos even look lifelike compared to other temporary tattoos.
Although henna tattoos last the longest, it will need a lot of time for the tattoo artist to paint it in the body. And if the tattoo is significant, it will take much more time.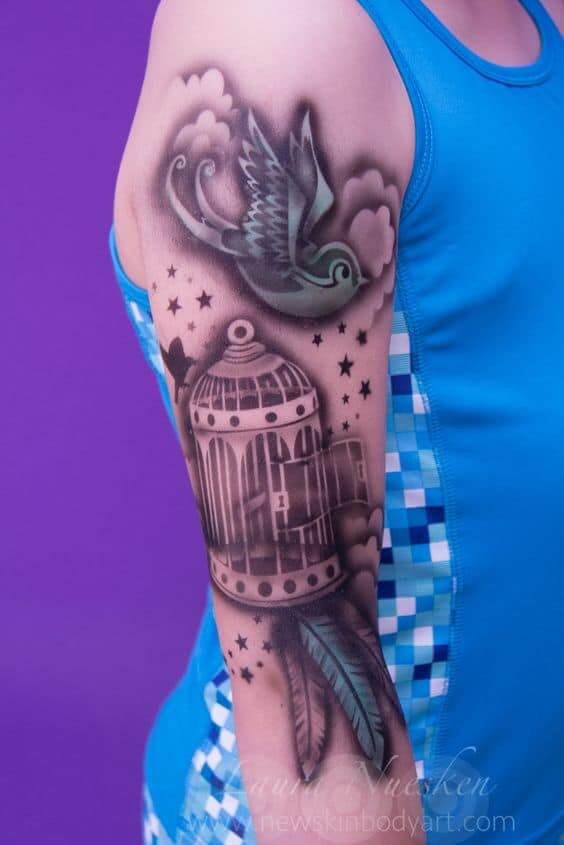 Airbrush acts quickly, and it is waterproof, too.
If it would make for an artist 6 hours long of good design, it would only take about 30 minutes of the same model if done on the airbrush. This is an excellent way to save time and get some relief on staying completely still for long periods.
Plenty tattoos for women you can find in our website: Check here
Airbrush tattoo is also very safe from infections that are caused by needles, and they do not need to have healing time, unlike the real symbols. Since real tattoos have pain because of the needles involved, airbrush tattoo, on the other hand, has no pain since there is no needle engaged in the process. So many people can have realistic tattoos while staying away from pain.
Since real tattoos will last forever, then you are stuck with the same design and the only way to remove it is to have a cover tattoo or have a laser skin surgery where it is much costly. Airbrushed tattoos, on the other hand, can be easily removed by rubbing it off with baby oil or by waiting for it to come off which usually takes about seven days.
If you want to do some airbrush art, you need to have these materials first.
An airbrush gun is a must, as well as stencils, glass airbrush bottles, an air manifold, and do not forget the 10′ Hoses braided hose. Airbrush paints that are specially formulated for the human skin must not be overlooked in the list also. For some finishing touches, you need some talc powder and a 70% alcohol.
There are also stencils that are readily available in the market, and these have limitless designs to choose from.
You might be wondering what the talc powder is used for. They are applied after the paint has completely dried to help the tattoo from fading. And 70% of alcohol is used to clean the excess colors on the airbrush and other materials. Airbrush tattoo will usually last for about seven days, but if you have an oily type of skin, it will fade away after a few days. If you want to make it last longer, you can apply the talc powder regularly. And if you want them removed, you can grab baby oil and rub it off quickly.
Source of images: Pinterest.com