Now, I know that NYC has become saturated with tattoo parlors in every single borough. Some are just mediocre shops, and some are just fantastic shops who are hard to top, like Paul Booth's Last Rites. I mean, who can beat the legend himself? Anyway, always looking for more ink like I am, and now spending the majority of my time in NYC, I stumbled across a little shop on West 14 Street called Rising Dragon Tattoos.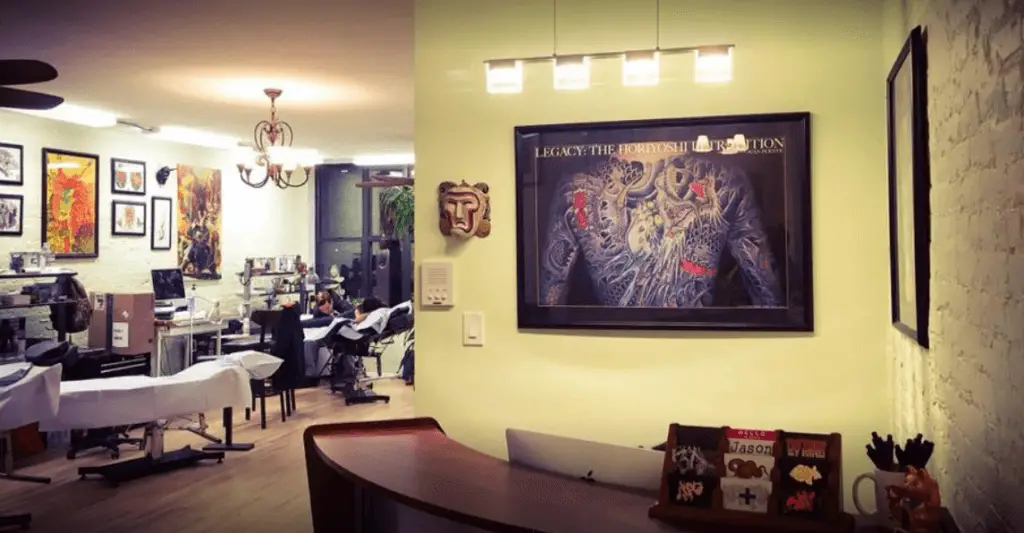 This was a new location for Rising Dragon Tattoos. The old place was down on West 23 Street between 7 and 8 Avenues but is now called Chelsea Tattoo Company. Upon entering this little shop, I quickly went to the portfolios to check out the artwork of the artists of Rising Dragon, and I was thoroughly impressed with their Japanese artwork. Wow! I mean, if Paul Booth is known for his 'dark horror' art, these guys should be recognized for their Asian artwork.
Impression about Rising Dragon Tattoo Parlor in New York City
Rising Dragon Tattoos currently houses a staff of six artists. They lost two in the move to West 14 Street. Japanese veteran tattoo artist Horisei and graffiti artist Bern stayed behind to work at the Chelsea Tattoo Company.
The six artists at Rising DragonTattoos right now includes Darren, who's been tattooing for 23 years and specializes in portraits, unique tribal, and Japanese sleeves, then there's C-Jay, who's been tattooing for about 15 years and he specializes in Japanese, Old School, and Graffiti, and the remaining four artists all have 10 years of tattoo experience under their belt. They are Joao-Paulo, who specializes in large Japanese style tattoos, Su Houston, who bounces back and forth between here and Chicago and specializes in mostly color tattoos, and straight from Florence and Milan, Italy are Simone and Paolino, who specializes in dark grey stuff and skulls.
Rising Dragon Tattoos is a custom shop, but they don't turn down the occasional flash tattoo. Their prices are very good! They charge a minimum of eighty dollars, but all artists are custom artists and charge the industry standard $150 an hour. Artists like Joao Paolino and C-Jay tattoo faster than the average and cost a little bit more like $180 an hour.. If the artist feels that the tattoo will take more than one session to achieve, they will charge the customer per session until the tattoo is complete.
Rising Dragon Tattoo Shop Policy
The age policy at Rising Dragon Tattoos is a strict 18 years old and over. They will not touch the skin of anyone younger than 18, and all customers must be prepared to show ID to prove their age. Well, unless you're like 90 or something and the wrinkles are proof enough! All of the instruments in the shop are sterilized with what has become the industry standard-autoclave! And all of the needles are brand new for each customer's safety, not to mention, you get better skin penetration with a new needle.
Appointments at Rising Dragon Tattoos are a must!
They will, however, take walk-ins if the schedule is light for any of the artists working on that particular day. Rising Dragon also requests a cash deposit to reserve your appointment. This way they avoid any cancellations because God knows once people put money down, they won't want to lose it, which they will do because the deposit is non-refundable.
How to contact them?
If you wish to make an appointment at Rising Dragon Tattoos, you can do so by calling (212) 255-8288 or by emailing them at risingdragon.nyc@gmail.com. You can also visit their new location at 51 West 14 Street between 5 and 6 Avenues in NYC.
If you want to see some of the artist's work, you can log onto risingdragon.com.
[googlemap address="51 W 14th St #2R, New York, NY 10011, USA" width="600″ height="340″ position="center"]
A small gallery of their work