As part of the body, the hands are an ideal and favorite place to get a tattoo. In them, the discreet but elegant designs, position them as one of the favorite places to get a beautiful tattoo design. Among those who claim a refined and at the same time simple aesthetic, without the ostentation that other parts of the body allow such as the back, shoulders or forearm.
Are you ready to see more than 20 hand tattoos designs for your inspiration?
However, the symbolism of the hands and the mysticism of the tattoos combine perfectly in a practice of meaning in which only you decide how magical you want your design.  Here are some awesome hand tattoo designs to think about.
Small star

A small star in pure color tones on the upper fist. It is a small size design, but because of the location and the colors used, it becomes a gorgeous tattoo.

Hand bone design

You can have suggestive bones of the hand located where the real bones would be found. People who love macabre designs usually carry these types of tattoos.

Birds on wrist tattoo

You can try mini designs possibly imitating birds in full flight in a flock made on the inside of this person's wrist or your palm. It is a straightforward design, but in its simplicity lies its beauty and art, very minimalistic.

Small heart tattoo

It can be a very tiny and discreet design tattooed at the base of the thumb or on the wrist, an image of a little heart, your choice of colour. It is a small detail, almost a wink, but very striking.

The tattoo around the ring finger

It can be a drawing imitating a vine or a ring surrounding the ring finger as if it were a piece of jewellery with natural and artistic forms.

– Check Finger Tattoos Designs

Words on your knuckles

The knuckles are an area that has always been fashionable and more when you want to print letters to form words. This tattooed word could be like a particular phrase or word that is special to you.

Matching tattoos on both hands

Tattoo design with the same kind of image on both of your hands, such as on your palm. You can even get a matching tattoo on the side with someone that you consider unique. A symbol of what we call match tattoos because they are made the same in two different people.

A key on your hand

Having a key always in your hand can be a smart tattoo idea. Key design located in the palm is a simple design. But palm is not a very common area but sometimes it is used, and it has a good result like that of the image.

Character or doodle on the thumb

Having a Chinese character or Japanese kanji that has meaning to you is a classic tattoo idea. You can have the doodle located on the base of the thumb can be very discreet.

Cross tattoo on the palm

A tiny symbol of a cross in the palm is also a very sensible idea to try out especially if you want to hide your tattoos.

Insect tattoo

A scorpion or some arachnid tattooed in the same area as the previous tattoo. However, this will be more obvious since this design can be a large tattoo on the palm and it can even be colourful.

Flower tattoo

Tattoos in both fists or palms with beds of flowers and with drawings imitating various kinds of plants. You could also have a vine of a flower encircling your wrist too. A dab of colour from the flower's petals could also showcase your creativity.

Fingerprint tattoo

It needs to be a small design such as using only letters or symbols. One of the few occasions in which you can see designs printed on fingerprints.

Important number

Design of numbers that make up an important date for the person who is tattooed, something we see quite often. It is often tattooed around the fingers.

Flaming skull tattoo

Skull from which flames come out, this is a kind of tattoo that is usually on other body parts. What this design on the hand lacks is colour, since it needs to be simple to fit.

Dollar sign

Many people choose to have tattoos of the dollar symbol, and you can even use other currencies as well. It may be a way to show a little bit of humour, but still, look fly.

Butterfly tattoo

A pretty butterfly tattooed in warm tones, orange and yellow or any other colour that you want. A design too simple for many but could be the one for you.

Classic rose tattoo

A beautiful rose tattooed with the colours of the old school style; it is sure to draw the attention of a lot of people. This rose tattoo can be large or discreet depending on what you prefer. And the rose could even be other colours, not just read.

Dots or pointillism tattoo

A tattoo on your hand made up of tiny dots. It is probably one of the most exquisite styles. As in painting, symbols made with this technique depend only on points to express their characteristics, from their general meaning to technical elements such as depth or shading.

Lotus flower design

A lotus flower is a classic symbol in Buddhist teachings. It means peace and enlightenment and if you want to exude the same aura, then having a lotus flower tattooed on your wrist could be it.

Mandala hand tattoo

Mandela designed tattoos are striking. With its intricate lines and a single colour, it is quite eye-catching but straightforward. It is going to appeal to a lot of people since Mandela designs can be reworked to not only show flower shaped designs. You can have a Mandela tattoo wrap around your whole hand.
The hands are a part of the body with all the characteristics to make your first tattoo, discreet designs, short phrases or small illustrations with the perfect motive to decorate your hands.
Gallery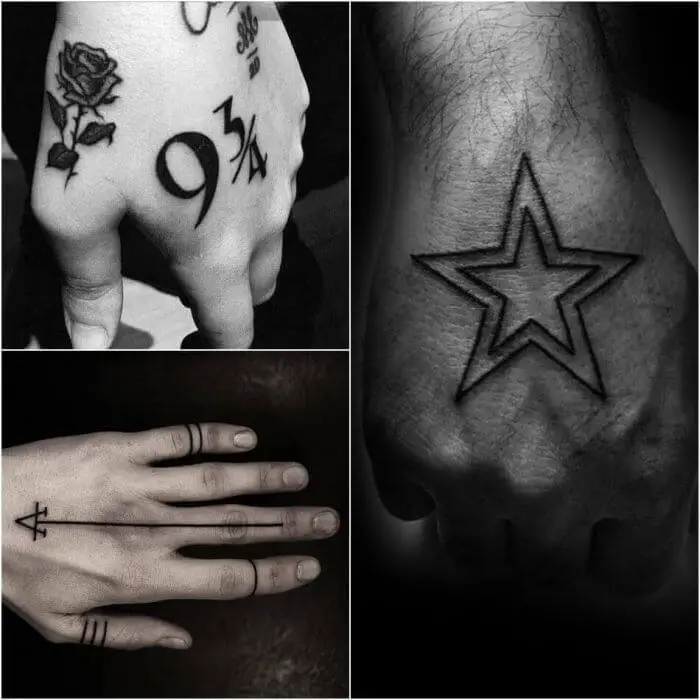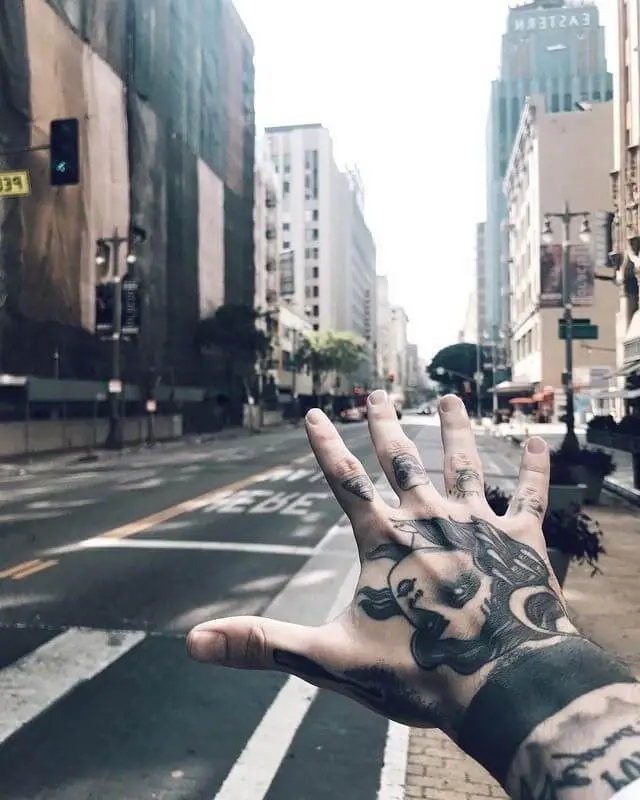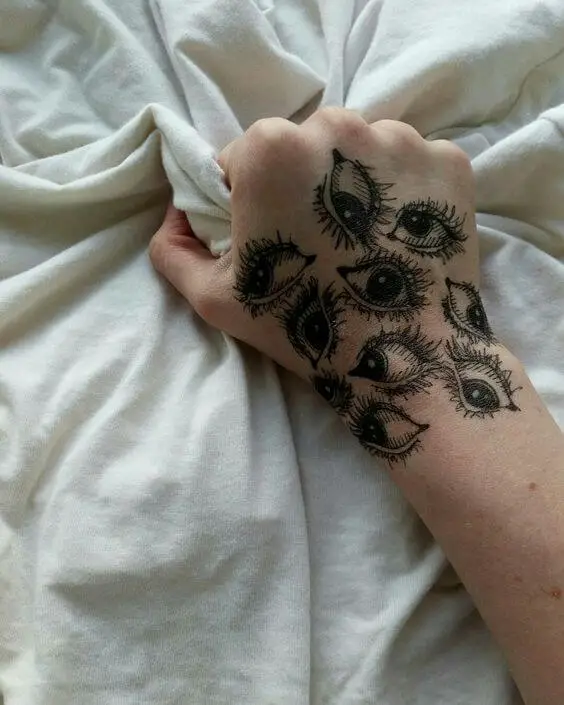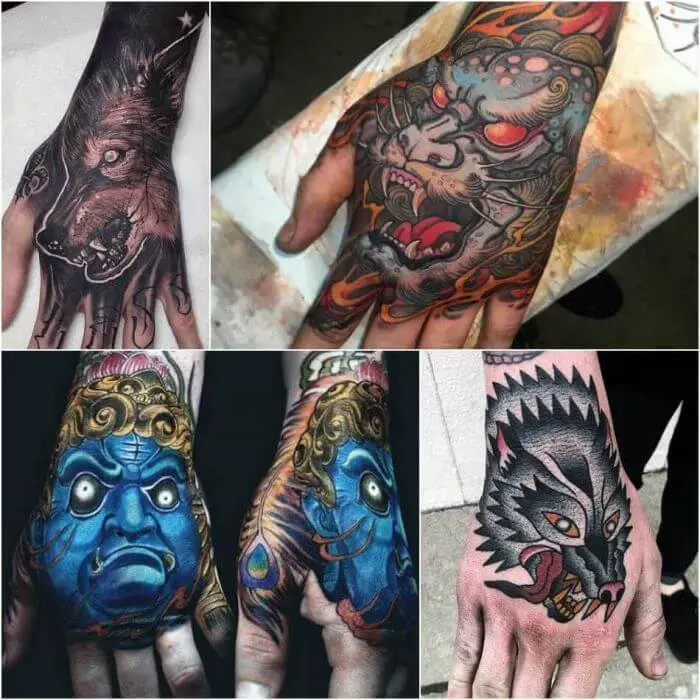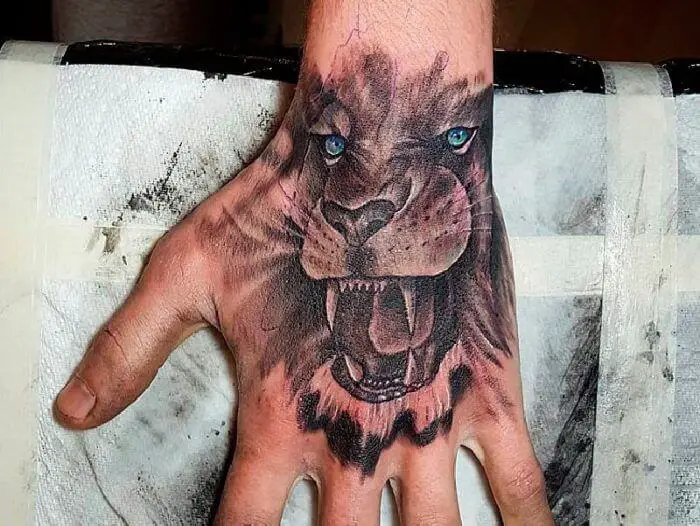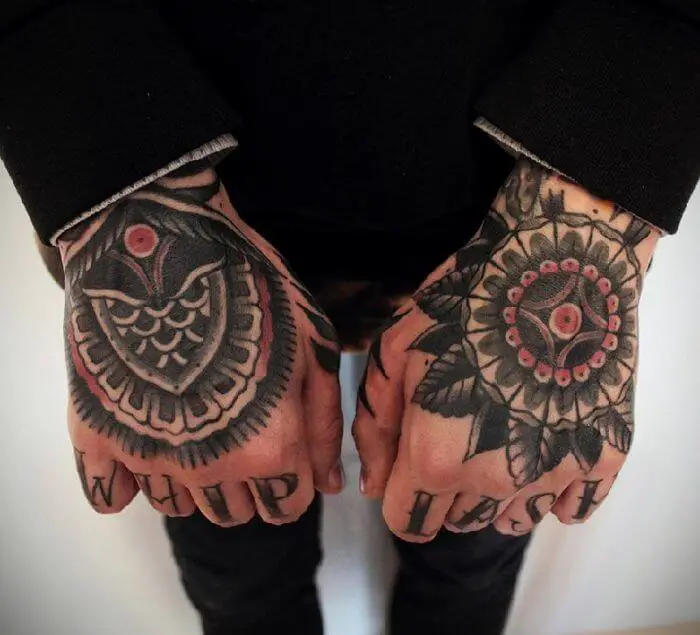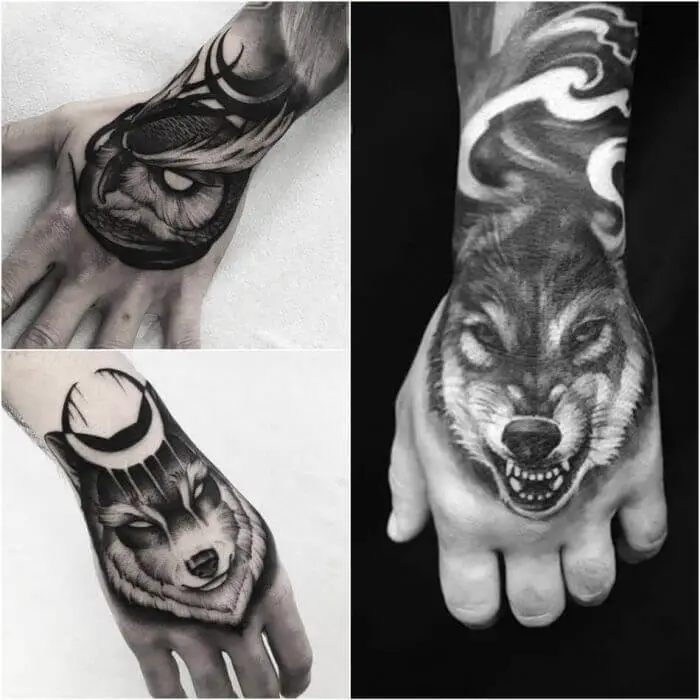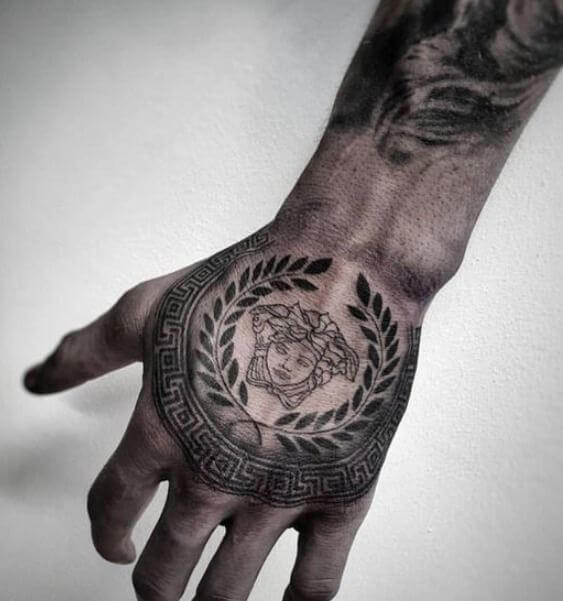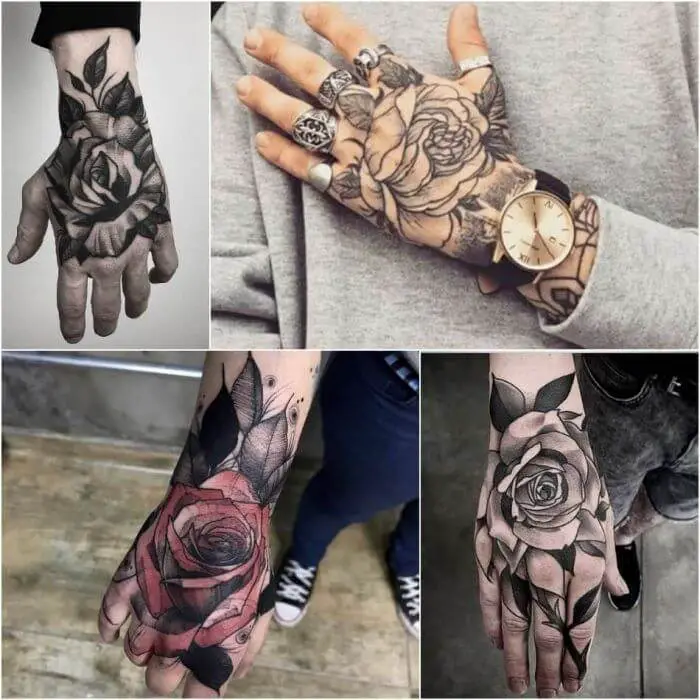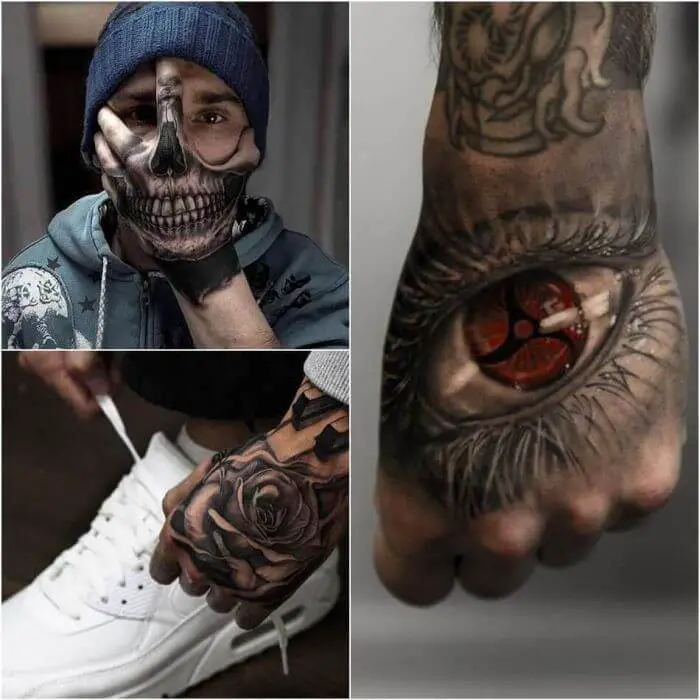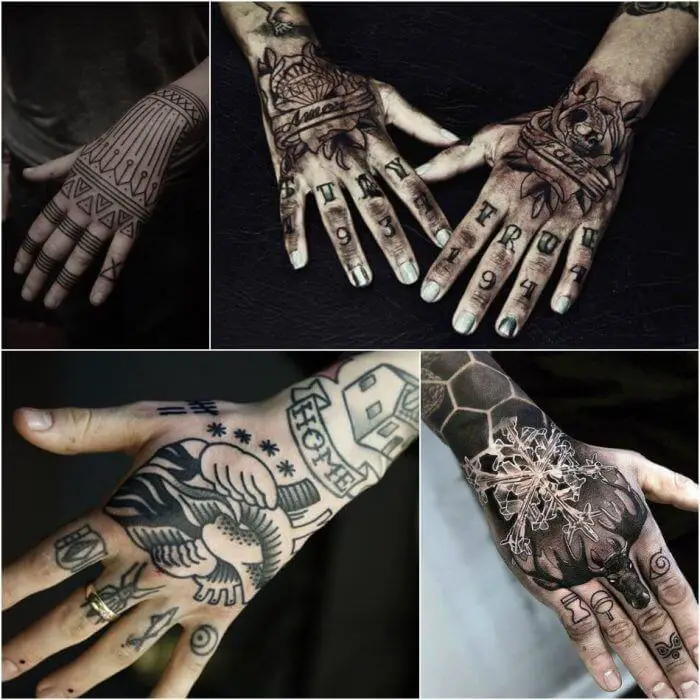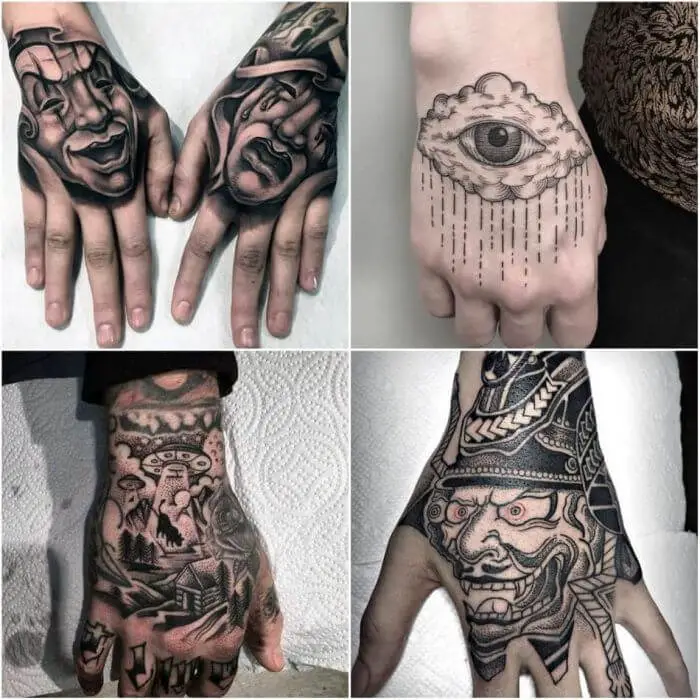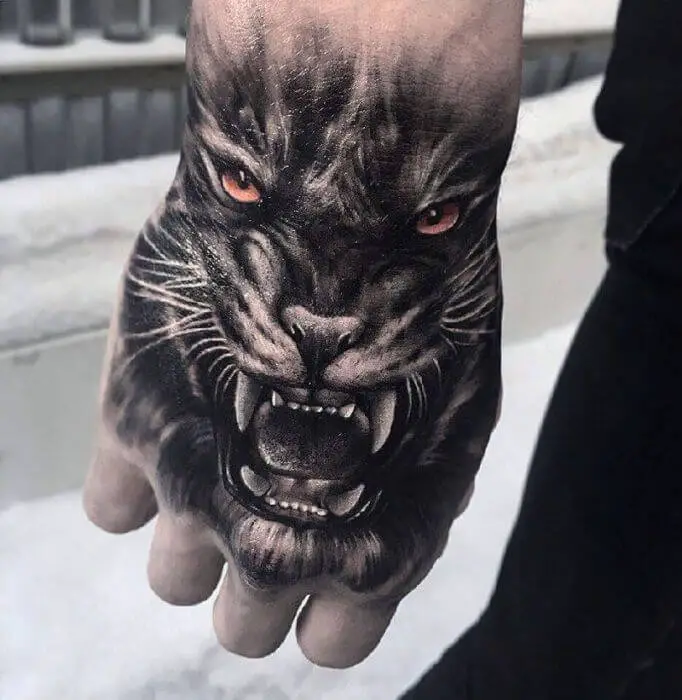 Source of images: Pinterest.com