Who doesn't like Drake tattoos? He is a singer, songwriter, record producer, actor, and entrepreneur.  I think that everyone has some appreciation for the artist who gave up all of his money from one of his videos to charities. Only last year, he gave up $175,000 to pay for groceries and college tuition for complete strangers.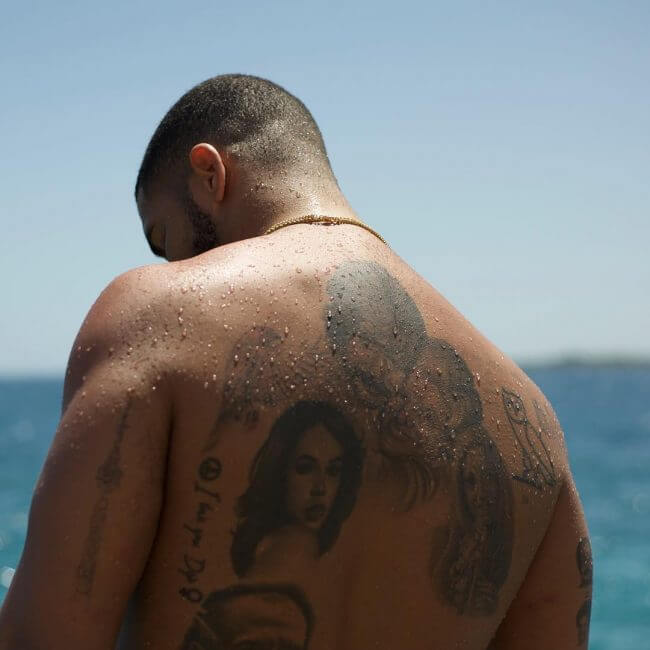 Fifty thousand of those dollars were given away in a grocery store in Miami by paying for everyone's shopping. He even encouraged them to buy more! What is not to love about him?
Drake Tattoos
It stands to reason that people are highly interested in him. With that goes a great interest in his tattoos. That's why, here at Tattooli, we have compiled all of his tattoos and meanings or reasons for them. 
More Life playlist Flower
At the time of the release of Drakes compilation, More Life, in March 2017, Drake decided to mark the occasion with a pink flower tattoo. This ink is a tattoo modeled on the pink flower that Drake and his production team were using at the time for promotional work for the playlist.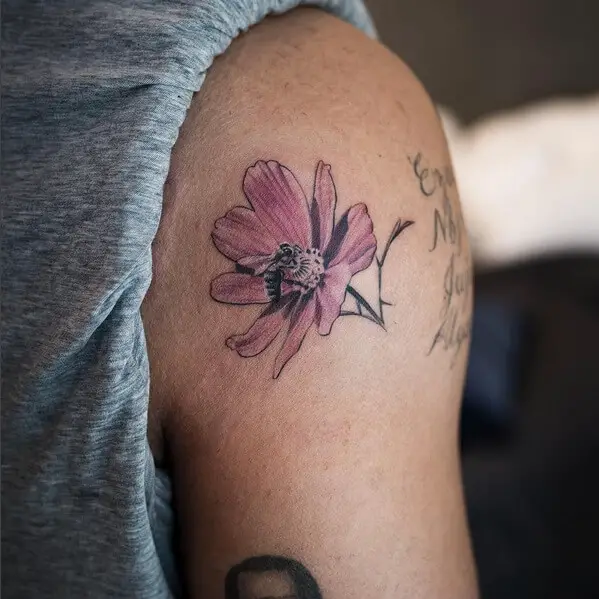 Although the flower got based on the artwork for the release, it is not identical. The highly detailed image of the pink flower on the back of Drakes right shoulder appears to be one of a hibiscus. However, the main difference between the tattoo and the promotional artwork is that he has had an incredibly detailed honey bee incorporated into his ink. This bee may be to signify the necessity of honey bees for the human crop population of the earth (more life).
However, the connection to the bee may well be because the playlist premiered on Radio Ovo sound on episode 39 on the 18th of March 2017. On this episode, Radio Ovo sound used a bee for their logo. Although, it is worth noting that this was the first, and only episode that had any correlation to the bees. Therefore, it may be that they used a bee in this logo to show that Drake was releasing his playlist on that episode.
The tattoo was first shared by the Sweedish tattoo artist Nikki Norberg, who owns a studio based in Gothenburg, on his Instagram account. Let us know if you have had a tattoo by Niki, as the last time we checked, his waiting list was four years!
Drakkar Noir
It was only days after the pink flower tattoo (above) that Drake revealed his next tattoo. However, instead of another flower, this time the Swedish tattooist, Niki Norberg inked a bottle of the classic black Drakkar Noir bottle. There has been no definitive reason given for this tattoo. However, speculation has risen to say that it was a tribute to Drakes old Twitter username, @drakkardnoir. Or, could it be because he is a massive fan of the Drakkar Noir fragrance? Or perhaps it is just that it sounds like his name? Maybe no one will ever know!
What we do know, however, is this tattoo is placed right next to the flaming, unruly skull on his left shoulder. Due to the timing of the images of the tattoos, it does appear that it was probably in the same session as the More Life flower that this got completed. 
Sade by Drakes Side
The Sade ink was the third tattoo that Drake had in the same week. Therefore, Sade is someone that Drake has an evident fondness for. At the time of this tattoo, Sade was a 58-year old famed R&B singer-songwriter. Drake had been seen with Sade quite a few times in the preceding months, which led to conjecture that the pair were dating. However, this is still a little uncertain.
The portrait of Sade is on the rappers left-hand ribcage. Furthermore, it is accompanied by the writing "with love Sade x." It would seem that this is in Sade's handwriting. The question is, however, did she write it on there herself?
The style of the tattoo is terrific. It is in black and grey, depicting a lot of detail, including the big ear hoops, and a towel wrapped around her, and a hair wrap.
Second Sade Portrait
It would seem that the dedication and idolization of the British singer-songwriter Sade were not apparent enough with only one tattoo of her. Drake decided to get another one only three months after he had the portrait above. The second tattoo of Sade is a similarly sized portrait of her just behind the first one. 
The usual artist did not do this tattoo. An artist called Inal Bersekov, from Toronto was the genius behind this masterpiece. Inal commented on Instagram that he was "honored to continue" the tattoo that Niki had started. Therefore, this well may be a work in progress, which may continue.
Weezy Portrait
In 2017, Drake went through a phase of getting tattoos of the people that he was inspired by the most. One of those tattoos is a portrait of Lil Wayne. This tattoo is on the back of his left arm, just underneath Drakkar Noir and skull. This inspiration for this tattoo was from Lil Wayne signing Drake to the label Young Money back in 2009. Weezy took Drake under his wing when he first started the rap game, giving Drake a mentor and a friend. The tattoo was a copy of a photo of Lil Wayne from a 2011 photoshoot for the magazine Rolling Stone. The tattoo was first spotted in July 2017 while Drake was hosting the Houston Appreciation Weekend.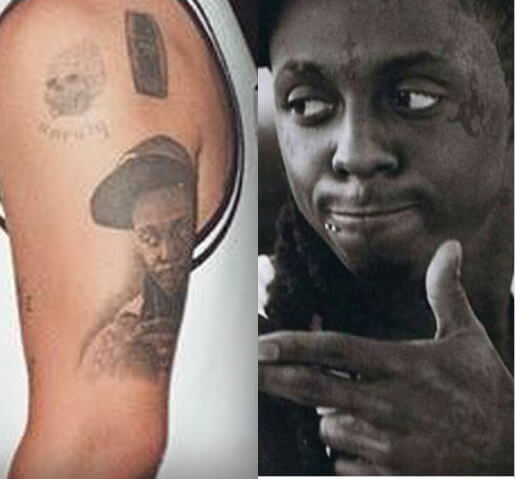 After Drake had this tattoo completed, he sent a photo of the new ink to the rapper Lil Wayne. Weezy was said to be "beyond floored" at the portrait, as loyalty is a big thing to him. Although it took five months to be spotted by anyone.
Conclusion
Drake obviously has some very different and inspiring tattoos. The year of 2017 was no different. He clearly has only very inspired tattoos that mean something to him personally. Have you had any Drake inspired tattoos? If you have, then why not tell us in the comments below.