If you have decided to get a tattoo and you have found that perfect design, you need to think about where to place it. The chances are that you already have an idea of where you want the tattoo, but it is always a good idea to ask the artist if the location is a good one. There are many things to consider regarding tattoo placement.
Will your new tattoo fit properly where you want to put it?
If you shrink down a tattoo to fit in a certain spot, sometimes it is very hard to make out what the tattoo is. If you demand the artist do it your way, this will not be his fault. For example; I got a small tattoo of a tiger cub years ago. The design was intended for a larger tattoo, but I demanded that it be made to the size of a quarter and put on my ankle. This was a mistake, I spent years having people ask me, "What is that?" as they squinted their eyes and leaned down. I would actually have to pick up my ankle and raise it up for them to barely make out the tiger cub. I eventually had it covered with properly sized flowers.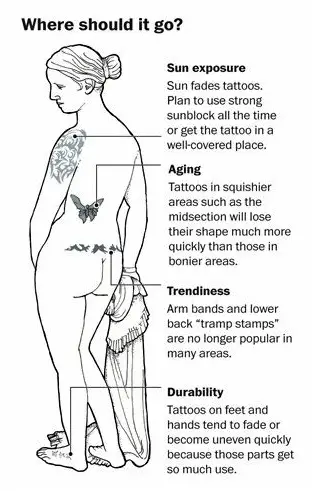 Check also tattoo design for men and for women, we have loads of designs to chose from!
On the other end of this, you may not want to put a tattoo somewhere that is not a big enough area. Many people choose to put a tattoo where some of it will not be seen when their arm is down, because of a lot of the tattoo in their armpit area, and so forth. This is a personal decision; make the one that is right for you.
Another thing to consider is, will you ever want to add more to it?
If your tattoo is one that you may someday like to add on to then, you will want to make sure that you position it somewhere where this will be possible.
Will your usual attire mess up the look of your tattoo in a particular spot?
If you get a tattoo on the back of your shoulder and you wear tank tops, you should consider this when deciding on the exact location of your tattoo. You will want to mess with the precise placement of the symbol and put it where your clothing will work with it if possible.
Make sure you and the tattoo artist are on the same page and seriously consider any advice he gives on location. After all, he is a professional.
Images sources: Pinterest.com