Since I was a small child, I have been in love with all things Hello Kitty. Through adulthood, my love for this cute character was still going strong. After hearing a radio ad that about a local tattoo shop special, I decided to get a Hello Kitty tattoo. I had two days to find the perfect Hello Kitty tattoo that I wanted and no idea what I wanted or where to look, so of course, I took to the internet.
Here are a list and reviews of the different sites where you can find ideas for that perfect Hello Kitty tattoo you've always wanted.
Hello Kitty Tattoo Idea Site #1: Google Images
Personally, Google Images was one of the coolest spots to find a variety of different Hello Kitty images for my Hello Kitty tattoo and the place where I selected the model for my Hello Kitty tattoo. With Google Images, you can type Hello Kitty into the search field, and a variety of different pictures pop up. You can of course search based on what you are looking for in regards to more detail, such as Hello Kitty zombie. The search options are limitless on what you can find.
Hello Kitty Tattoo Idea Site #2: Hello Kitty Hell
Hello, Kitty Hell was a blog started by a man who is subject to his wife's obsession with Hello Kitty. Readers of the blog send it all sorts of Hello Kitty pictures and items that show all the crazy and wild things that are Hello Kitty. It is a fantastic site, and it has a good deal of different Hello Kitty tattoo ideas, from regular plain jane Hello Kitty tattoos to vampire Hello Kitty tattoos. You can see what others have done with Hello Kitty and even brainstorm some of your neat ideas for Hello Kitty tattoos based on what others have done.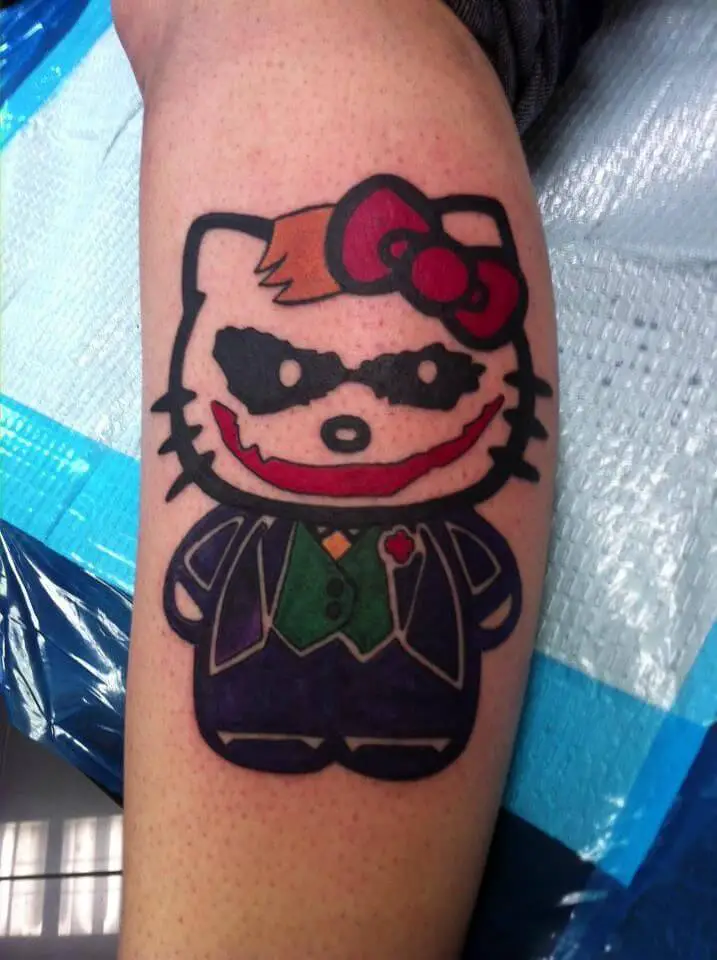 Hello Kitty Tattoo Idea Site #3: Hello Kitty Heaven
Inspired as I am, I decided to create my own Hello Kitty blog. With it, I also decided to have a section where I post pictures and ideas for Hello Kitty tattoos, amongst other Hello Kitty things. Since I have been planning on my next Hello Kitty tattoo, I am always looking up fresh and new things and sharing them with everyone, because after all, who couldn't get enough of Hello Kitty, right?
Other Random Hello Kitty Tattoo Idea Sites
This is a listing of other sites that are neat to look at when you are trying to get a list of what Hello Kitty tattoo design you would like. On some of these sites, you will see some of the same Hello Kitty tattoo designs that people have gotten, and other sites do not have anything else but pictures of Hello Kitty tattoos.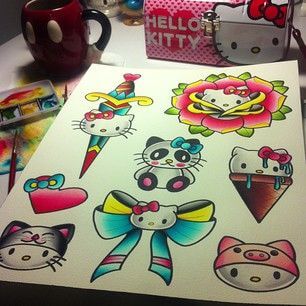 Women's Ink – Hello Kitty Tattoo Ideas – Hello Kitty Universe
It might also be interesting to note that when you are looking up design ideas for your Hello Kitty tattoo, check out the tattoo sites that have rankings for symbols, such as Rate My Tattoo, and Check Out My Ink. Many of these self-ranking tattoo sites have a massive variety of tattoos, including Hello Kitty tattoos.
As I have said before, Hello Kitty tattoos are a must-have for anyone seriously in love with Hello Kitty. There is a wealth of Hello Kitty pictures out there that can guide you in the right direction for your Hello Kitty tattooing pleasure.
A word of advice, when picking out a random picture for your Hello Kitty tattoo, make sure that it will be big enough to blow up after being printed, and none of the details will be lost. When you take your Hello Kitty tattoo idea to your tattoo shop, if it needs to be larger, small images might not look the same when the size of the Hello Kitty image is blown up, thus losing details or ruining the Hello Kitty image that you wanted to use for your tattoo idea.
But whatever Hello Kitty tattoo idea you choose, be sure that it will be something that you will want to stay with you forever. Proper care is always necessary when preserving your Hello Kitty tattoo.
Gallery