Foot Tattoo Quotes have become popular almost overnight and there is no doubt as to why. Think about it, do you have tattoos or do you want to get a few? Well, tattoos are a fast-growing way of art and no I am not talking art as an oil painting. I am talking about people that go and have anything from animals, girls, cars, guns and even quote tattoos. Now quote tattoos can be anything from a famous saying to just something you heard and fell in love with, many people like getting the quotes tattooed to show off the meaning of the quote in relation to their life.
You can also go with a lyric or even just a common phrase, make sure you put a lot of thought into it though because the tattoo will be on you for the rest of your life. Quotes have been tattooed on just about every part of the body from the neck, legs, arms, chest, back upper and lower, feet and around the wrist and ankle. These quotes are not done in just black and white but are also done in many different colors shapes and sizes. There are even some people that use quotes to tell a story about their life and the trials that they have faced.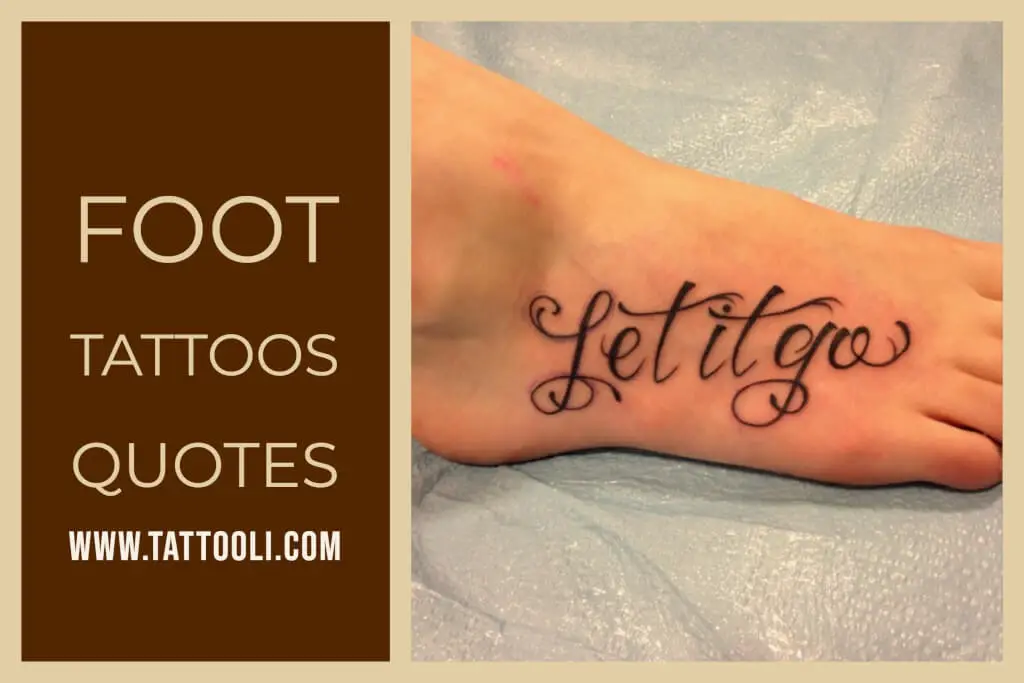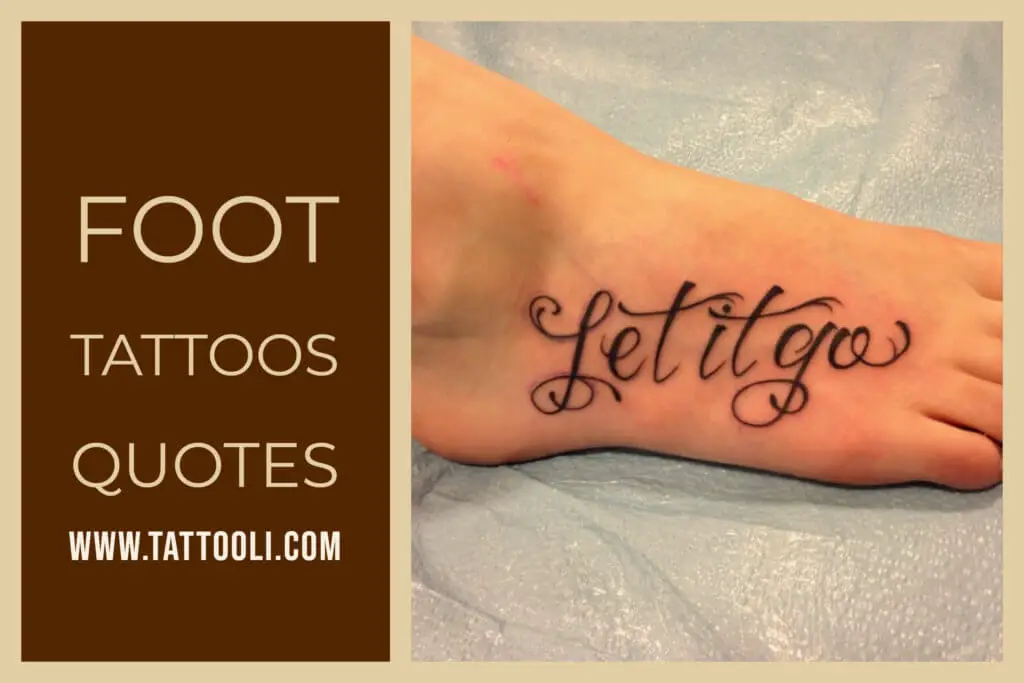 Made with Canva
Yes, there are some people that do not think that tattoos are something they need in their lives and do not want them on their bodies. This is fine if this is the way you think but on average there are over four hundred people that get tattooed every day. Now it is ok to look in a book or on the internet to find a quote that you like and or one that you thank fit you the most in your life. This is something everyone has done more than once, but just remember whatever quote you pick is going to be there for the rest of your life. So please make sure it is something you like and something you can live with and be happy while having it. If you are looking to get a tattoo just remember whatever you pick is up to you so start looking and good luck.
Check out these great tattoo foot quotes below!
Among the Wild Flowers Foot Tattoo
This Petty song is given great homage in this simple but beautiful tattoo, that is naturally conforming to this girl's foot.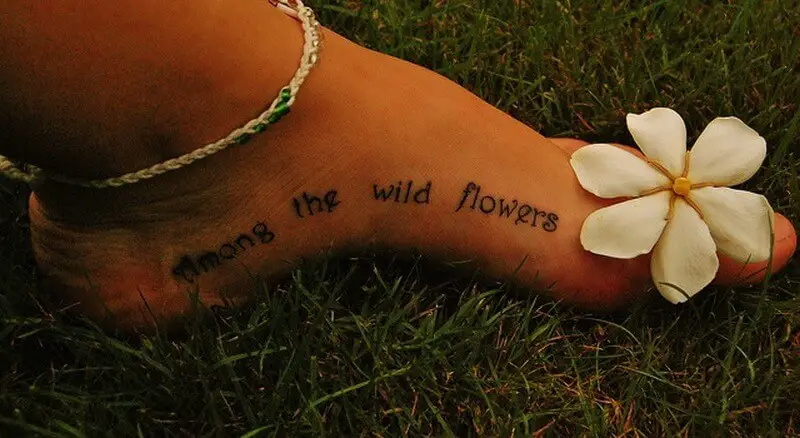 Dog Days Are Over Now
This is a smaller, simple tattoo with nice script.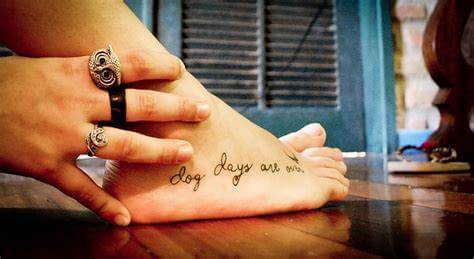 Find the Horizon
This lyric quote foot tattoo has simple line writing with a slight fancy flare.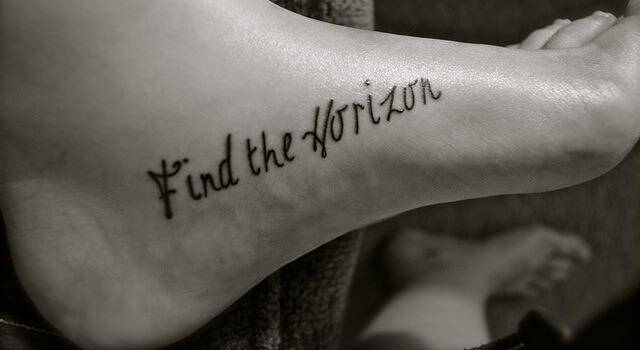 She's Giving In But Won't Give Up
This is a very simple, kind of messy foot tattoo that spans almost the whole side of the foot.
Keep Graceful Dancing
This lyrical tattoo has fancy writing with starbursts around it.
Let It Be
This small, simple lyrical tattoo is written in fancy script with a heart coming out of the O on "love."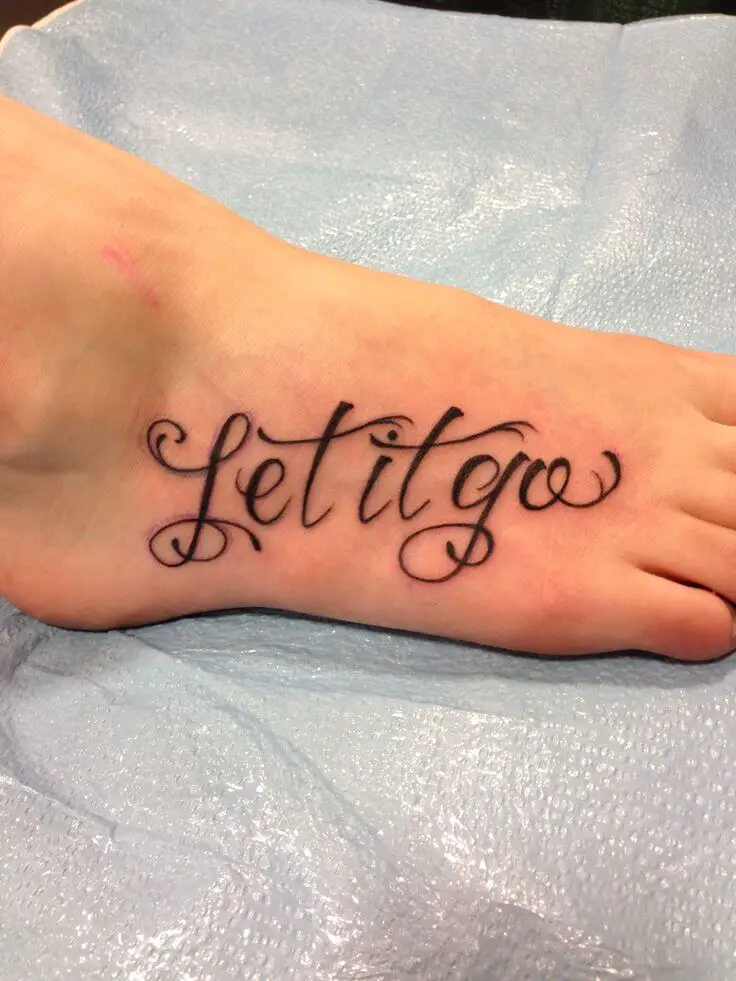 Love Will Tear Us Apart – Our favorite foot tattoos quotes
This lyrical tattoo has very elegant cursive writing.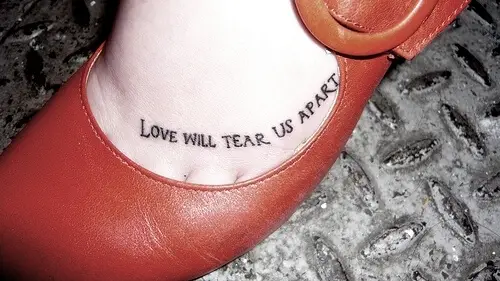 We'll Be Miles Apart
This fancy script tattoo has a little bee flying off it as though he were the one who wrote the quote.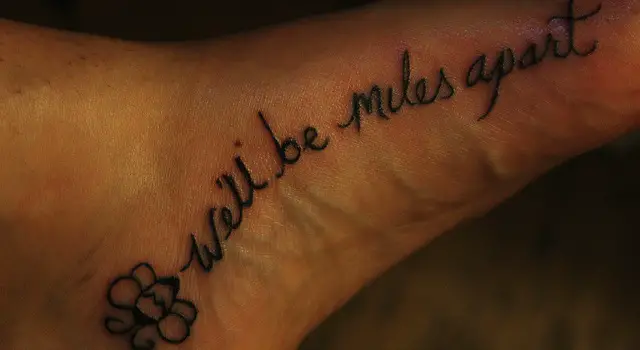 I Will Never Forget, I Will Never Regret, I Will Live My Life
This large tattoo takes up nearly the entire top of the foot with it's large, flowing cursive script.This large, colourful tattoo has simple black script for the lyrics, but two sewn together broken hearts above the writing.